Emerald Buddha
The Emerald Buddha
Ubosot (chapel) of Wat Phra Kaeo, Bangkok
This is the most sacred statue in Thailand. It was discovered in the north in 1434, taken to Laos in 1551, and recaptured and returned to Thailand in 1778. The statue is 30" tall, and made of green jasper.
The king himself changes its garments three times a year, at the beginning of each of the three seasons: summer (left), rainy season (center), and winter (right).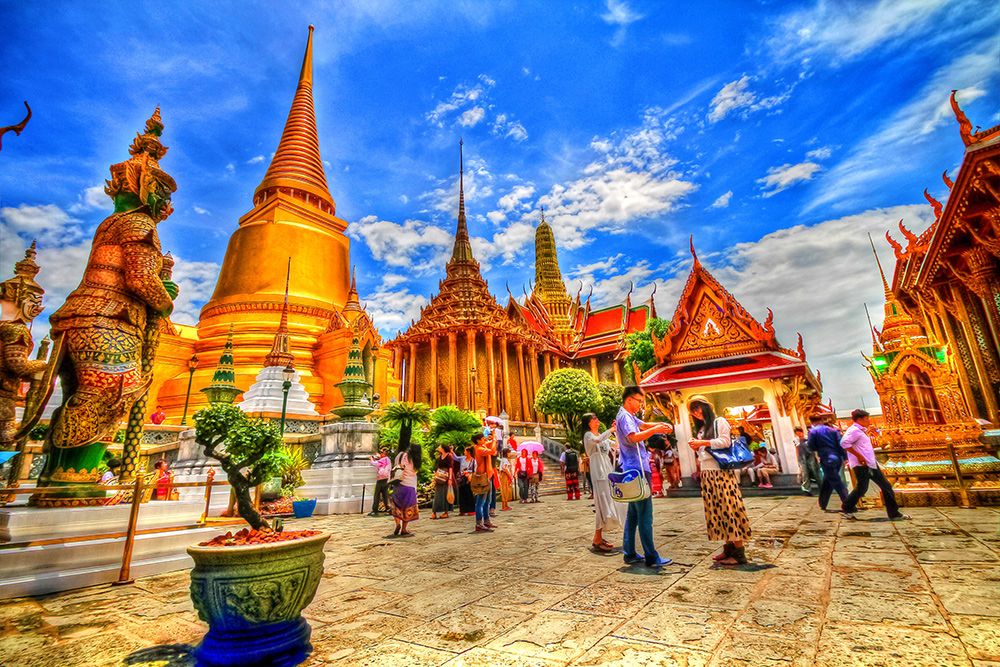 Wat Phra Kaew
****
Product Description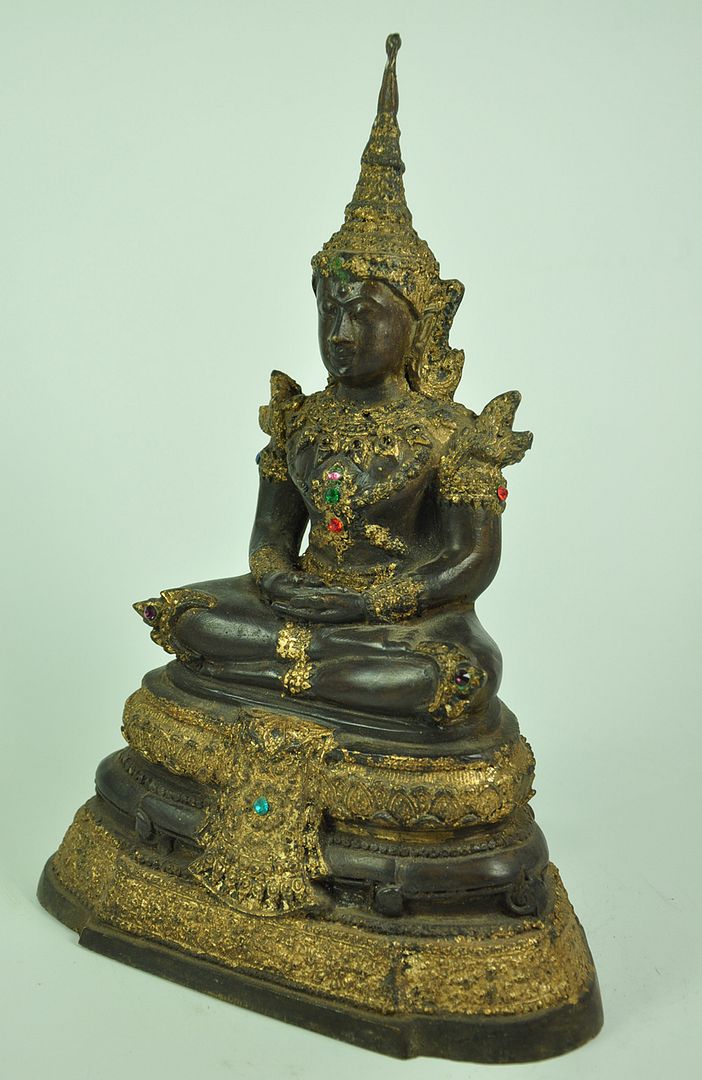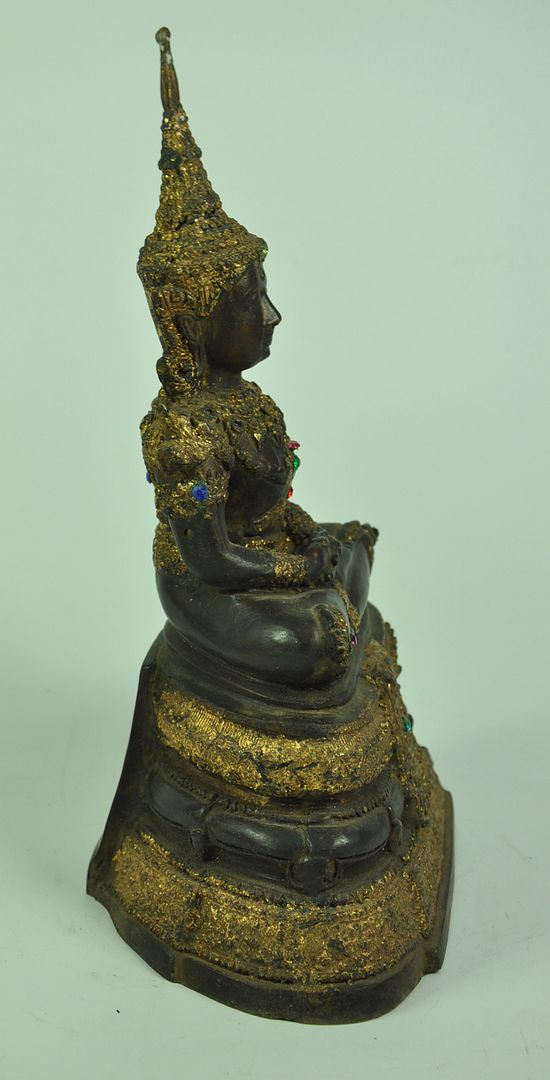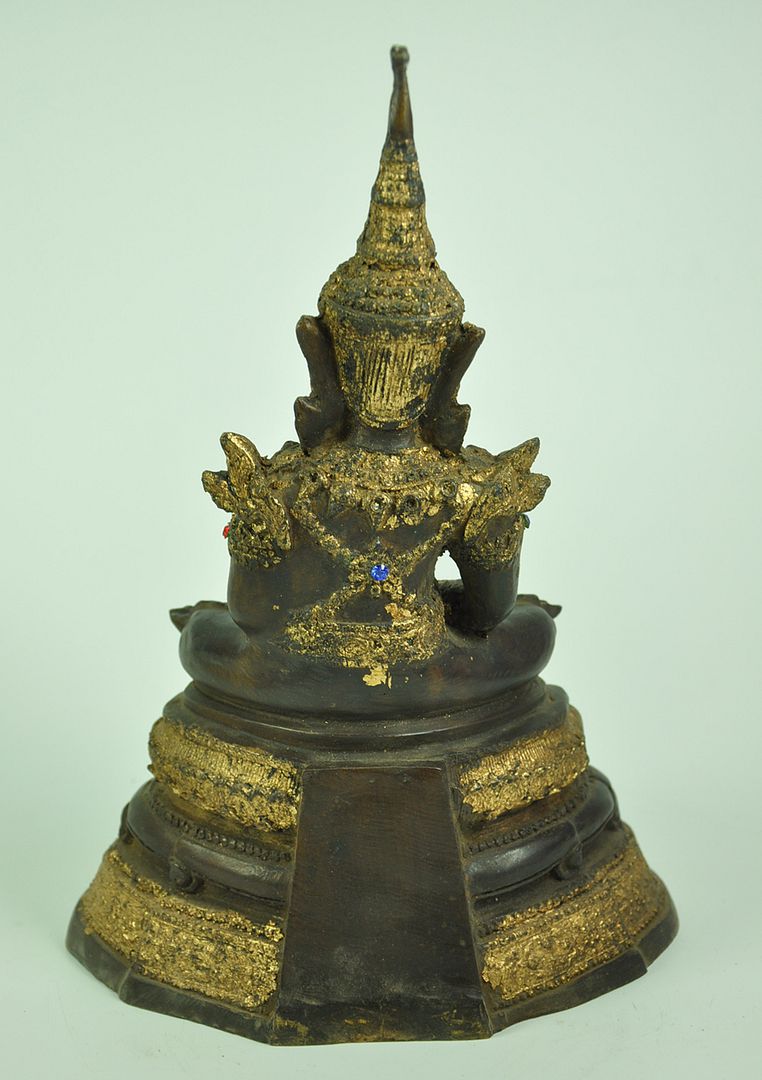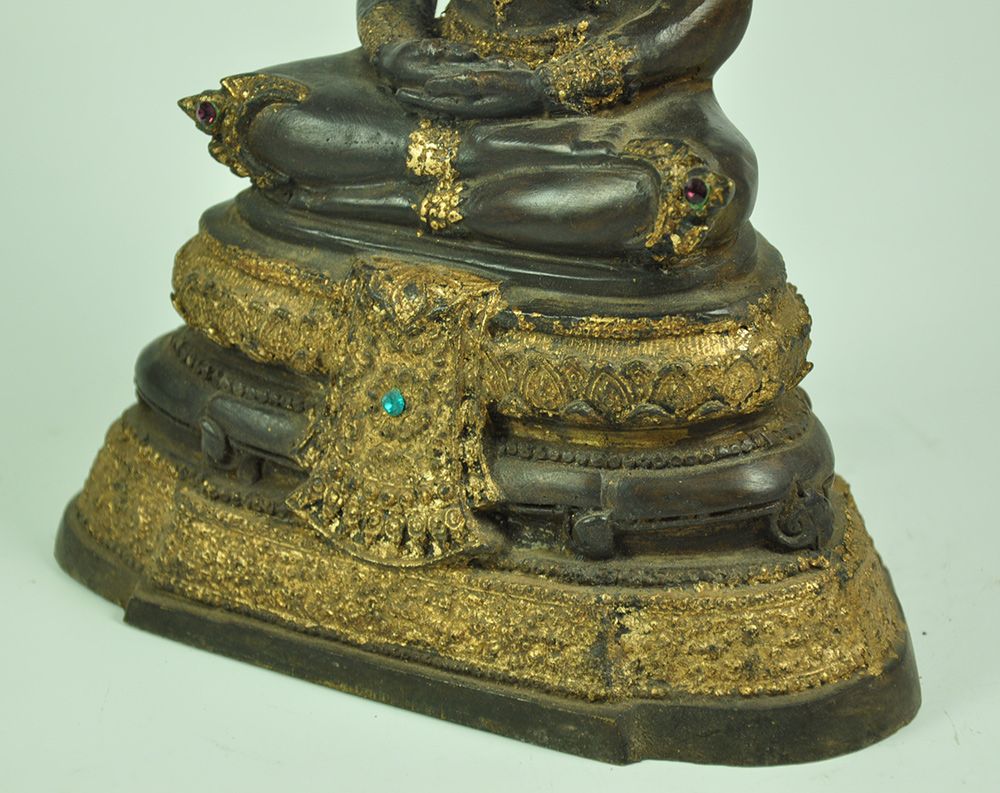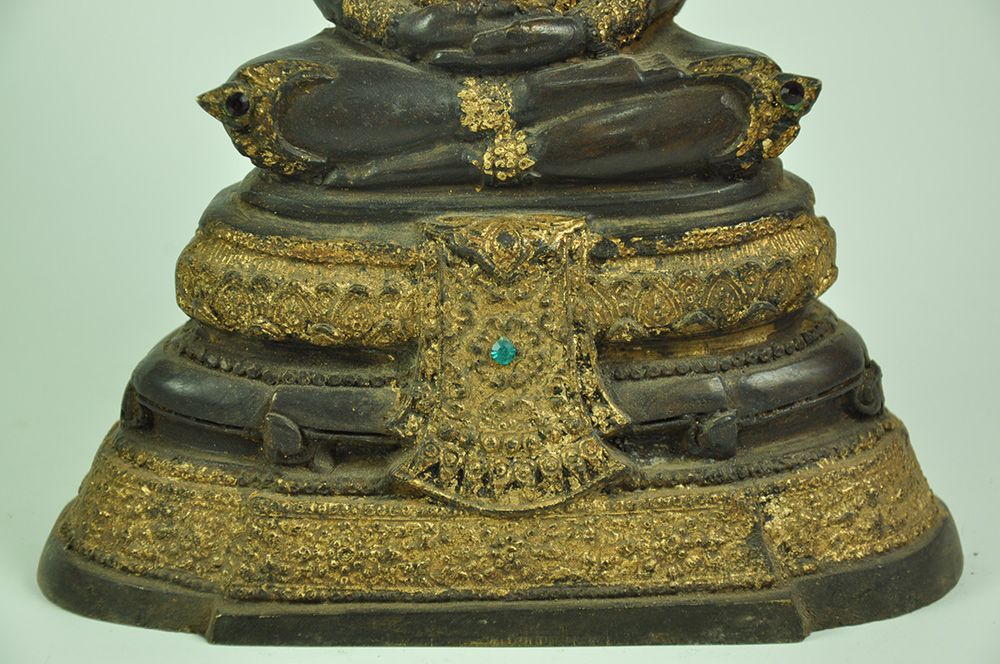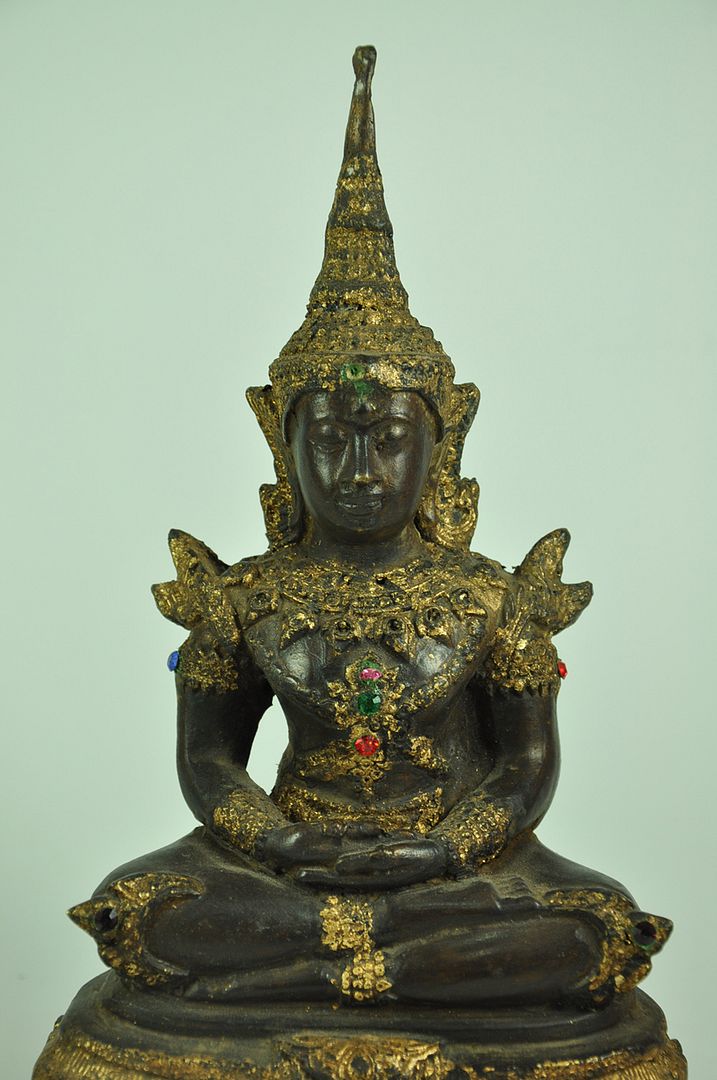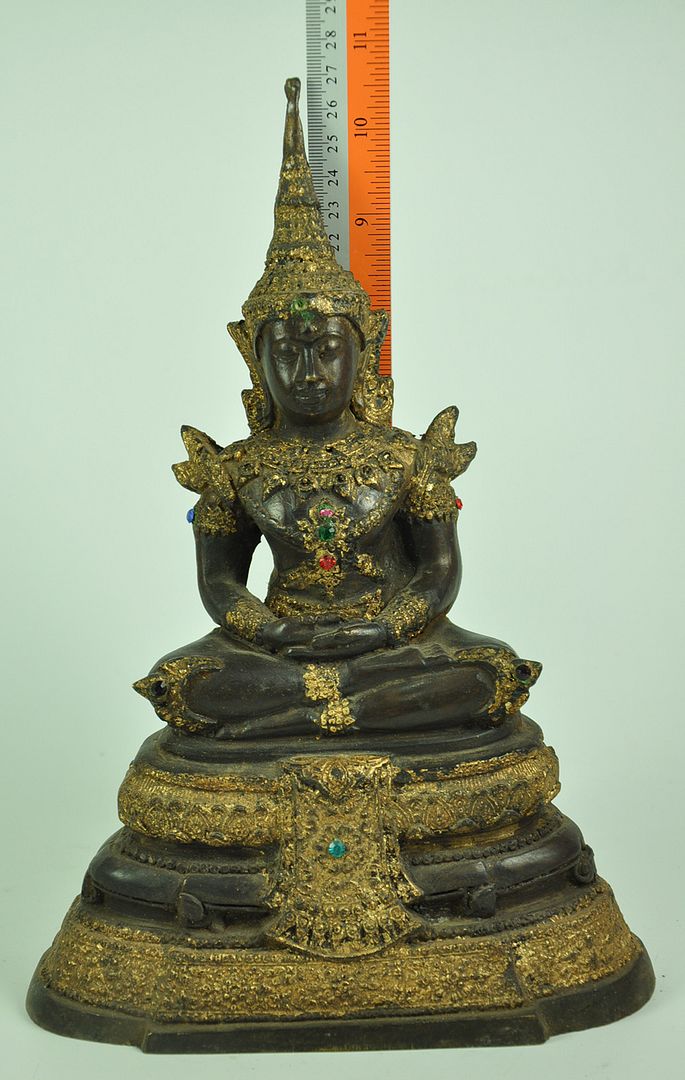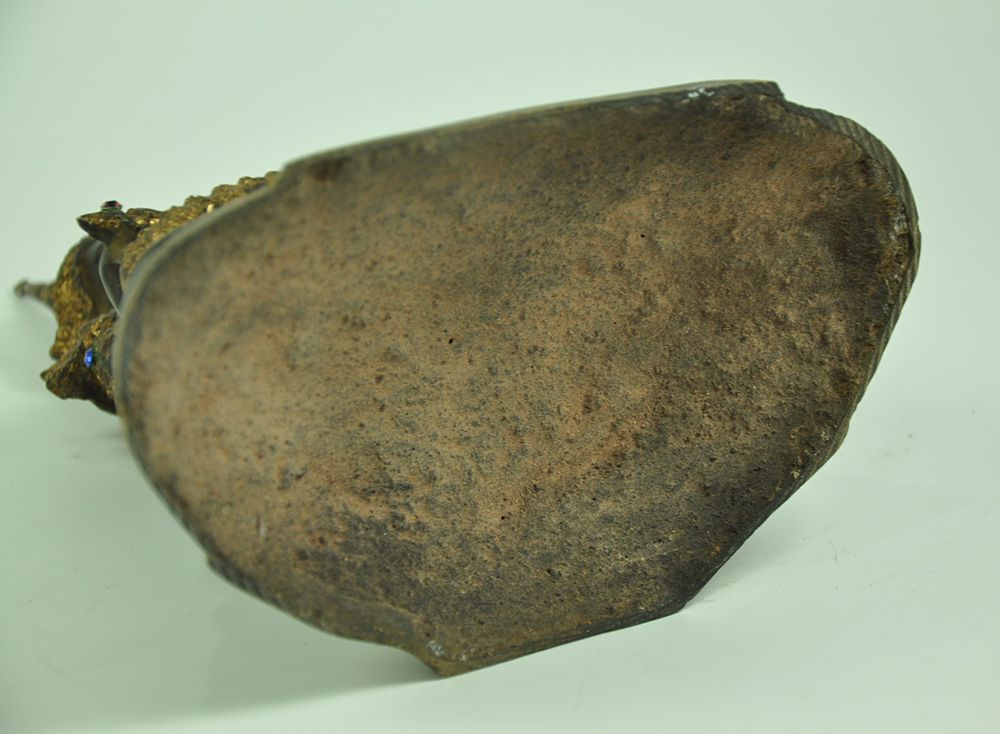 The Emerald Buddha Gild gold old black bronze Statue
Figure Seated Most beautiful Statue
Thai Vintage Phra Buddha Thailand Old Handwork Bucha Statue Figure .
Antique Thai Buddha Phra Bucha Emerald Buddha Statue
Created in the Ratanakosin Period.
Up for your consideration is a Phra Emerald Buddha Thai Buddha in beautiful condition. This Buddha statue is highly regarded by Thais as being the most magnificent and stunning image of Buddha, across Thailand and the world.
Collectible Decorated Old Handwork Chinnarat Buddha Statue
Condition: Excellent Materials: OLD Black Bronze Gild Gold .
Measurements: Height 10.5" inches
width 7.5 " inches
deepth 4.5" inches
Weight: 2172 grams
Intended for the protection of everyone in this place. Success and prosperity.
**************
Wat Phra Kaew Temple is regarded as the most sacred Buddhist temple in Thailand. It is a "potent religio-political symbol and the palladium (safeguard) of Thai society". It is located in Phra Nakhon District, the historic centre of Bangkok, within the precincts of the Grand Palace. The Emerald Buddha (or official name Phra Phuttha Maha Mani Rattana Patimakon)



Powerful : For more Prosperity and Wealth fetching, Increase luck tremendously, Fulfill your Wishes, Smooth sailing in life, Good in business, Overall good luck, Protection from harm and danger, good opportunity and successful in everything that you do.
All of our Buddha's come from our own family's collection or Thai secondhand markets, none are newly made at Factory's or such like places .
We spend time to give our customers the very best and real deals unlike many people who just sell mass produced Buddha's for a quick baht.
Beautiful, old and rare , a fine piece for any collector!
******************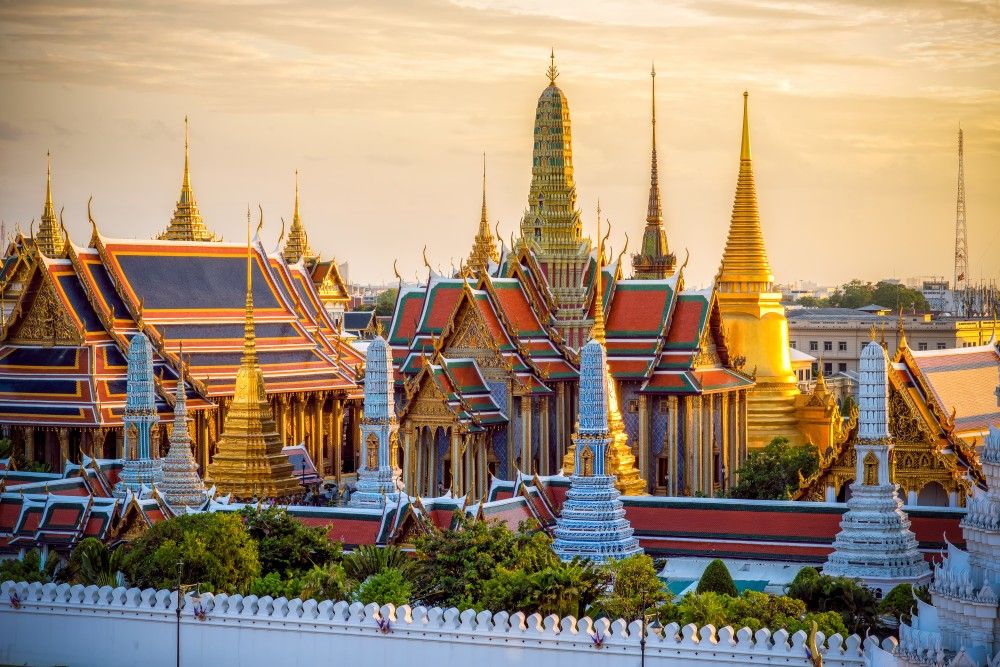 Temple of the Emerald Buddha . (Wat Phra Kaew Palace ).
Temple of the Emerald Buddha. The people called it Wat Phra Kaew. King Rama I ordered to be built in conjunction with the establishment of Rattanakosin On Wed. Founded in 2325, completed in the year. Since 2327. The temple is built in accordance with the Grand Palace, Wat Phra Si Ayutthaya Sanphet. This temple is located in the outer court of the eastern terrace area surrounding the temple with the monks at the temple is used as a royal priesthood, and the judge told me to hold the water droplets of His Majesty King vowed that one be kind enough to The Emerald Buddha is enshrined the Emerald Buddha statue or symbol of Thailand to be enshrined here. After the founding of the Emerald Buddha Temple is rebuilt and has been passed on to every reign since it is an important measure has been restored over the last 50 years. In the reign of King Rama I Rd King Rama V King Rama VII, and the bath during the current reign of King Bhumibol Adulyadej. Anniversary celebration held on the occasion of 200 years old in the year. Since 2525, the fully restored through the past to preserve the architectural and artistic masterpieces of the national heritage and maintain the aesthetic value of the best Thai Fine Arts. The Temple of the Emerald Buddha or Wat Phra Kaew is located opposite to Rattanakosin.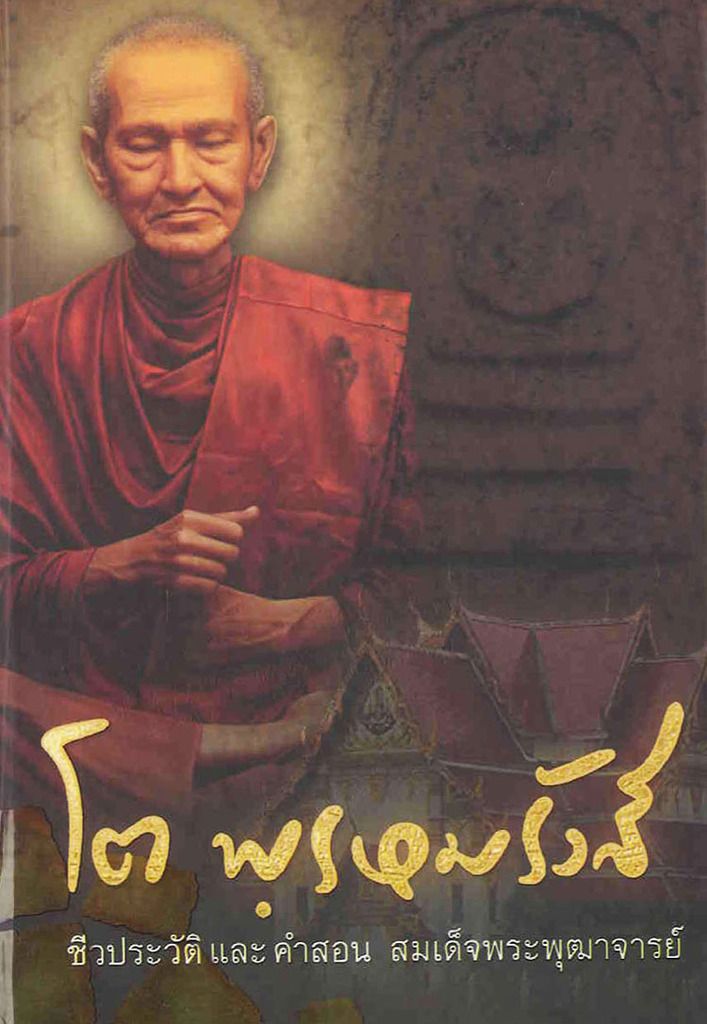 Somdej Puttajarn (Toh) Phromrangsri
Somdej Phra Puttajarn (Toh Prommarangsri) from Wat Rakhangkhositaram is legend of Rattanagosin era. Even Somdej Toh have passed away for more than 100 years. But his named still talk until now, his amulets are the most famous of all.
Thai people give name "King of Thailand amulets".
***********
Performance Abillity of Amulet

: Life protection,Good trade,Good metta ,Wealth, Prevent Dark Magic and Evil Spirits,
Danger Obstacle cease,Charms / Attraction in LOVE& SEX ,Give merciful,without poor, Triumphantly,
Loving Kindness, Harm proof, Avoid from danger,Change Bad Luck to Good Luck, Win Gambling , Wishes be Fulfilled,
Get Healthy Live Better And Be Happy.
and also for your valuable collectible thing .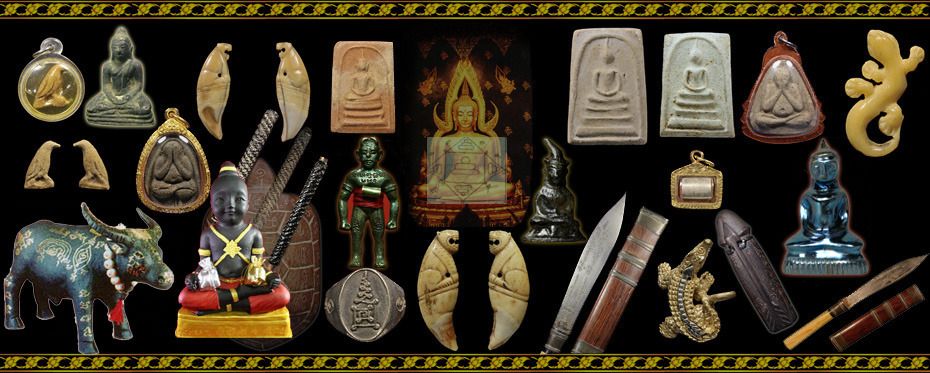 We are expert collector and trader buddha amulets , antiques , Talismans items from Thailand & Southeast Asia.
We open amulet store in Thailand too.
All of our Amulets are 100 % Satisfaction guarantee and either straight from the temple or from very reliable sources including dealers and collectors
around Thailand with whom we are afilliated.

You can trust that the items are Rare, Sacred, Genuine and beautiful Items.