Nam Man Prai and Metta Oils
Sacred Necromantic and Herbal Prai Oils, Metta Oils and Lip Gloss Balms for Maha Sanaeh and Metta Maha Niyom Mercy Charm, Siang Choke Gambler's Luck, and Gae Aathan Anti Black Magick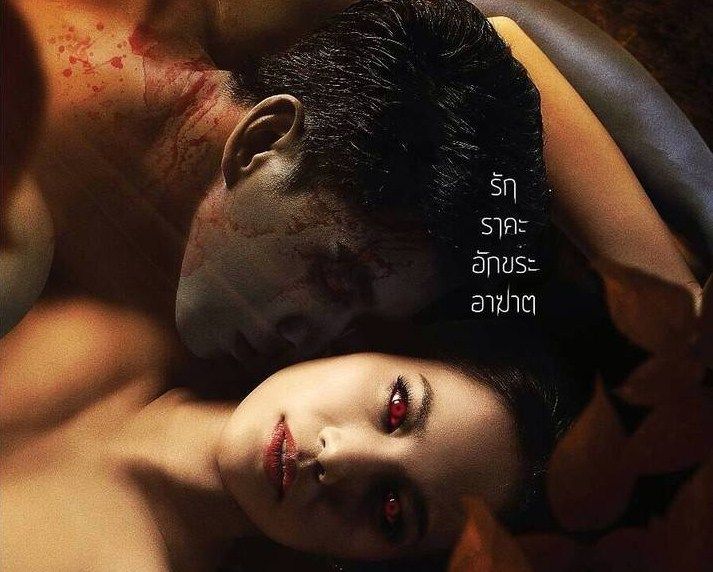 ********************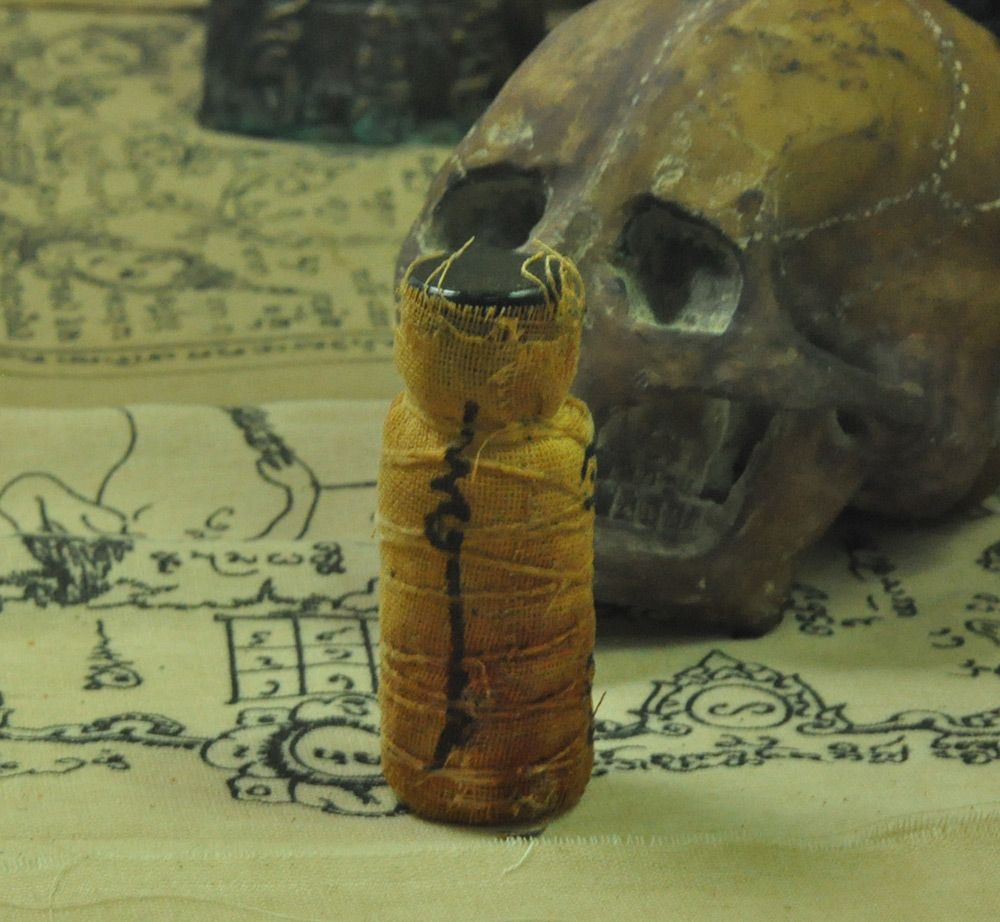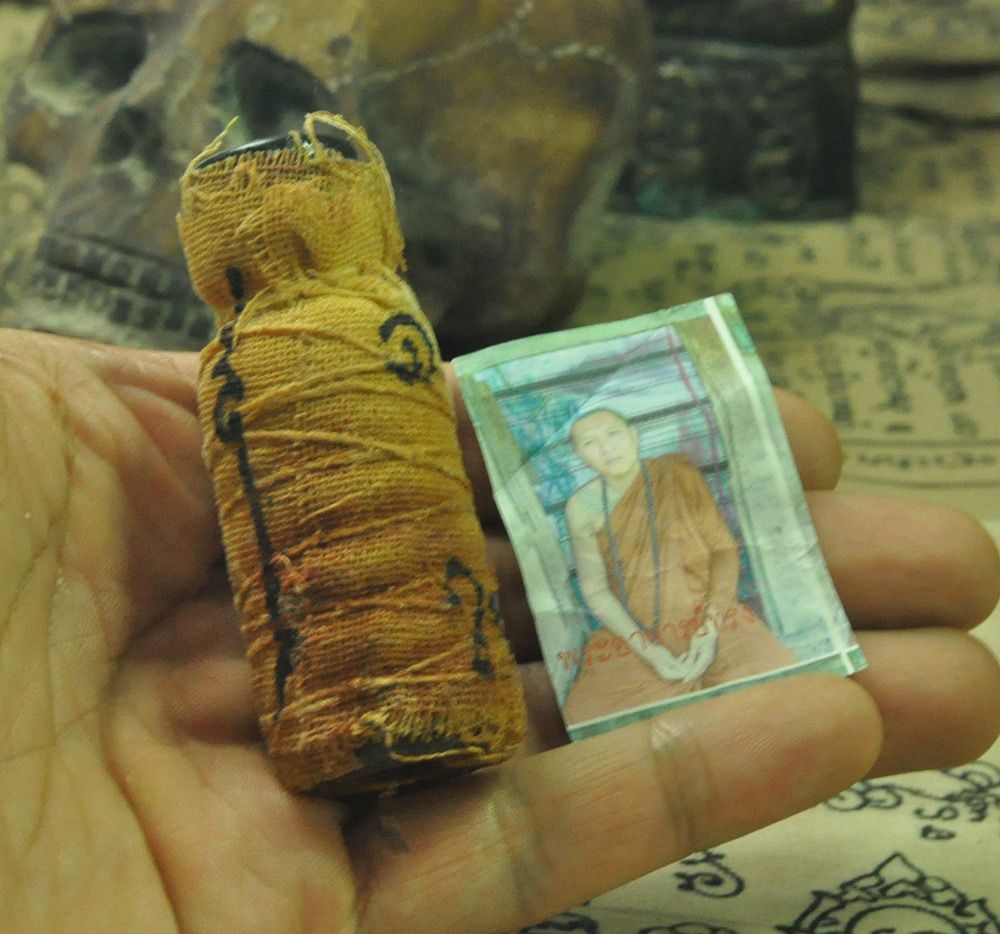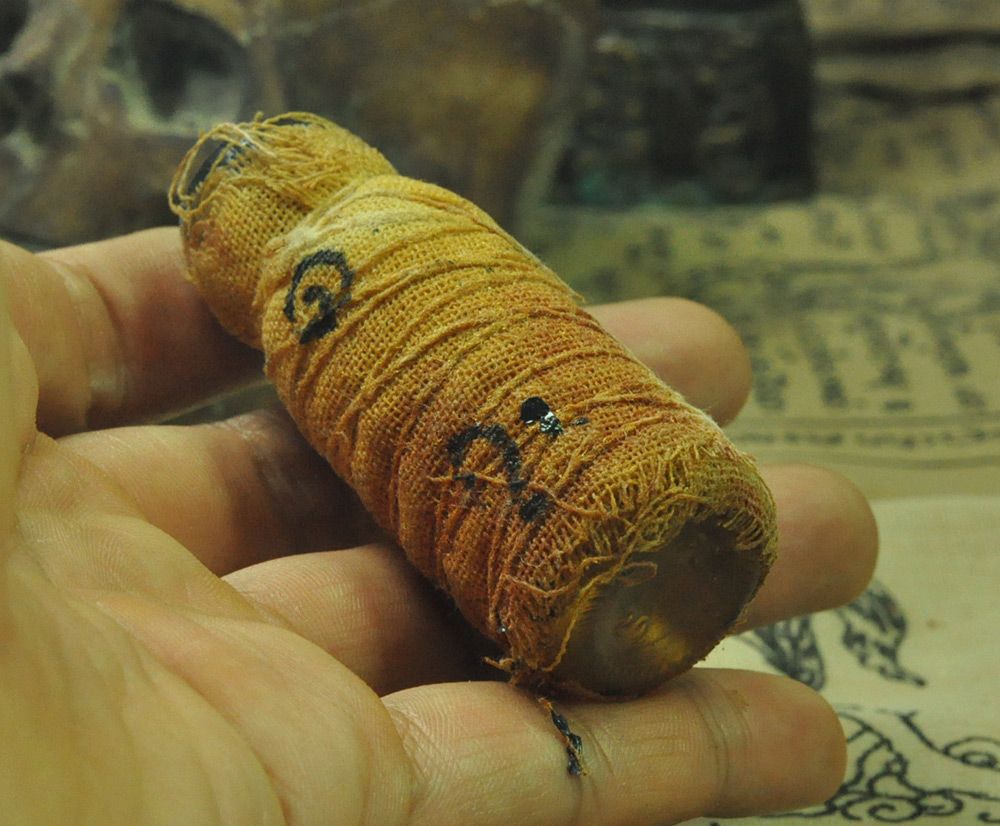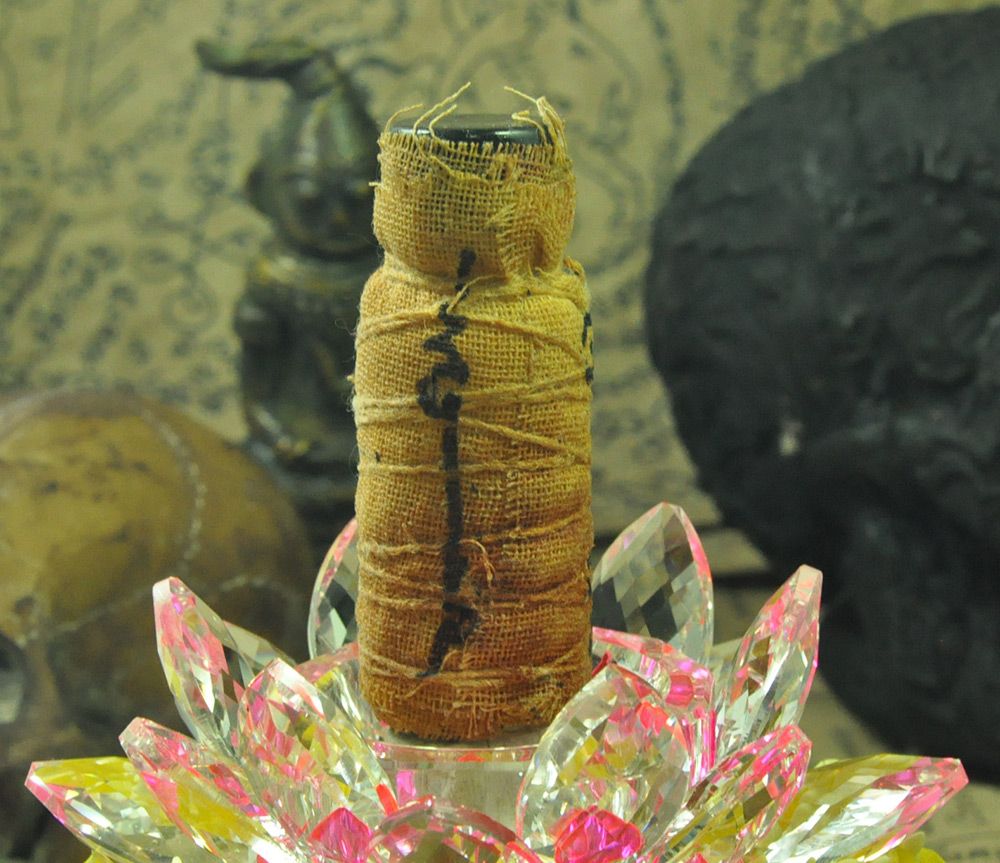 Nam Man Prai magical Love oil Maha Sanaeh
Thai amulet hypnotising love oil attraction improving Metta Maha Larp Maha Saney

Love Potion of Jao Mae Gaa Rung
The love potion of Jao Mae Gaa Rung was originally made by a magic Brahman named "Phraam Suttho" And then, this knowledge became inherited by another magician named "Ajarn Song Tham Tham Bandarn" The love potion of Jao Mae Gaa Rung is believed to be the fetish potion of Sex Charm. In the ritual of reciting an incantation over the love potion, Jao Mae Gaa Rung was invited to join the ritual. The magic spell called "Yo kha Nitthraa" is casted on the love potion in the ritual. Ingredients for making the love potion of Jao Mae Gaa Rung consist of 108 kinds of herbs in the family of Dawkthawng herb. If you have a store or shop with selling things, you can anoint the love potion on your products and the power of the love potion will effect the increase of the prosperity of your business.
Or if you apply the love potion on your hair, forehead and your dress, it will effect on the increase of sexual fascination. Carrying it with you wherever you go can bring luck to you.
Spell to consecrate the love potion of Jao Mae Gaa Rung
"na ja na tit / na pha wa lueng kha / sa home tit" Say this spell and pray for what you wish for.
BOTTLE SIZE : 2.5 *7 cm
น้ำมัน เสน่ห์ เจ้าแม่การุ้ง ตำรับ พ่อพราหณ์ สุทโธ โดย พระอาจารย์ทรง ธรรมบันดาล
เป็นวิชาเทพนิมิตตามตำราอาจารย์พ่อพราหมณ์สุทโธ วิชานี้มีแพร่หลายในหมู่ศิษย์สายพ่อพราหมณ์ แต่จะหาผู้ทำจริงนั้นมีน้อย เป็นสุดยอดเสน่หาอาลัยรัก เมตตา มหานิยม มหาเสน่ห์ชั้นยอดจริงๆ น้ำมันนี้มีหัวเชื้อน้ำมันเก่าของพ่อพราหมณ์ผสมกับของที่หุงขึ้นใหม่ใช้ได้ดีไม่แพ้ของเดิม เมื่อทำพิธีอัญเชิญญาณบารมีเจ้าแม่การุ้ง อันได้ในนิมิตจากการทำวิชาโยคะนิทรา แล้วทำการบวงสรวงบูชาครูผสมกับน้ำมันว่าน 108 น้ำมันดอกทองเป็นหลัก ปลุกเสกด้วยพระคาถาเจ้าแม่การุ้ง เมื่อจะใช้น้ำมันนี้ให้ระลึกถึงพ่อพราหมณ์สุทโธ เจ้าแม่การุ้ง น้ำมันนี้ดีท่านเชื่อว่าจะเอาไปป้ายไปเจิมไปทา ข้าวของ สินค้าที่ขายก็จะขายดีนักหนา เจิมตีนผม แตะหน้าผากเป็นยอกเสน่หา ยอดรัก เมตตามหานิยมดียิ่ง หรือจะพกติดตัวก็สุดยอดเรื่องเสน่ห์เมตตา ป้ายที่หมอน 1 ครั้งตั้งจิตถึงคนที่เรารัก ท่านว่าเป็นเทพรำจวน เทพรำลึก คิดฝันเห็นแต่หน้าเรา ตื่นมาก็อยากมาพบอยากเห็นหน้าเรารักเราเมตตาเอ็นดูเรา ป้ายเสื้อผ้าข้าวของเครื่องใช้ให้คนรักหวนคิดถึงเราอยากกลับมาหาเรา เรียกว่าไม่มาเห็นหน้าปานจะอกแตกตาย น้ำมันนี้ใช้ได้สารพัดประโยชน์ 108 พันประการตามแต่จะใช้ เสกด้วยคาถานี้ นะจะนะติด นะ พะวะลึงคะ สโหมติด เสกสามจบอธิษฐานจิตตามใจแล
*********
The oil is believe to be good for :
- improve your business by attracts opportunities and more sales
- increase your popularity, Metta as well as accumulate great fortune, wealth
?- Maha Saney, bring you sex appeal and mesmerising attraction
- attract the same or opposite gender
-Good luck for the new owner
Magic Potion, Metta Oil
Magical Effects Maha Sanaeh,Metta Mahaniyom, Kaa Khaay, Jerajaa, Siang Choke.
Very RARE !!have only in My Store .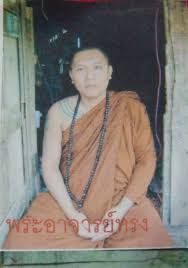 Ajarn Song Thambandarn
( Thai Magical SORCERY Monk )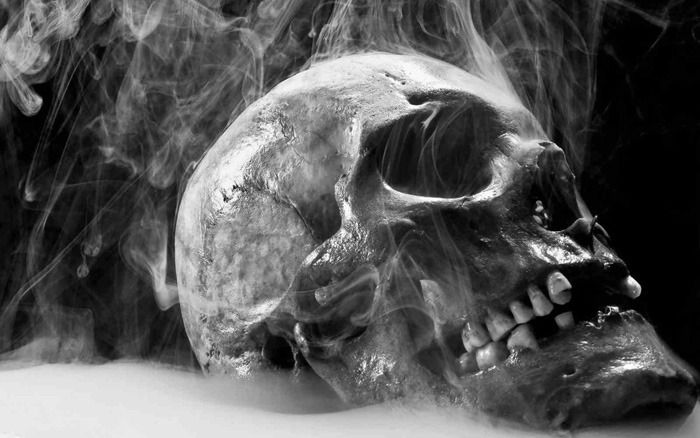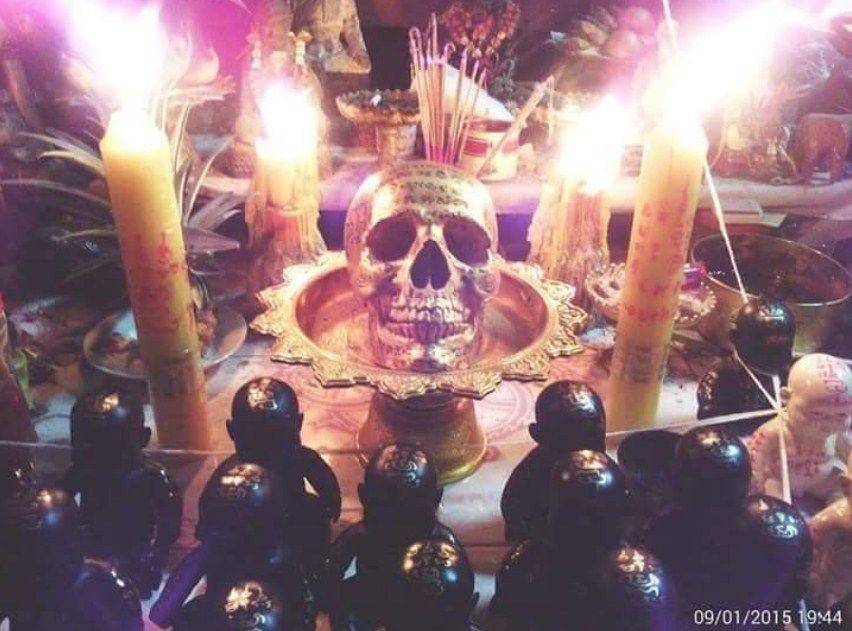 ***********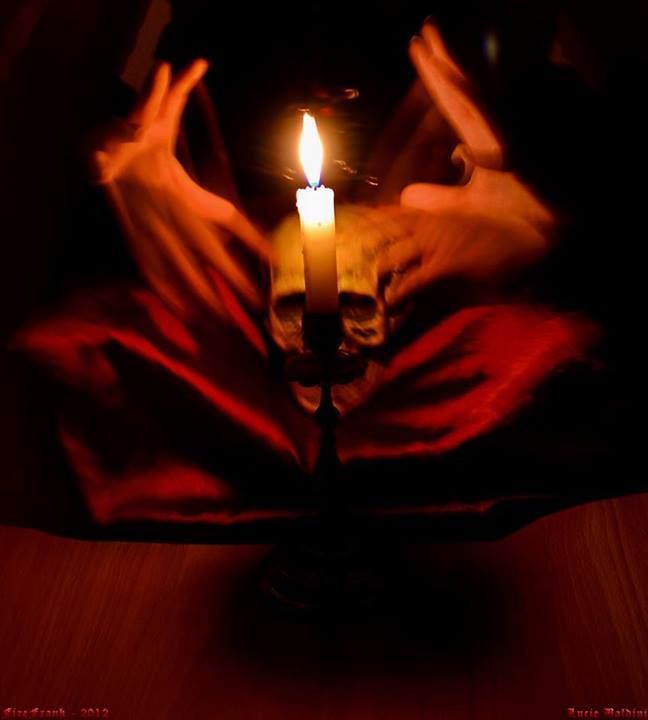 and also for your valuable collectible thing .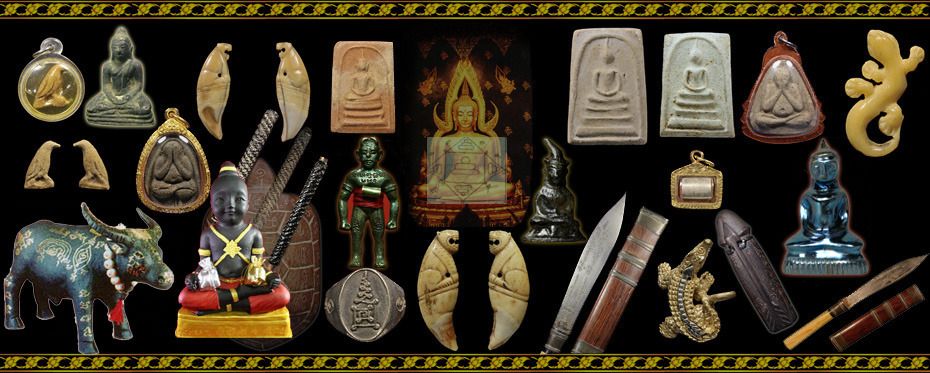 We are expert collector and trader buddha amulets , antiques , Talismans items from Thailand & Southeast Asia.
We open amulet store in Thailand too.
All of our Amulets are 100 % Satisfaction guarantee and either straight from the temple or from very reliable sources including dealers and collectors
around Thailand with whom we are afilliated.

You can trust that the items are Rare, Sacred, Genuine and beautiful Items.