How to Worship and Chant Kata for Wua Tanu Bull Deity
How to worship Wua Tanu and Kwai Tanu
You can use Wua Tanu to watch over your house,or mark a safe area around the house, or any place where there is strong Magic. To do this, you need four Wua Tanu, and a bowl of pure water in a Khan Nam Montr vessel.
Then take the Wua Tanu and place them in the Khan Nam Montr (prayer water bowl). Then focus your mind into meditation, and think of the Buddha Dhamma and Sangha, the Deities and Kroo Ba Ajarn, and Ajarn Somrach, and empower the prayer water by chanting the Kata into it and projecting your thoughts into the water as you blow three times into the bowl.
Take the four Wua Tanu, and bury them in the Earth in the four Cardinal directions. If it is a house, that has no earth to be able to dig, then the Wua Tanu should be placed in the four outer corners of the house,and the prayer water should be sprinkled around the area to be protected.
If you have a Kuman Tong or other forms of Phuudt or Prai which you make Bucha offerings to in the house, then you must tell the Wua Tanu by stating who is allowed to enter and leave the protected area and who not. It is a good idea to also state that any ghosts or beings that are benevolent and will bring help or auspicious blessings should be allowed to enter.
Using to make Holy Water (Nam Montr)
If you want to make Nam Montr to remove the power of Black Magic from a person place or object, or to banish demons and spirits, or exorcise a person who is possessed, then you must make the Nam Montr in the same way as previously explained. But this time you need to use only one Wua Tanu. Then hold the Wua Tanu in your hands and enter Samadhi meditation, focusing as strongly as possible on the Merits of the Buddha.
Chant Na Mo Dtassa Pakawadto Arahadto Sammaa Samputtassa 3 times, and ask for the Power and grace of the Triple Gem the Angels and Deities and Brahmas, Kroo Ba Ajarn (your teachers), and the power of the Mythic Wua Tanu to make the prayer water powerful and endowed with the ability to remove all forms of black magic and evil influence (you can specify particular purposes if you wish to be more detailed in the function of the Nam Montr).
Once you have chanted the Kata of empowerment, you should breathe deeply inwards and blow three times on the Wua Tanu, and lower it into the Khan Nam Montr until it is submerged under the surface of the prayer water.
Then you can use the water for drinking, cleaning yourself and the like to remove any Black Magic spells or unlucky influences. You can wear or carry the Wua Tanu with you, or put it in your vehicle as a protection from accidents of all kinds. If there are ever any visitations or experiences with contacting dark entities, all you need to do is dedicate some of the fruits of your merits to them, and think of Wua Tanu, and they will disappear.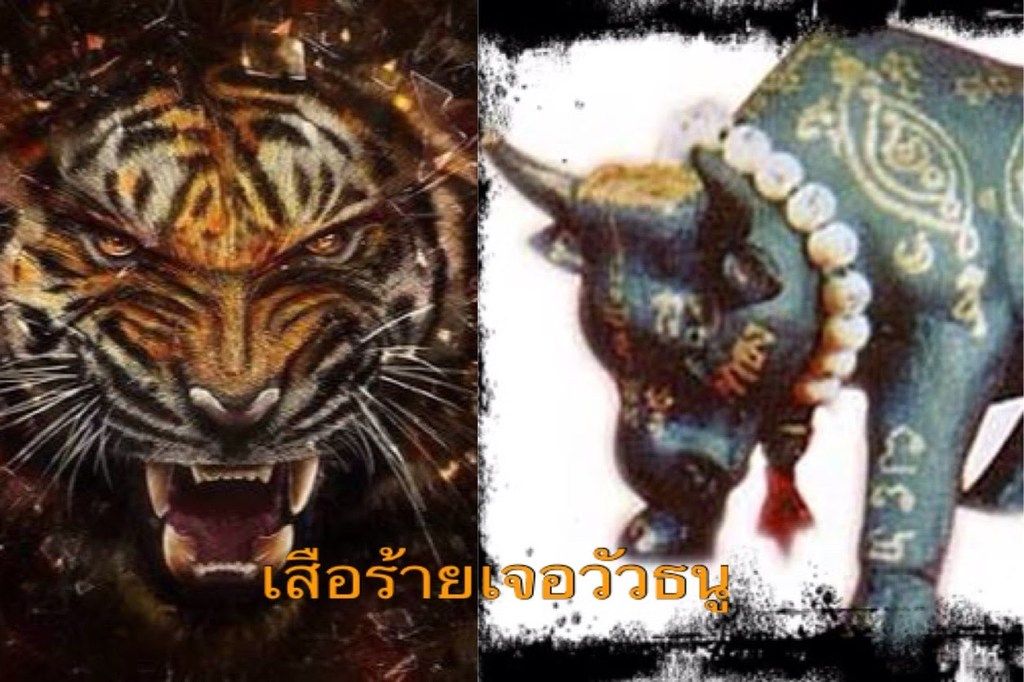 ********************
Product Description





The Magic Statue of Red Bull
Wua Tanu Bucha Statue Anti Black Magic Protection and Bringer of Sustenance
The Magic Statue of Red Bull is made by a magician named "Ajarn Ai" who discovers the magic knowledge called "Wicha Guaphaw" which is adapted from the famous magic called "Kho Shiva" The ingredients for making The Magic Statue of Red Bull consist of wooden powder of one thousand – year Takient trees, wooden powder of Tamarind broken by lightning strike, Jindaamani herbal powder, Pu Jaosamingprai herb, Grabue Chonsua herb, Thammaraksa herb, Naresuan herb, Pattalawt herb, Gambang herb, Grathu Jetbaek herb, Jedpong soil, Mineral of Fortune, Diamond Amulet, bone ashes, cow horns and skin broken by lightning strike, broken drums, and Phi metal amulet. The Magic Statue of Red Bull is designed to be portable with five inches high. It will be very good to have a pair of The Magic Statue of Red Bull with you. The ritual of incantation of The Magic Red Bull was very sacred. The magician had to select the day that fitted the liking of the spirit of the Red Bull. Many magicians were invited to participate in reciting an incantation over The Magic Statue of Red Bull. They casted a magic spell for one hundred and eight times until they saw the spirit of Red Bull run into the statue. This means that the statue was already enlivened.
The Magic Statue of Red Bull is very famous for its abilities to protect you from dangers, support your horoscope, bring lucks, attract customers, support you business, prevent you from getting harmed by bad magic, get rid of bad spirits at your place and give the power of charm and attraction to its owners.
Here is the spell to cast to worship the Magic Statue of Red Bull
Firstly sa "na mo" for three times and then say "Oom khono / ma haa kho no / oom kho na / na ma pha tha / pa tit thi tang" for three times
Recommended Uses Protect and Banish Black magic, Thieves, Demons, Enemies and Backstabbers. Gambling, Attract wealth and Treasures. Eliminate Enemies
วัวธนูกระทิงแดงมหาอาคม อาจารย์ปู่อี๋ บารมีพระค

รูปะกำ
SIZE w*h : 3.5" *4 " inches
Very RARE !!have only in My Store .
Ajarn Pu AI
(Powerful Necromancer )
He is Very Famous and recognized Shaman / Necromancer.
His Amulets / Talisman has been told that the Holy powerful.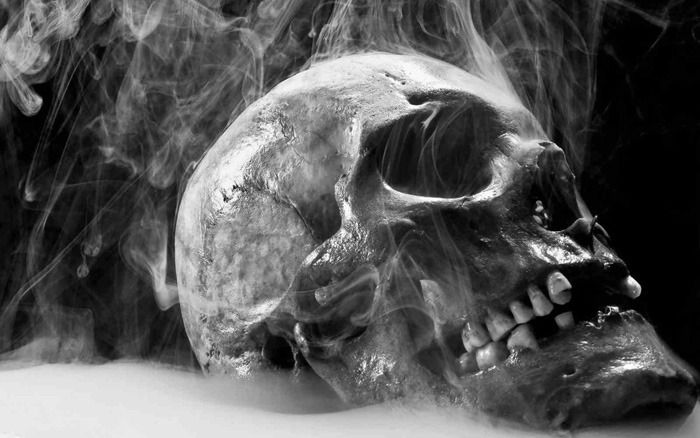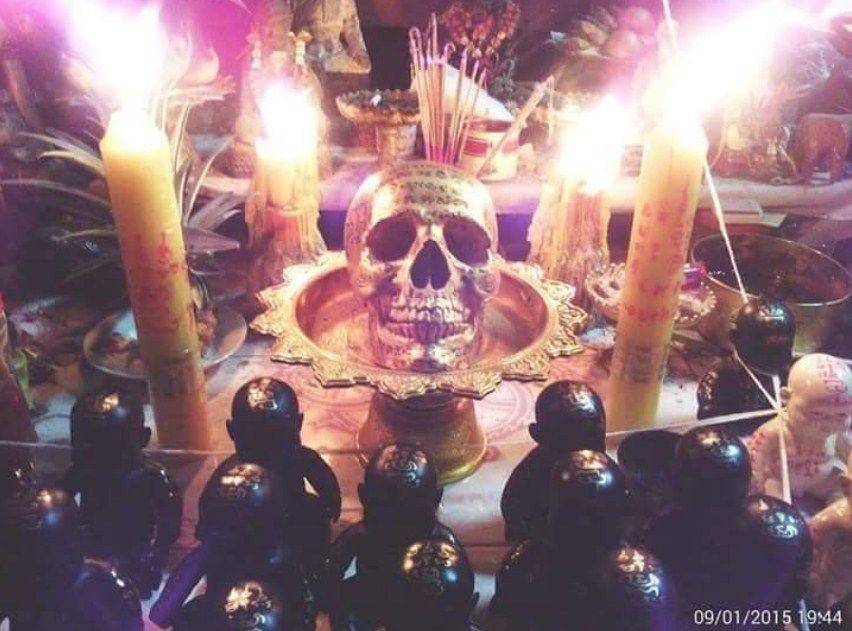 ***********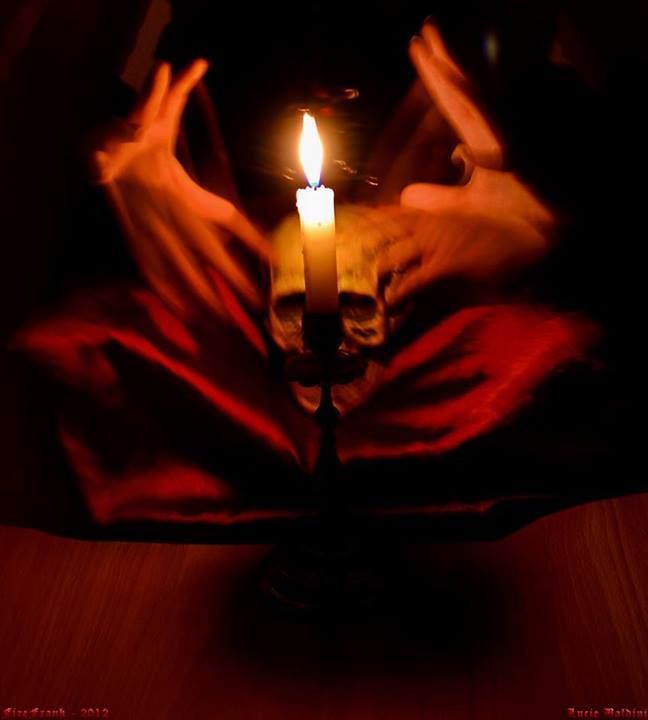 and also for your valuable collectible thing .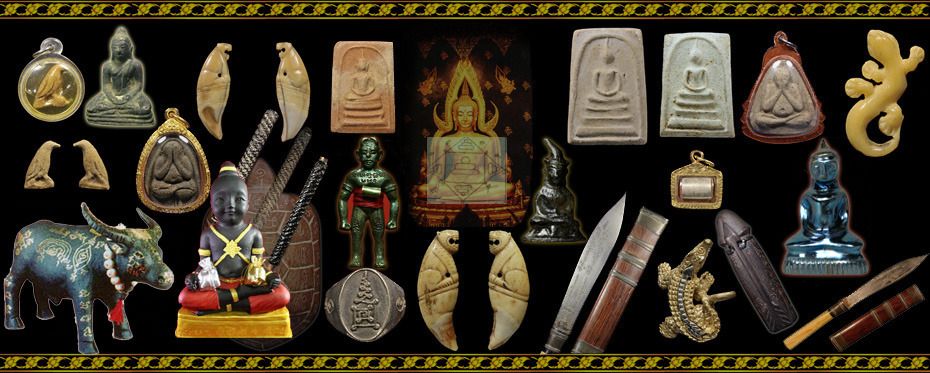 We are expert collector and trader buddha amulets , antiques , Talismans items from Thailand & Southeast Asia.
We open amulet store in Thailand too.
All of our Amulets are 100 % Satisfaction guarantee and either straight from the temple or from very reliable sources including dealers and collectors
around Thailand with whom we are afilliated.

You can trust that the items are Rare, Sacred, Genuine and beautiful Items.