Phra Kru WAT Phra Kaew
Emerald Buddha
Wat Phra Kaew
****
Product Description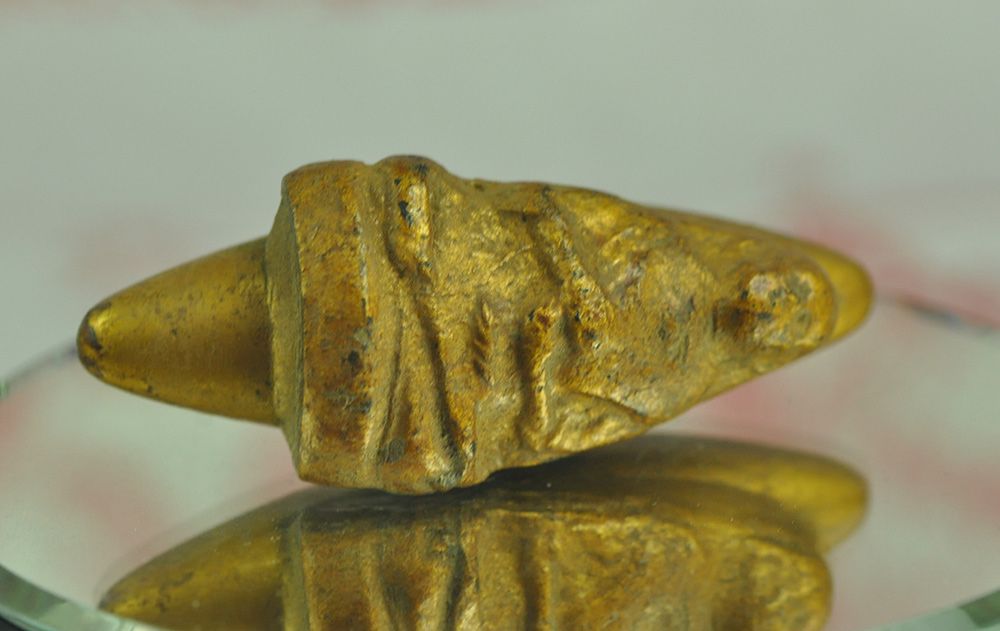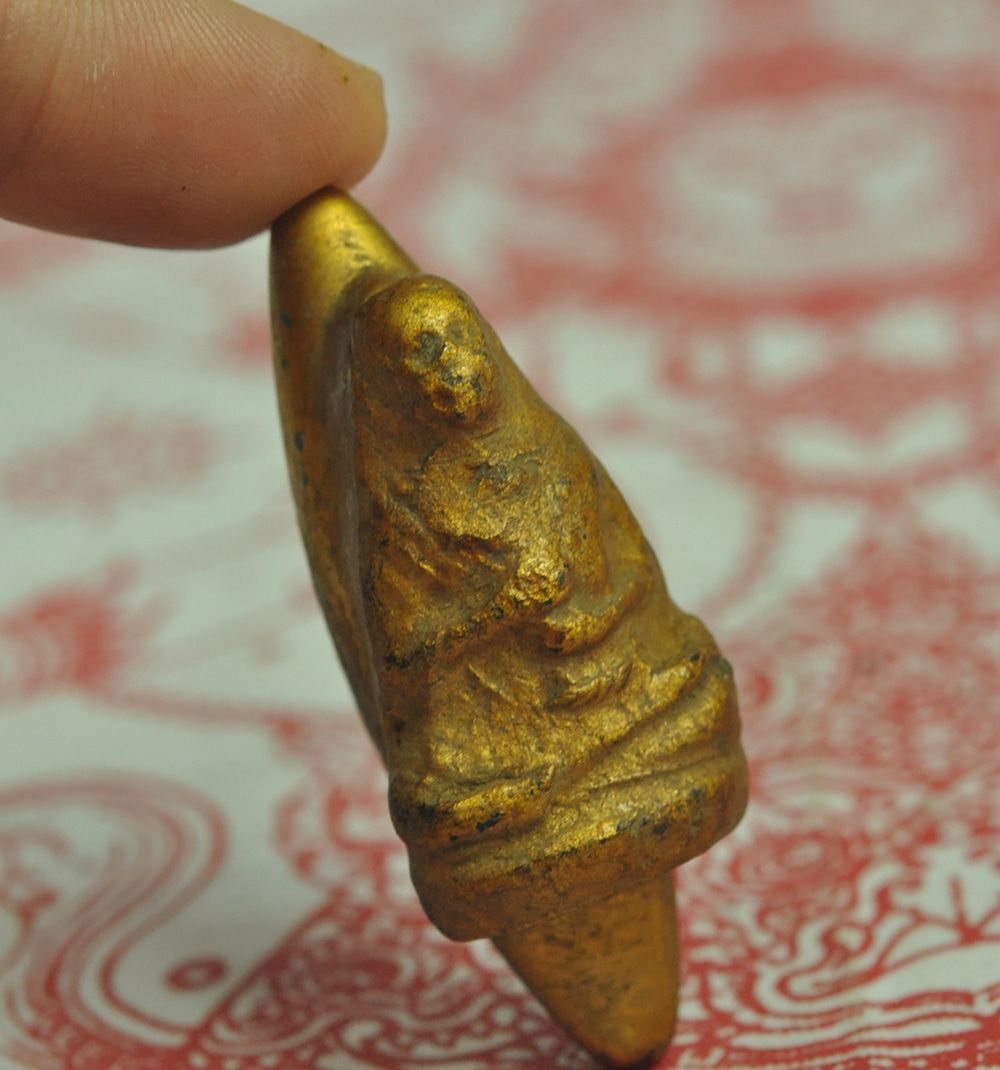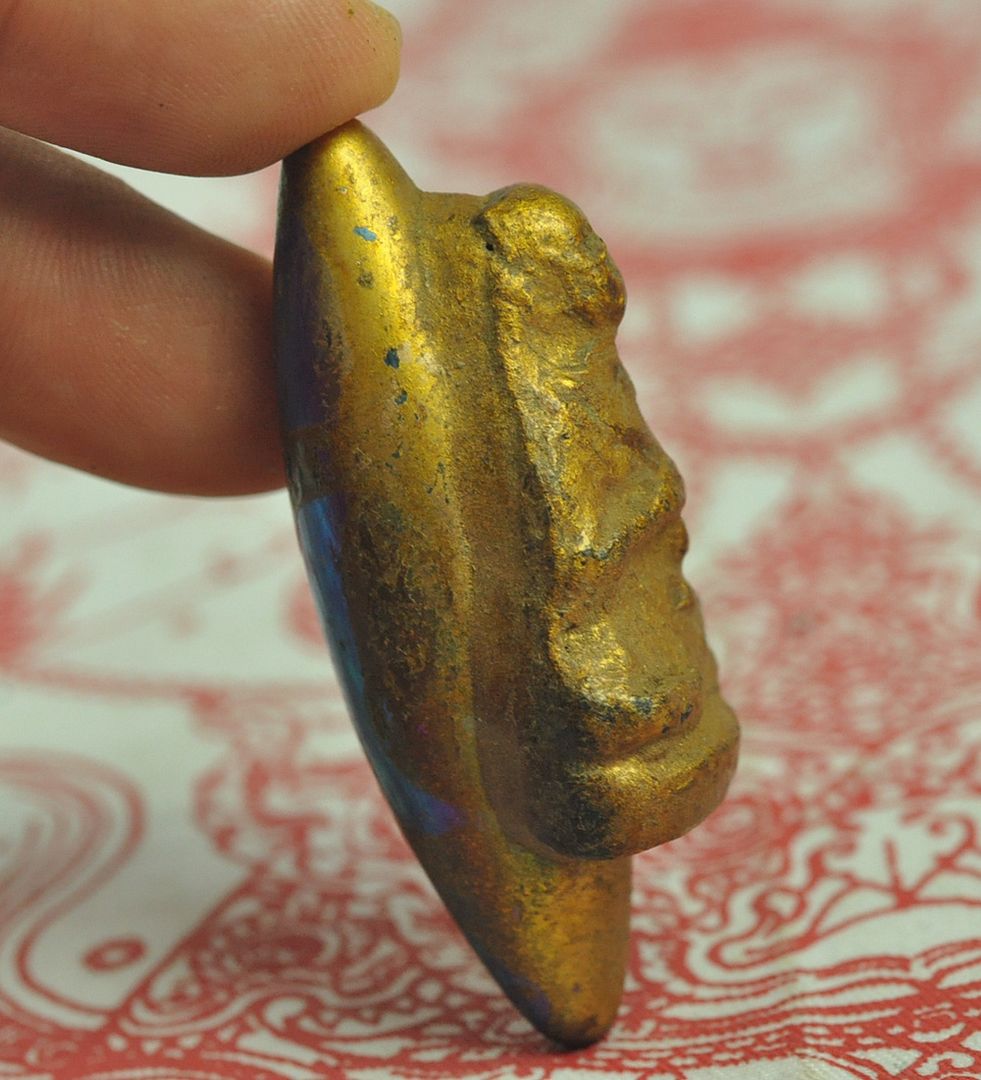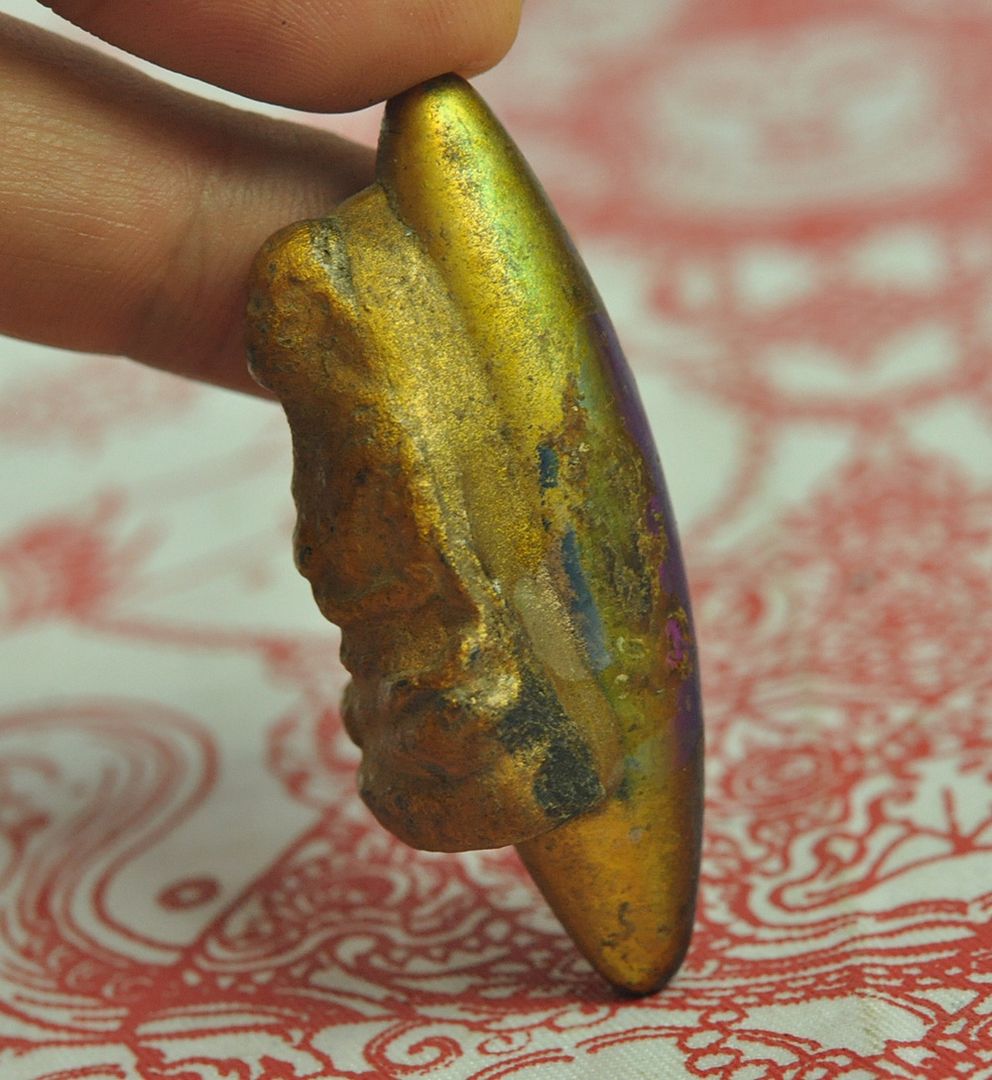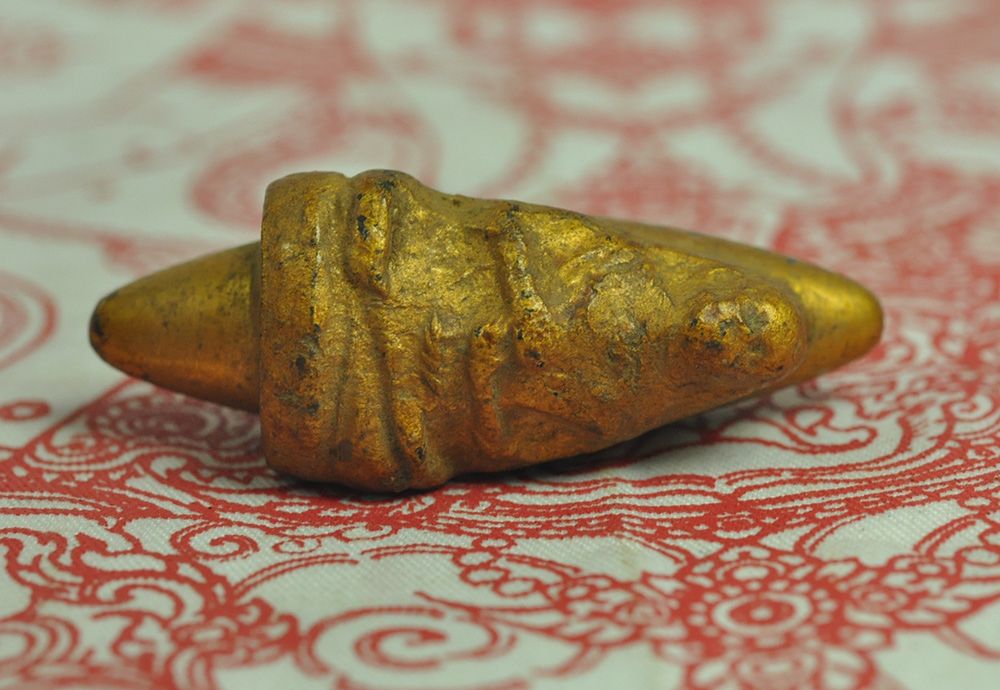 Rainbow LEKLAI 7 Colors LP Toh Gild gold

LEKLAI Wat Phra kaew

- Phra LP Toh

Thai Buddha Amulet B.E 2411 Rare
LEKLAI LP TOH Kru Wat Phra Kaew ( Wang Na ), yr 2411 Thai Buddha amulet with gems and Gold Gilt , LEKLAI LP Toh Wat Phra kaew EMERALD BUDDHA TEMPLE thai amulet .
SIZE : 2.3*6cm
Material : Magic LEKLAI LP TOH Gild Gold Rainbow 7 colors Leklai amulet.
How to enshrine a Metal Amulet ( LEKLAI ) in your home
(Any kind of Metal Amulet)
To invite a Metal Amulet to enshrine at your home, you first need to offer five lighted incenses to the Metal Amulet. Second, say "Na Mo" for three times." Finally, say this quote, "Dear the Lord Buddha, Buddhist Doctrine, great moral monks, including noble angels, lower – ranked angels, house's guardian spirits, the lord of jungle, lord of land, lord of mountains, lord of fields, lord of canals, lord of water and together with spirits of deceased ancestors and teachers, my name is………(Say your name)………, today I would like to enshrine the powerful magic Metal Amulet at my house, address …….(Say your house's address)………, as I need its magic power to protect me from dangers, support my business, and bring good lucks. My great respect and faithfulness will always be with you."
How to worship the Metal Amulet ( LEKLAI )
First, say Na Mo Dtassa Pakawadto Arahadto Sammaa Samputtassa (3 times) Second, cast the spell of worship "Phut Thoo / Me Naa Thoo / Thammoo Me Naa Thoo / Sangkhoo Me Naa Thoo / Sa Ga Pha Ja / Buuchaa Ja Mahaa Buuchaa / Thaan Phuu Duu Lae Rak Saa / Thaat An Sak Sit / An Song Rit / Aa Nu Phaap Nii / I Sawaa Su / I Ti Pi Soo / Pha Kha Waa / Lek Lai Ja Rern Maa / Ja Rern Ying / Ja Rern Dii / Sing Dii Dii / Thang Laai / Lang Lai Khao Maa Suu Gae Tua Khaa Pha Jao / (Say your first name and last name here) / Samma Sammaa / Sammaa Samma / Na Ma A U / Na Ma Pha Tha / Na Moo Phut Thaa Ya"
**************
This Amulet stored in Kru Wat Phra Kaew temple.
Somdej Toh amulets were recognized as the best of Thai amulets since there are uncountable, miraculous events, regarding to the amulets. The amulets are believed to ward off dangers, bring luck and success in life. Some says that Somdej Toh Amulet is the world emperor of Thai amulets.
Wat Phra Kaew Temple is regarded as the most sacred Buddhist temple in Thailand. It is a "potent religio-political symbol and the palladium (safeguard) of Thai society". It is located in Phra Nakhon District, the historic centre of Bangkok, within the precincts of the Grand Palace. The Emerald Buddha (or official name Phra Phuttha Maha Mani Rattana Patimakon)

"Phra Kru" is the antique which sacred things or amulet that was buried in various sanctuary such as stupa in the temple, under the church, chapel though under ground or under trees and in the home of ancient amulet collectors. Which the important reason in buried(someone called "hide") in the ancient time was kept for legacy to their progeny and young generation. In summary was kept by buried that make the amulets still in a good condition, not lost and prevent from destroyed. In generally, Phra Kru will had more age than 100 years. Some mold of Phra Kru was more than 1000 years. And, all various of Phra Kru that was found will make young generation can recapture history, prosperity in culture arts in ancient era from Phra Kru.

Powerful : For more Prosperity and Wealth fetching, Increase luck tremendously, Fulfill your Wishes, Smooth sailing in life, Good in business, Overall good luck, Protection from harm and danger, good opportunity and successful in everything that you do.
All of our Buddha's come from our own family's collection or Thai secondhand markets, none are newly made at Factory's or such like places .
We spend time to give our customers the very best and real deals unlike many people who just sell mass produced Buddha's for a quick baht.
Beautiful, old and rare , a fine piece for any collector!
PHRA KRU WAT PHRA KAEW B.E. 2411
Somdej Toh Amulets from Wat Phra Kaew / Kru Wat Phrakaew
******************
Temple of the Emerald Buddha . (Wat Phra Kaew Palace ).
Temple of the Emerald Buddha. The people called it Wat Phra Kaew. King Rama I ordered to be built in conjunction with the establishment of Rattanakosin On Wed. Founded in 2325, completed in the year. Since 2327. The temple is built in accordance with the Grand Palace, Wat Phra Si Ayutthaya Sanphet. This temple is located in the outer court of the eastern terrace area surrounding the temple with the monks at the temple is used as a royal priesthood, and the judge told me to hold the water droplets of His Majesty King vowed that one be kind enough to The Emerald Buddha is enshrined the Emerald Buddha statue or symbol of Thailand to be enshrined here. After the founding of the Emerald Buddha Temple is rebuilt and has been passed on to every reign since it is an important measure has been restored over the last 50 years. In the reign of King Rama I Rd King Rama V King Rama VII, and the bath during the current reign of King Bhumibol Adulyadej. Anniversary celebration held on the occasion of 200 years old in the year. Since 2525, the fully restored through the past to preserve the architectural and artistic masterpieces of the national heritage and maintain the aesthetic value of the best Thai Fine Arts. The Temple of the Emerald Buddha or Wat Phra Kaew is located opposite to Rattanakosin.
Somdej Puttajarn (Toh) Phromrangsri
Somdej Phra Puttajarn (Toh Prommarangsri) from Wat Rakhangkhositaram is legend of Rattanagosin era. Even Somdej Toh have passed away for more than 100 years. But his named still talk until now, his amulets are the most famous of all.
Thai people give name "King of Thailand amulets".
***********
Performance Abillity of Amulet: Life protection,Good trade,Good metta ,Wealth, Prevent Dark Magic and Evil Spirits,
Danger Obstacle cease,Charms / Attraction in LOVE& SEX ,Give merciful,without poor, Triumphantly,
Loving Kindness, Harm proof, Avoid from danger,Change Bad Luck to Good Luck, Win Gambling , Wishes be Fulfilled,
Get Healthy Live Better And Be Happy.
and also for your valuable collectible thing .
We are expert collector and trader buddha amulets , antiques , Talismans items from Thailand & Southeast Asia.
We open amulet store in Thailand too.
All of our Amulets are 100 % Satisfaction guarantee and either straight from the temple or from very reliable sources including dealers and collectors
around Thailand with whom we are afilliated.

You can trust that the items are Rare, Sacred, Genuine and beautiful Items.