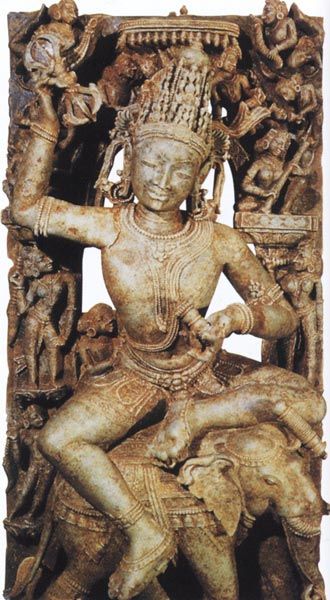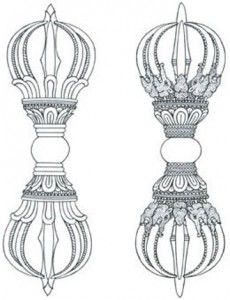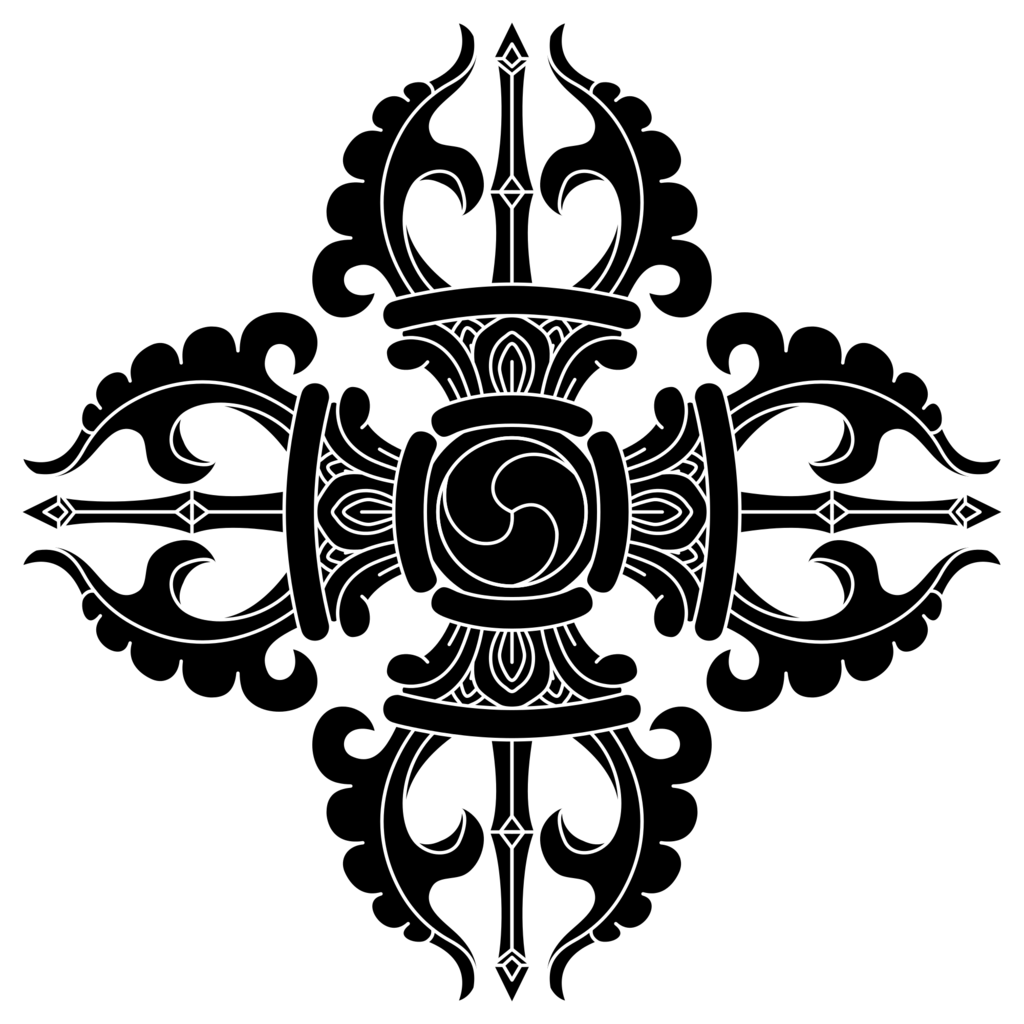 Vajra
Vajra is a Sanskrit word meaning both thunderbolt and diamond . Additionally, it is a weapon which is used as a ritual object to symbolize both the properties of a diamond (indestructibility) and a thunderbolt (irresistible force).

It is also known as Bajra( Nepali ), vajram ( Tamil ), bojro ( Bengali ), bajra ( Malay ), dorje ( Tibetan ), dorji ( Dzongkha ), wajra ( Indonesian ),

The vajra is essentially a type of club with a ribbed spherical head. The ribs may meet in a ball-shaped top, or they may be separate and end in sharp points with which to stab. The vajra is used symbolically by the dharma traditions of Buddhism , Jainism and Hinduism , often to represent firmness of spirit and spiritual power. The use of the vajra as a symbolic and ritual tool spread from India along with Indian religion and culture to other parts of Asia.
Product description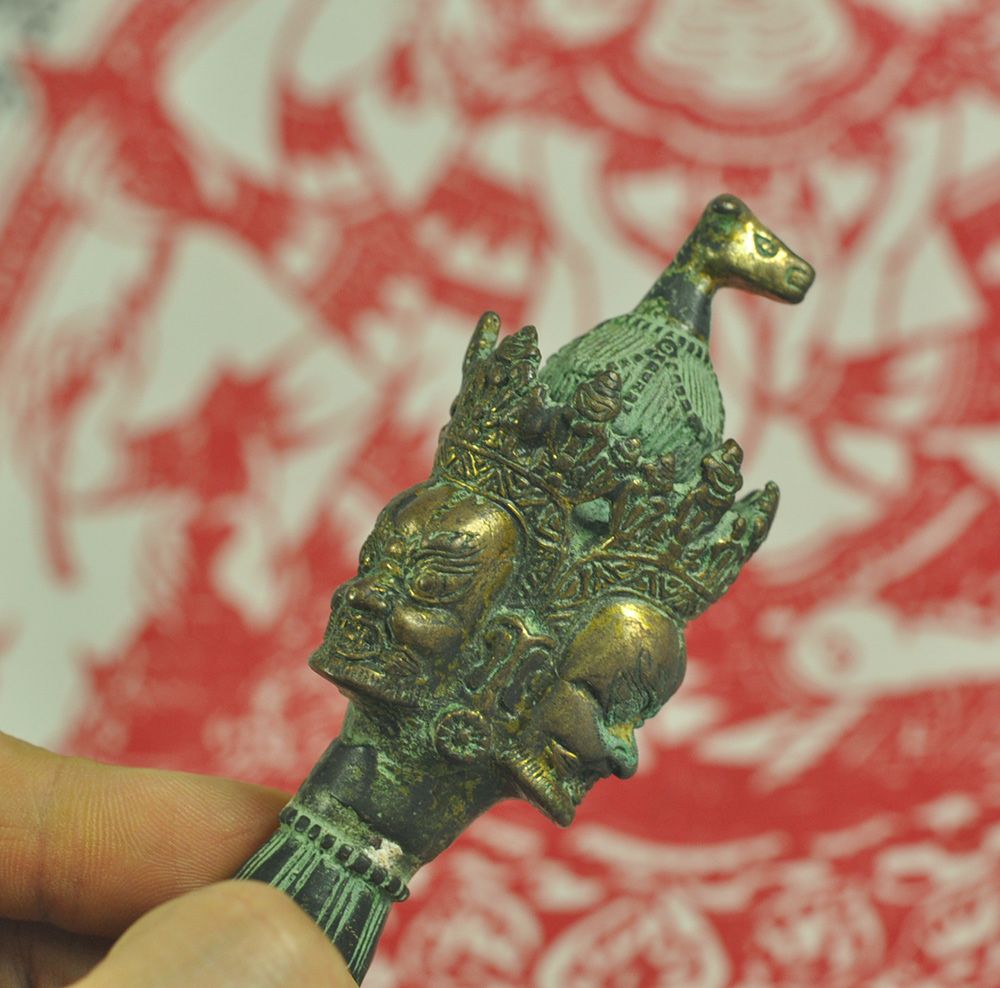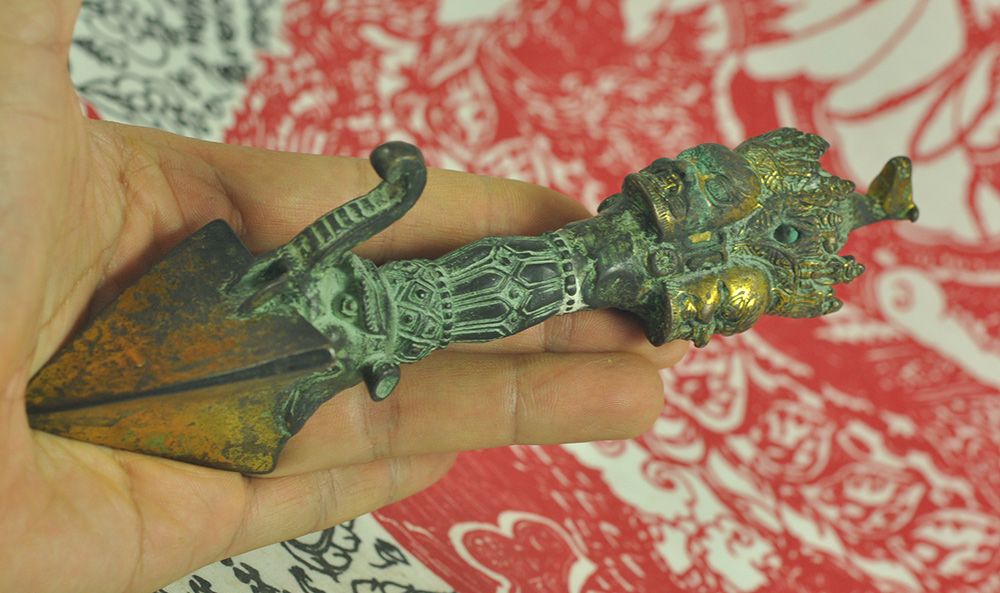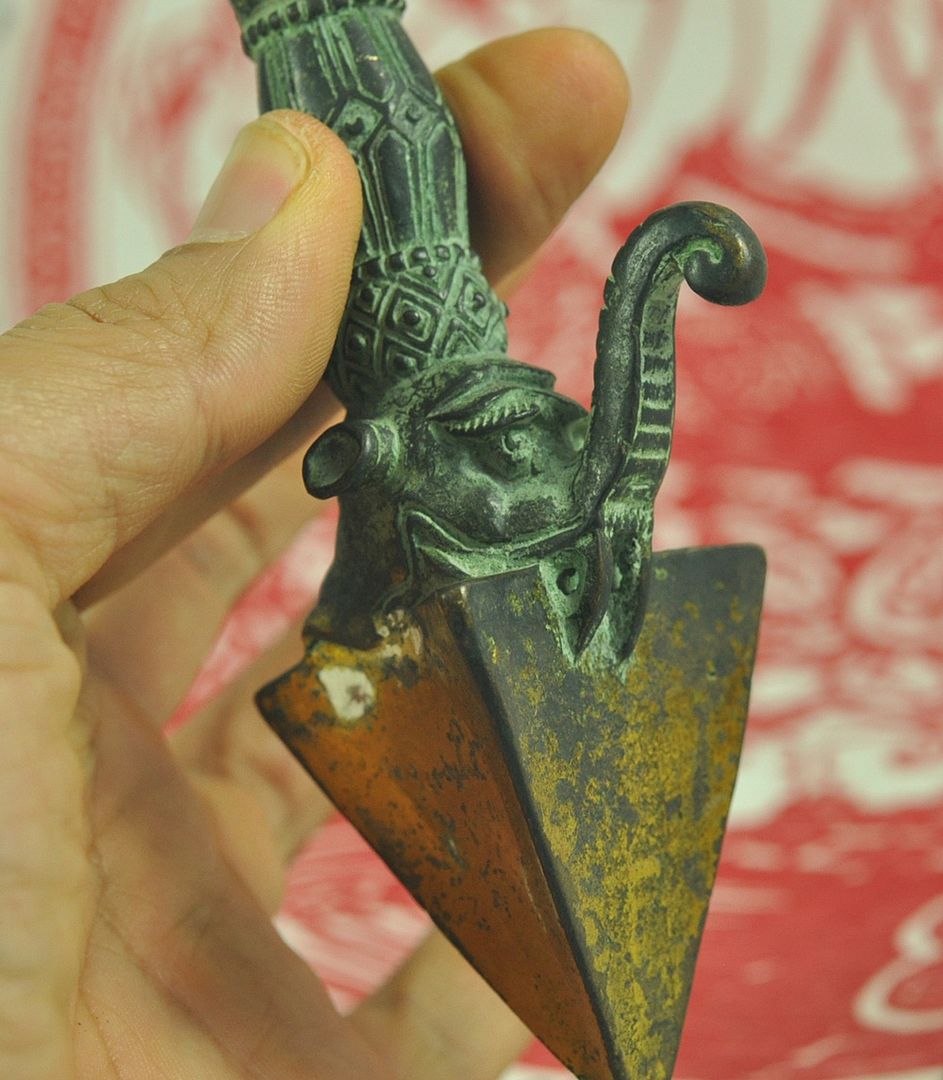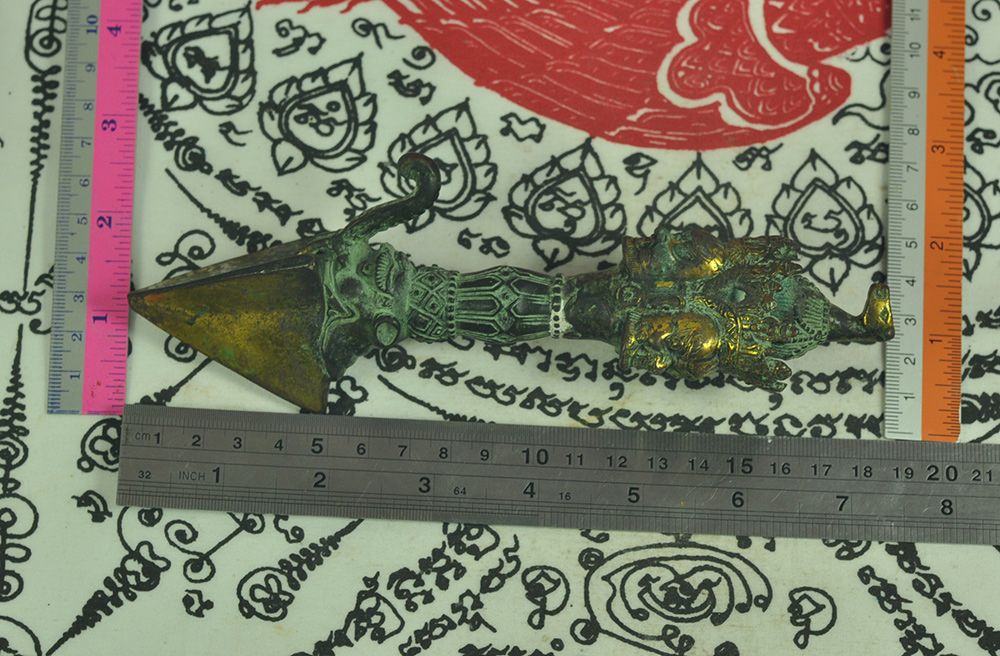 Dorje Phurba 3 Faces Dagger and Ganesha
Tantra Vajra Tibetan South Asian Mahakala Buddha Vajra Phurba Dorje dagger .
Chinese or Tibetan Esoteric Buddhist Exorcism Ritual Implements.
Very Rare Antique Tibet Tibetan Ritual Vajra Dorje Amulet Phurba Dagger
Chinese Tibetan Fine Bronze Lotus Diamond Vajra
Vajrayana Buddhist Thunderbolt Dorje Vajra
Antique TIBETAN TIBET bronze Vajra DORJE THUNDERBOLT DIAMOND NEPAL BUDDHISM
Tibetan Bronze ritual ceremony implements
Buddhist Vajra Kila Dorje Thunderbolt Tibetan
size : Long 7 " INCHES W 2 " inches

Weight : 383 grams
As you can see the image, It is in good condition,and was created by skilled craftsmen in traditional style with fine handcrafts . This is a great piece of valuable collection, a valuable personal alter or a very good present. the handwork is very fine with incredible detailing. Don't miss out this chance to get it. Wish you good luck!
GOT From My Old Uncle in long time agos and he told he got this statue direcltly from
FROM : Sri Maha Mariamman Temple , also known as Maha Uma Devi Temple in Silom , known as Wat Khaek (วัดแขก, meaning the "Indian temple" in Thai ), 'Khaek' being a term, albeit one increasingly perceived as offensive, used for "people of Indian origin", is a South Indian architecture style Hindu temple in Bangkok , Thailand .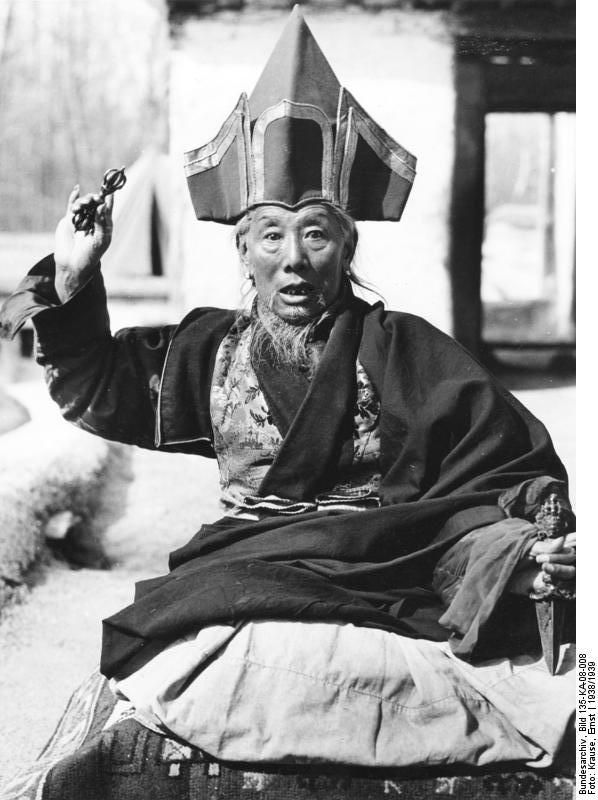 Vajra is a Sanskrit word meaning both thunderbolt and diamond. It is a weapon which is used as a ritual object to symbolize both the properties of a diamond (indestructibility) and a thunderbolt (irresistible force). The five-pronged vajra is the most commonly seen vajra.
beautiful antique brass Vajra, from Nepal. Vajra is a Sanskrit word which means both thunderbolt and diamond. As a material device or ritual tool, the Vajra is considered a metal "weapon" that has the symbolic nature of a diamond (indestructibility i.e., it can cut any substance but cannot be cut itself) and the thunderbolt (irrefutable force). The concept of the Vajra originated in India in antiquity. It is believed to have begun with the advent of Buddhism, but because of its symbolic importance, its use spread to Hinduism and Jainism as well. In turn, it began to be used as a symbol and tool in just about every other Asian culture as Buddhism manifested itself elsewhere. The Vajra represents many concepts and ideas, but the most important are firmness of spirit and spiritual power. As a symbolic weapon, the Vajra destroys ignorance and like knowledge, is itself indestructible. As a ritual tool, the Vajra makes it possible to break the bonds of worldly attachment. It symbolizes the union of the forces of compassion and wisdom. Vajras can be very small or large, and most are hand held. The largest sizes are found lashed down outside altars in Buddhist and sometimes Hindu temples, where offerings are made to access the aforementioned forces. In the tantric traditions of both Buddhism and Hinduism, it is also a symbol for the true nature of reality and it represents endless creativity, potency and skillful activity. In Tibetan, the Vajra is known as a Dorje (Dor-jay). It is associated with numerous deities, all of whom carry it as a reminder of "the power of impermanence.

WE SELL ANTIQUES AND COLLECTIBLES - YOU SHOULD EXPECT SOME WEAR AND MINOR SCRATCHES FROM USE. WE DO OUR BEST TO HONESTLY REPORT CONDITION.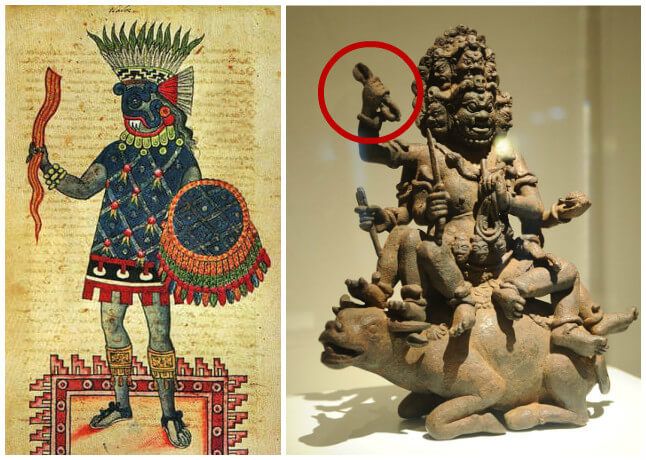 ***********
and also for your valuable collectible thing .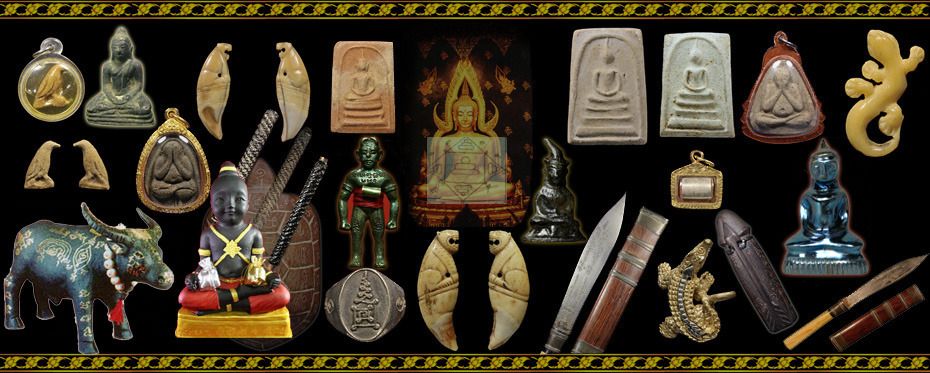 We are expert collector and trader buddha amulets , antiques , Talismans items from Thailand & Southeast Asia.
We open amulet store in Thailand too.
All of our Amulets are 100 % Satisfaction guarantee and either straight from the temple or from very reliable sources including dealers and collectors
around Thailand with whom we are afilliated.

You can trust that the items are Rare, Sacred, Genuine and beautiful Items.