This style amulet is extremely rare and very difficult to come by.
** Worthy Spiritual **


**********
Phra Kring Somdej Toh Wat Phra kaew beautiful Wand
with Phra thad relics gems Naga Eyes Wat Phra kaew thai amulet
come with small image of buddha on the wand ( Benjapakee ) = somdej , Sumkor ,Nangphya , Phra rod, Pong suphun and somdej Toh
takrut wand Kru Wat Phra Kaew Thai Buddha Amulet with gems and phra thad relics
STUNNING SOMDEJ WAND from Wat Phra Kaew / Kru Wat Phrakaew
Thai Buddha Jewelry Amulet Rare
SIZE : Long 8 " inches *
width 2.5 cm
Material : Glass wand , JADE , Gems , Pha thad / relics , naga eyes ,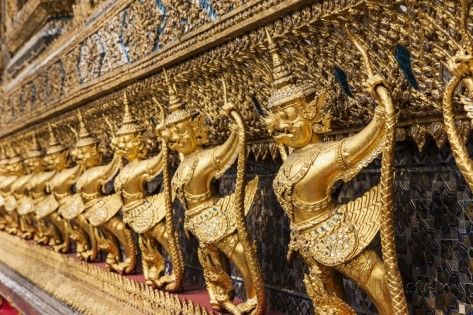 Wat Phra Kaew (Thai: วัดพระแก้ว, rtgs: Wat Phra Kaeo, IPA: [wát pʰráʔ kɛ̂ːw], Pronunciation, English: Temple of the Emerald Buddha; full official name Wat Phra Si Rattana Satsadaram, Thai: วัดพระศรีรัตนศาสดาราม, IPA: [wát pʰráʔ sǐː rát.ta.náʔ sàːt.sa.daː.raːm]) is regarded as the most sacred Buddhist temple (wat) in Thailand. The Emerald Buddha housed in the temple is a potent religio-political symbol and the palladium (protective image) of Thai society.[1][2] It is located in Phra Nakhon District, the historic centre of Bangkok, within the precincts of the Grand Palace.[3][4]
The main building is the central phra ubosot, which houses the statue of the Emerald Buddha. According to legend, this Buddha image originated in India where the sage Nagasena prophesized that the Emerald Buddha would bring "prosperity and pre-eminence to each country in which it resides", the Emerald Buddha deified in the Wat Phra Kaew is therefore deeply revered and venerated in Thailand as the protector of the country. Historical records however dates its finding to Chiang Rai in the 15th century where, after it was relocated a number of times, it was finally taken to Thailand in the 18th century. It was enshrined in Bangkok at the Wat Phra Kaew temple in 1782 during the reign of Phutthayotfa Chulalok, King Rama I (1782–1809). This marked the beginning of the Chakri Dynasty of Thailand, whose present sovereign is Bhumibol Adulyadej, King Rama IX.
The Emerald Buddha, a dark green statue, is in a standing form, about 66 centimetres (26 in) tall, carved from a single jade stone ("emerald" in Thai means deep green colour and not the specific stone). It is carved in the meditating posture in the style of the Lanna school of the northern Thailand. Except for the Thai King and, in his stead, the Crown Prince, no other persons are allowed to touch the statue. The King changes the cloak around the statue three times a year, corresponding to the summer, winter, and rainy seasons, an important ritual performed to usher good fortune to the country during each season.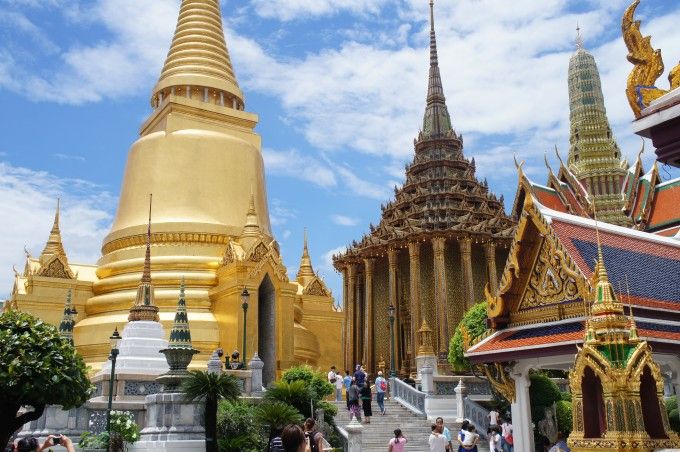 SUPER POWERFUL MAGIC Amulet .

Very hard to find this amulet of top thailand Buddhist saint.

Somdej Puttajarn (Toh) Phromrangsri
Somdej Phra Puttajarn (Toh Prommarangsri) from Wat Rakhangkhositaram is legend of Rattanagosin era. Even Somdej Toh have passed away for more than 100 years. But his named still talk until now, his amulets are the most famous of all.
Thai people give name "King of Thailand amulets".
****************
BEAUTIFUL COLLECTION
************************

Beleive Who have this Amulet will successful all wish and Perfect life .
This POWERFUL Amulet can protect
Bad Magic and Dangerous from Evil.
Protecting oneself from Harm
and securing good Fortune in Business affairs to the Owner.
Power ability outstanding of amulets.
Attraction Fortune, Wealth, Protection and Avoid - Prevent Dark Magic and Evil Spirits, Power and Forcing , Invulnerable - Danger Obstacle cease, Rich and Lucky- Attraction lucky and money, Give merciful, CharmTriumphantly, Charm- Loving Kindness, Harm proof, Avoid from danger, Change Bad Luck to Good Luck, Bring Prosper to Business, Bring Lucky and Happiness, Wishes be Fulfilled, Increased halo and fame, Working Smooth , protection .
We are expert Buddha&Amulet collector and trader antique, amulets, talisman and artifacts
from Thailand and Southeast Asia.