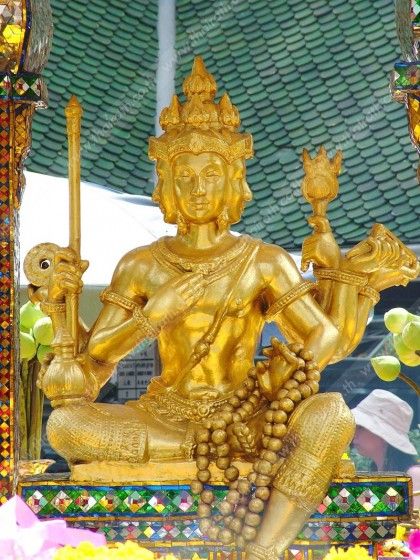 Phra Phrom 4 Face, Brahma Hindu God
Phra Phrom ( Thai : พระพรหม ; from Sanskrit : Para Brahma ) is the Thai representation of the deva Brahma , [1] who is regarded in Thai culture as a deity of good fortune and protection. Phra Phrom is colloquially known outside Thailand as the Four-Faced Buddha ( Chinese : 四面佛 ; pinyin : Sìmiànfó ) or the Four-Faced God ( Chinese : 四面神 ; pinyin : Sìmiànshén ) in Chinese folk religion .
Worshipers of the god usually offer incense, candles, jasmine flowers or jasmine garlands and young coconut milk (with water in them) in their worship, usually placing these offerings before all four heads of Phra Phrom, each head representing a different aspect of the deity; it is believed each side of Phra Phrom offers different blessings. Another common way of worship is to place wooden elephant statues on the altar to honor him. Phra Phrom is also known to admire Thai classical music, which is played near larger scale outdoor altars, accompanied by dancers. Worshipers of Phra Phrom are also usually advised to abstain from consuming meat. It is also believed that worshipers have to make good on any promises made to the deity else misfortune will befall them instead of the fortune that was asked for.
The main example of this representation of Brahma is the statue at the Erawan Shrine in Bangkok , where the faith of the god has its origins in modern times. [2] The golden dome of the Government House of Thailand also contains a statue of Phra Phrom.

Erawan Shrine
The Erawan Shrine , formally the Thao Maha Phrom Shrine ( Thai : ศาลท้าวมหาพรหม ; rtgs : San Thao Maha Phrom ; "Shrine of Lord Brahma the Great"), is a Hindu shrine in Bangkok , Thailand , that houses a statue of Phra Phrom , the Thai representation of the Hindu god of creation Lord Brahma . A popular worship attraction, it often features performances by resident Thai dance troupes, who are hired by worshippers in return for seeing their prayers at the shrine answered.
On 17 August 2015, a bomb exploded near the shrine, killing 20 and injuring 125 more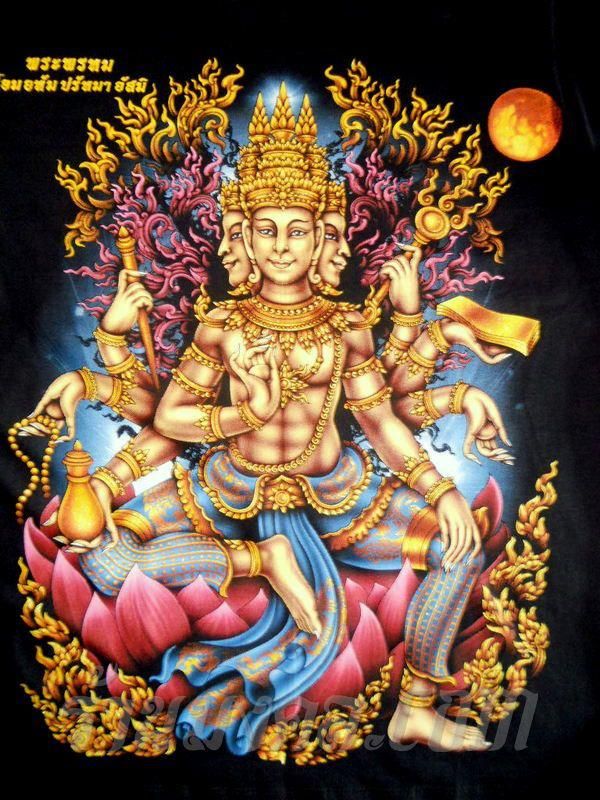 ***********************
Product Description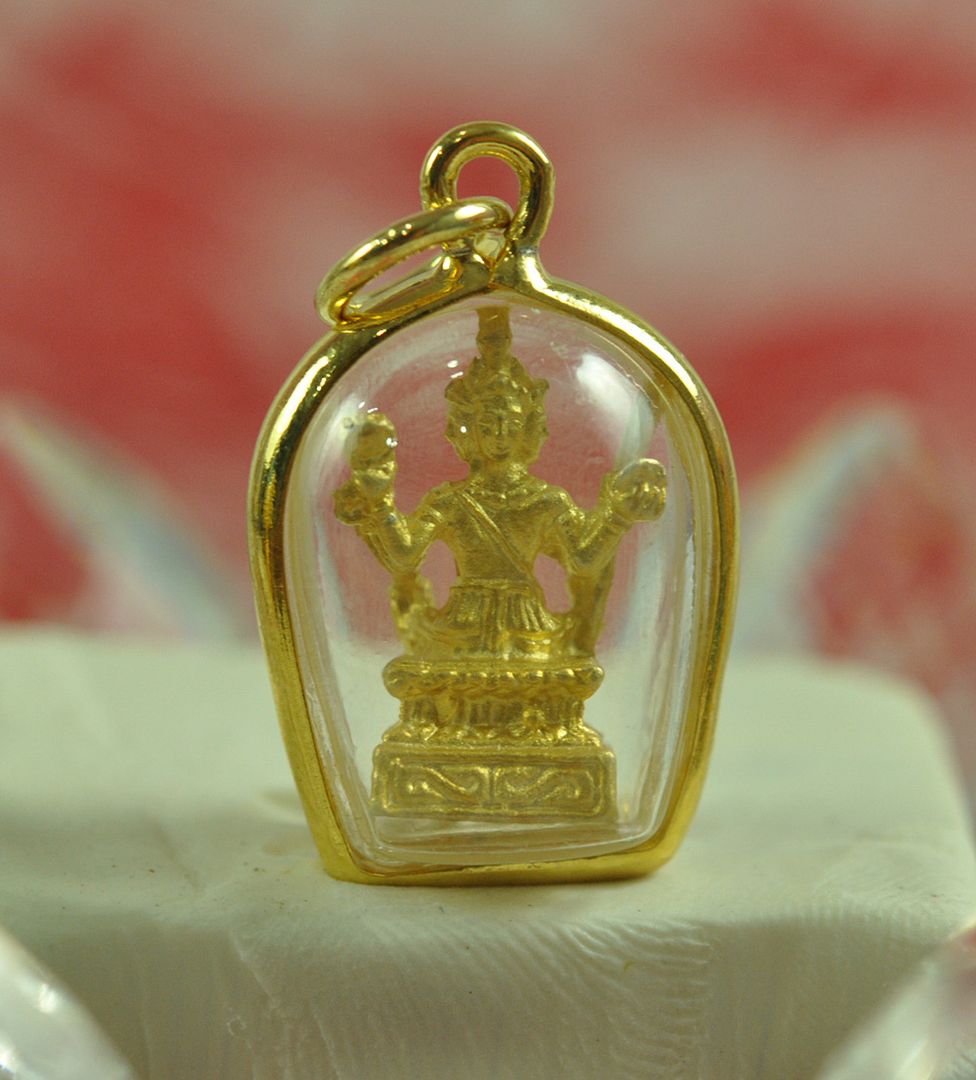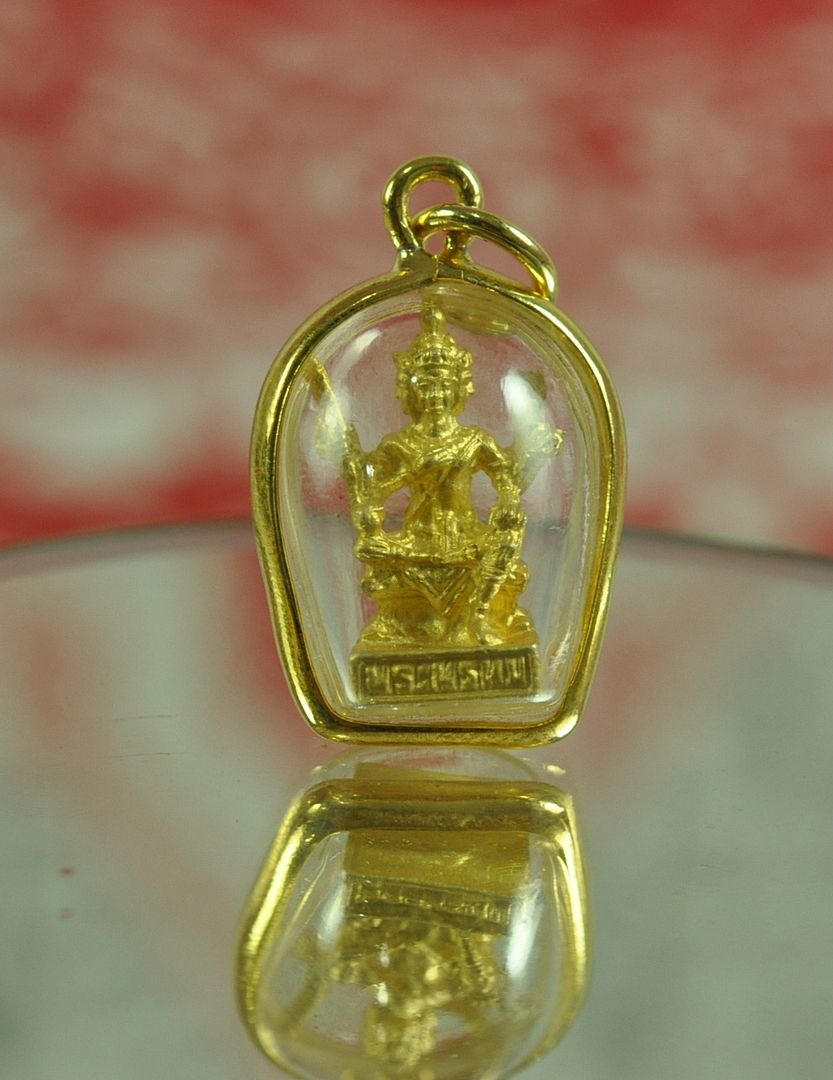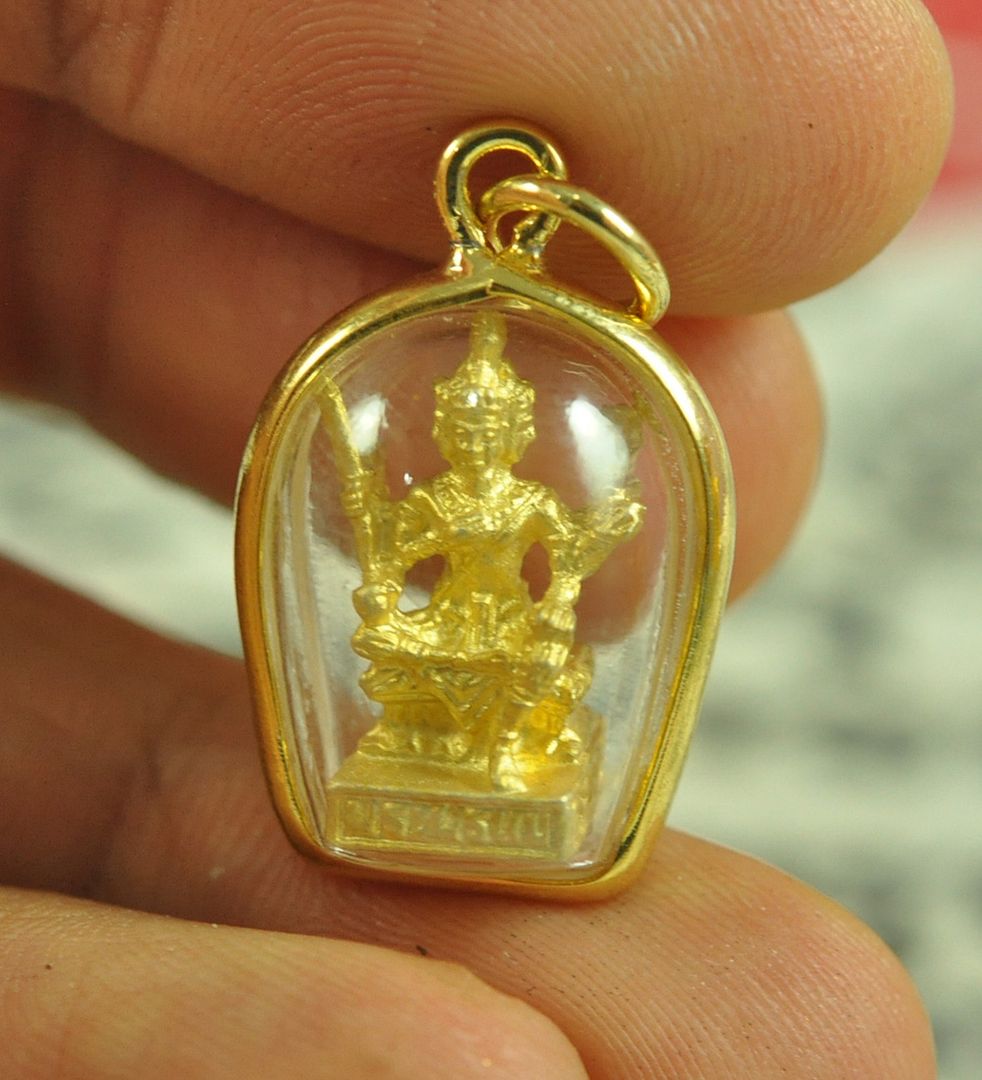 ***********
Phra Phrom Brahma VISHNU MAHESH ,
The Erawan Shrine , formally the Thao Maha Phrom Shrine God
Figure Seated

Gold Micron Pendant .
Hindu Brahma Statue Phra Phrom Bucha worship altar God 4 face
Figure Seated

.

Phra Phrom 4 Faces Erawan Shrine Brahma Hindu God Gorgeous Thai amulet .
Thai amulet, Buddha figurine, wonderful pendant, collectible.

Mixed materials, gold color painted, Micron Gold Pendant .

In believe, Phra Phrom will protect you from dangerous and bring lucky to your life.
Condition : New & good condition
PENDANT SIZE : 1.5 * 2 cm
Amulet Already blessed and come from : Erawan Shrine Bangkok Thailand .
Erawan Shrine - located by the Grand Hyatt Erawan Hotel, at the Ratchaprasong intersection of Ratchadamri Road in Pathum Wan district. It is near the Bangkok Skytrain 's Chitlom Station, which has an elevated walkway overlooking the shrine. The area has many shopping malls nearby, including Gaysorn, CentralWorld and Amarin Plaza. Thailand more than 30 years agos . And Already blessed by Brahma Master .
This amulet is genuine powerful for many people to worship for a long time and owning up. The good luck belongs to the person who owns it and most people believed that :
This Amulet make great life.

More safeguard.

Amulet will make all your wishes for rich good heath.

Have a fortune.

Protects from harmful things.

More power and prestige.

Help with charm.

Get lucky.

Everyone love.
BUDDHA AMULET RICH LUCKY Protection Phra Phrom SAFE SUCCESS HEALTH LOTTO MIRACLE ART THAI
Phra Phrom

Thai Buddha in beautiful condition. This Buddha statue is highly regarded by Thais as being the most magnificent and stunning image of Buddha, across Thailand and the world.
Peaceful Life with Wealth and Success Hindu God.
It will make a fantastic gift for someone special or for a collector of Asian antiques.Keep it with you for Peaceful & Success Power or keep it in your house .This is a fabulous collector's item indeed!
This Hindu God will bring you Luck, Good things will unexpectedly happen to you.It also make you success in anything you hope for.This Hindu God will bring Prosperity and ensure success in human endeavors.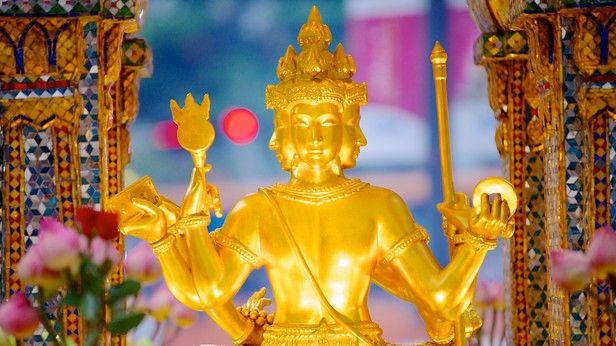 Story of
四面佛

Phra Phrom
Brahmana is an early Hindu religion dating back some 5,000 years. This religion is mainly symbolised by a trinity of Gods, namely; Brahma the creator, Vishnu the preserver and Shiva the destroyer. It is believed that this Brahmanical triad combined their powers to create the Buddhist world.
One of the earliest iconographic descriptions of Brahma is that of the four-faced god seated on a lotus. In Thai Buddhism this Brahminist 4-faced god is known as "Phrom Sie Nah ", but it often referred to by others as the 4 faced Buddha.
Thai Buddhists highly respect many Brahminist gods including the 4-faced Phrom Buddhism grew out of a culture which believed in many levels of gods, called devas. There were also the highest level of gods, the Brahma gods, and Maha Brahma, the highest God.
Indeed many Thai religious ceremonies are heavily influenced by Hindu ritualistic practices even amulet consecrations. Buddhism as a religion is deeply rooted in early Hinduism from which it developed.
The description of Brahma like other deities of Hinduism bears a mystic symbolism. The lotus represents the Reality. Brahma sitting on the lotus indicates that he is ever-rooted in the infinite Reality. Reality is the foundation on which his personality rests. The four faces of Brahma represent the four Vedas. They also symbolise the functioning of the inner personality (antahkarana) which consists of thoughts. They are the mind (manas), the intellect (buddhi), ego (ahamkara) and conditioned-consciousness (chitta). They represent the four ways in which thoughts function. They are the manifestations of the unmanifest ConsciousnessThe significance of the 4 faced God from the Thai perspective is that the Great Brahma is able offer help to the people who cry to him from all directions, granting wishes to those who ask. It is widely thought that Phra Phrom offers protection from danger and prosperity in business.
The most famous image of Brahma or Phra Phrom is located at the Erawan Shrine which can be found at the intersection between Ratchadamri Road and Ratchaprasong Road in Pathum Wan district, Bangkok, Thailand. It is a popular tourist attraction and often features performances by resident Thai dance troupes, who are hired by worshippers in return for seeing their prayers at the shrine answered.
Interestingly Lord Brahma is not popularly worshipped in India. This is so, because the idea of creation is repugnant to seeker of Truth since the creation of thoughts has veiled the infinite Reality. The attempt of all spiritual seekers is to destroy the existing thoughts and maintain the state of single pointed thought until the Reality is revealed. Hence, Siva (god of destruction) and Vishnu (god of maintenance) are worshipped more than Brahma.
Katha:
Namo Tassa Bhagawato Arahato Sangma Sang Buddhassa ( x 3 times)
Prom Ma Cha Lo Ka, Ti Pa Ti,
Saham Pati Chat An Ta Li,
An Ti Wa Rang,
Ya Cha Ta San Ti Cha San Ta Ap Pa Ra,
Cha Kat Cha,
Ti Kat Tay,
Say Tuk Kammang,
Pi It Mang Pat Chang (x 7 times)
This Katha will help create a karmic link with Phra Phrom and in return he will save you from black magic and the evil ones, brings you happiness, money and prosperity, help to make your good wishes come true
and also for your valuable collectible thing .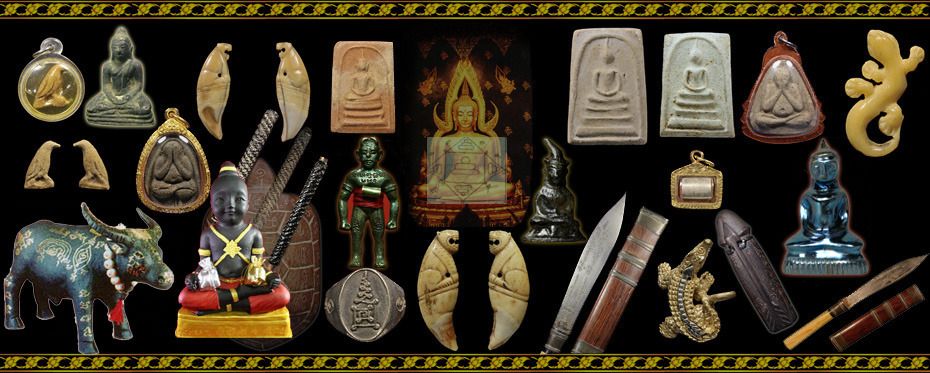 We are expert collector and trader buddha amulets , antiques , Talismans items from Thailand & Southeast Asia.
We open amulet store in Thailand too.
All of our Amulets are 100 % Satisfaction guarantee and either straight from the temple or from very reliable sources including dealers and collectors
around Thailand with whom we are afilliated.

You can trust that the items are Rare, Sacred, Genuine and beautiful Items.