Phra Buddha Statue Bucha
This style amulet is extremely rare and very difficult to come by.
** Worthy Spiritual **
Product Description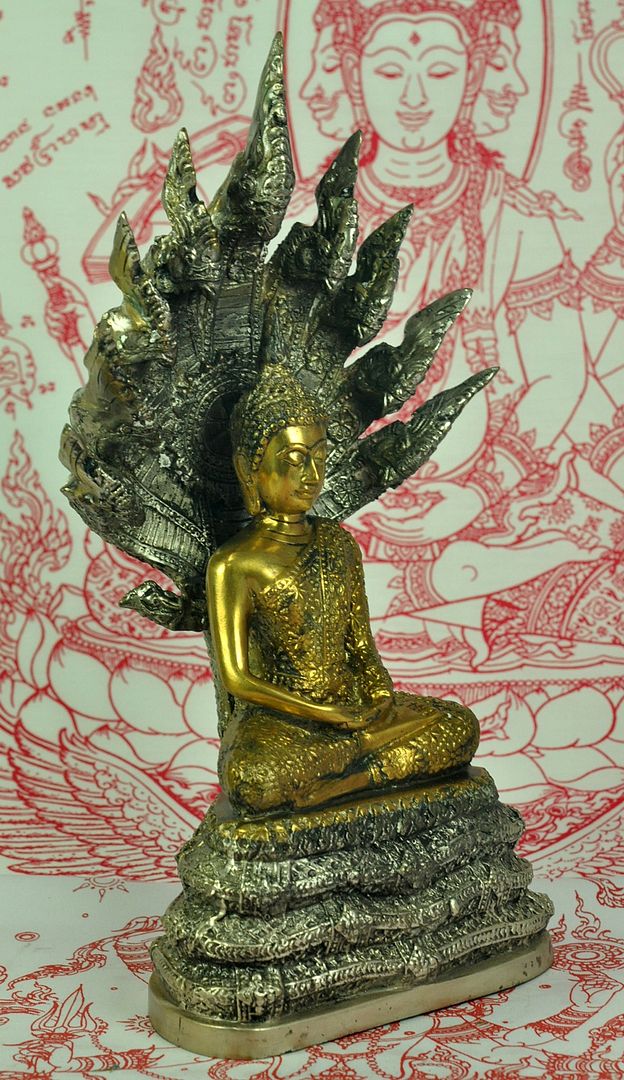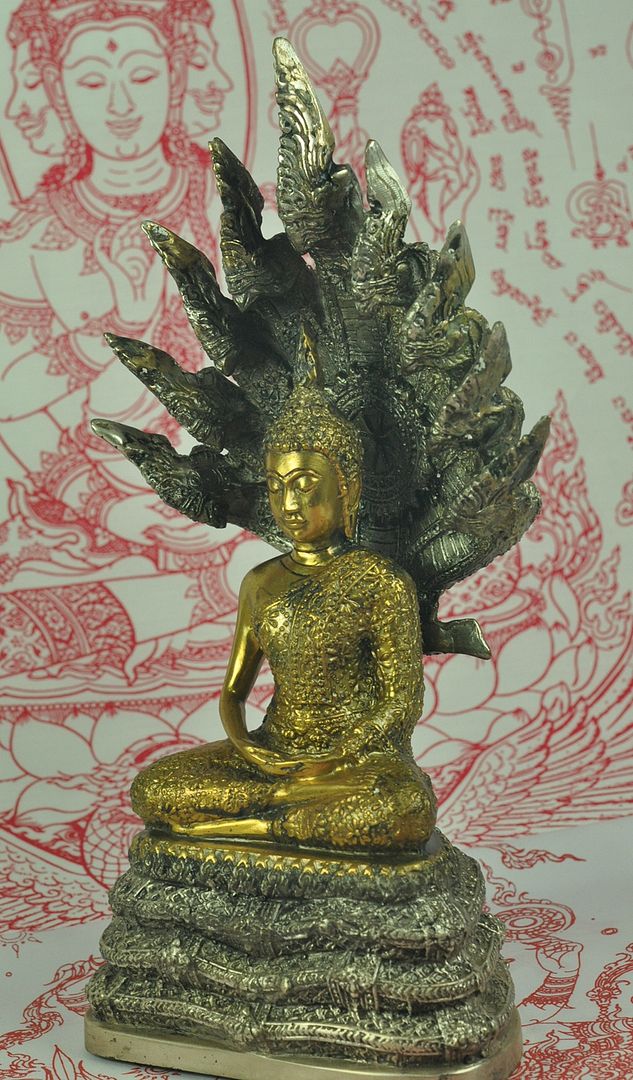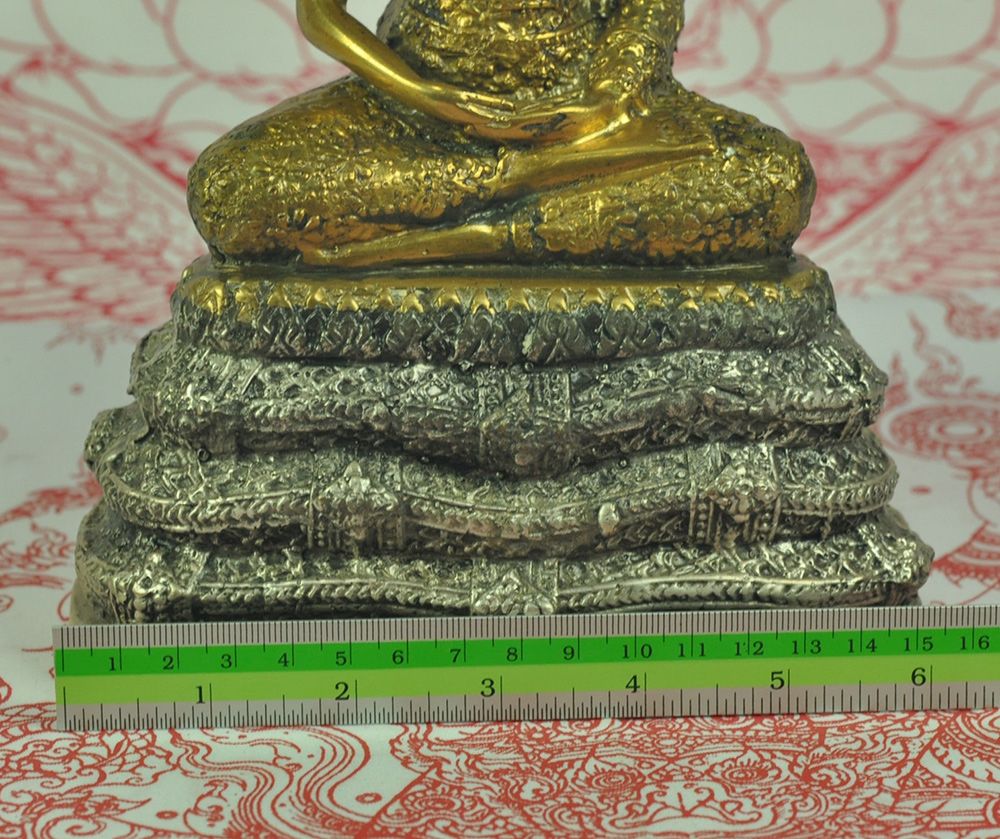 Thai Bronze Enlightenment Buddha Buddhist Figure Statue
Very Rare to find this Buddha Face very nice for collection.

Buddhist Ornament Figurine Sculpture .
Beautiful Rare SEAT Buddha Statue.
Phra Nakprok is actually a buddha image where Buddha Himself sitted in meditation posture within the warm of Naga king. Usually a mutiple headed furious snake is standing upright behind the Buddha...

PHRA NAKPROK STATUE
*** Phra Buddha Figure The Most beautiful Asia Statue sculptures ****
Height : 13 " inches
Width : 6 inches
Deepth : 4 inches
Origin : Thailand
Weight: 2581 grams

FROM : WAT SUTHAT Temple
Already blessed from Monk at Wat Suthat Temple Bangkok Thailand
Intended for the protection of everyone in this place. Success and prosperity.
Home Decor , This is a beautiful and This will ward off evil and bring you all good luck
From Antique collectors in Thailand
******
Basic Info Of Phra Nak Prok (Buddha):
"Phra Nak Prok", meaning "Buddha Protected by Naga", is the Buddha image for people born on Saturday. "Naga" is the name for a deity, taking the form of a very great snake. Among the notable nagas of Buddhist tradition is Mucalinda, protector of the Buddha. Shortly after his enlightenment, Buddha is meditating in a forest when a great storm arises, but graciously Naga King Mucalinda gives shelter to the Buddha from the storm by covering the Buddha's head with his 7 snake heads.

Phra Nak Prok is renowned for effects of the prosperity of careers, safety, protection against disasters, and turning misfortune into fortune, a good choice for the military or the police.
Also, people born on Saturday are recommended to wear Phra Nak Prok amulets, the Saturday Buddha image.


General Enhancements & Effects:
Successful & Victory in every aspects that you do; Smooth Sailing Luck In Life
Boost Your Wealth, Businesses & Sales Luck Greatly ; Change Bad to Good luck; Overcome Your Obstacles
Career Progression Luck ( new career opportunities, or promotion in existing employment)
Bring Happiness and Peace to worshipper and family (Family Harmony)
Positive energy to calm users & enhances your Focusing power
Enhances Your Metta (Ren Yuan/Loving-Kindness) & Charisma
Protection from harm and bad influence and evil

Especially For Users:
For boosting of businesses, increasing sales and attracting more customers. To do business talks and seal more DEALS/CONTRACTS
To increase lucky fortunes (e.g. INVESTMENTS)
To anticipate new financial territories and opportunities that can fuel your finances for a more optimistic wealth outlook
Pray Your Wishes & Be Helped

It will make a fantastic gift for someone special or for a collector of Asian antiques.Keep it with you for Peaceful & Success Power or keep it in your house .This is a fabulous collector's item indeed!
and also for your valuable collectible thing .
We are expert collector and trader buddha amulets , antiques , Talismans items from Thailand & Southeast Asia.
We open amulet store in Thailand too.

You can trust that the items are Rare, Sacred, Genuine and beautiful Items.
*** Important notice ***
Export this antique buddha statue - Need to ask Permit from the Thailand Department of Fine Arts . That take time about 7 days .
when I get Export statue License , I will ship Statue via DHL EXPRESS.