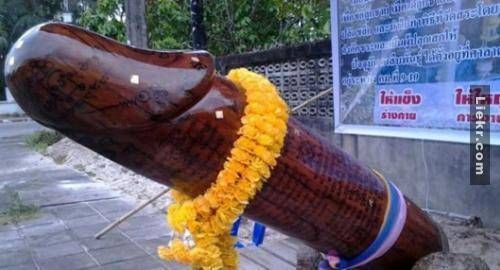 Paladkik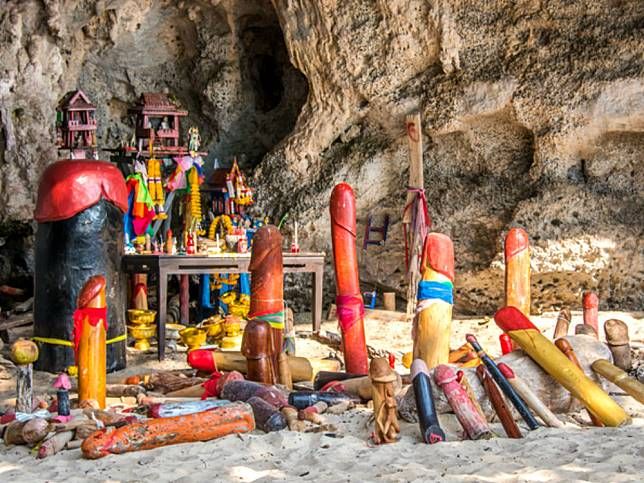 Product Description
Paladkik Hua Chamot Lin Tong with Gemstone Eyes + 2 Takrut in Base & Golden Takrut Tongue - Sacred Powders Stuffed in Throat - Uposadha Pillar Wood 5.5 Inches - Luang Por Erp Wat Sum Gratay
The Civet Head portion of the Palad Khik, with Takrut Lin Tong Golden Tongue Spell.
the Ploi Sek Maha Pokasap Gemstones inserted into the Head of the Civet.
Maker Luang Por Erp (Wat Sum Gratay Temple )
Magical Effects Maha Sanaeh, Metta Mahaniyom, Kaa Khaay, Maha Jang-Ngang, Maha Lap, Maha Pokasap. Material Paya Ngiw Dam Sacred Tree Wood, Gems, Takrut, Sacred Powders Recommended Uses Kama Sutra Attraction power, Proficient Salesmanship and Business Success, Wealth and Treasure Increase, Mercy Charm Number of Amulets Made Single Piece of Original Hand Made Artisanry
Special Custom Hand Carved Palad Khik with Gemstone Eyes and Golden Takrut Tongue, Empowered with the inscription of the Heart Shaped "Yant Na Ok Dtaek" Heartbreaker Spell, and Sacred Muan Sarn Maha Sanaeh Powders stuffed into the throat of the Civet head mouth. Blessed by Master of Wicha Palad Khik, Luang Por Erp, of Wat Sum Gratay.
Luang Por Erp is the Lineage Transmission Master of the Wicha of Luang Por Pina , who was the Greatest master of Wicha Palad Khik Hua Chamot of all Time, and all Eras. Luang Por Erp is now the Living Continuation and Inheritor of the Wicha which he recieved after many years of diligent and patient study and faithful devotion to Luang Por Pina.
This original custom exhibit of fine Artisanry, is hand carved from Sacred Uposadha Chapel Pillar wood, shaped in the form of the Palad Phallic shape with the head of a Civet, with Gemstone Inserts for its Eyes.The body of the Palad Khik is iniscribed with Sacred Khom Agkhara and the Yant Na Ok Dtaek. There are two Takrut Spells inserted within the shaft of the Phallic.
Luang Por Erp has become perhaps the most famous Master of Palad Khik of all current living masters, despite the fact that he has not produced any large mass produced editions, always adhering to focusing on quality rather than quantity.
He has in recent years produced less major editions, and focused more on accepting only Special Hand Custom made pieces of Finely Carved Palad Khik in very small limited numbers, and in the case of this piece, single items.
Two Takrut are inserted into the butt of the shaft of the Palad Khik, in Takrut Tong Lueang (Golden Brass) and Takrut Tong Daeng (Copper) along with the Golden Takrut Tongue in the Civet head, making this Palad Khik a 'Sam Kasat (3 Kings) Empowered Wicha.
This Palad Khik has powerful Kama Sutra Magick within it, and is known for immense Maha Sanaeh Power, symbolised by the Civet Head, who also is empowered with Powerful 'Kaa Khaay' Salesmanship and Business Success Magick, with the Golden Tongued Flag Yantra (Lin Tong Yant Tong).
The Yant Na Ok Dtaek (Heartbreaker) Magic Spell is Inscribed upon the surface of the Palad Khik, along with sacred Khom Agkhara Lettering. This Extremely rare and Original Palad Khik Custom Made and Carved Amulet, is a total essential rarity for extreme collectors and devotees of Palad Khik of the Luang Por Pina-Luang Por Erp Wicha Lineage.


SIZE : 5.5 " inches
Kata Bucha Palad Khik
Ganha Neha Na Ma Pa Ta
or
Ja Pa Ga Sa Na Mo Put Taa Ya Gan Ha Nae Ha Na Ma Pa Ta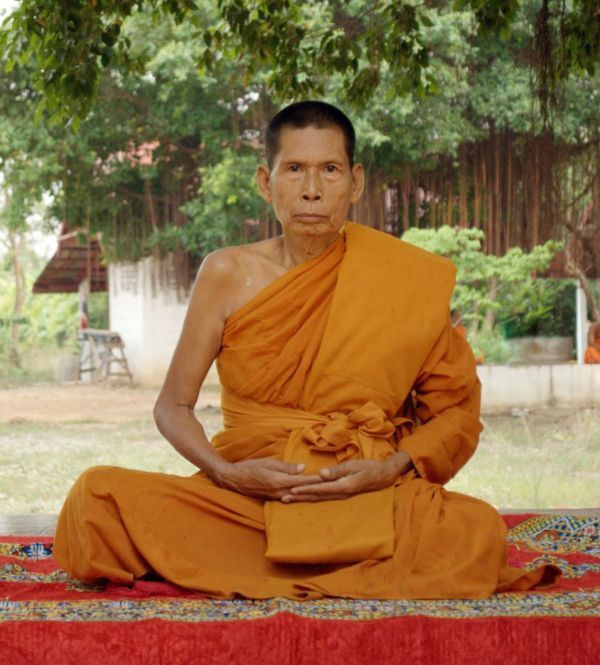 Luang Por Erp (Wat Sum Gratay Temple )
***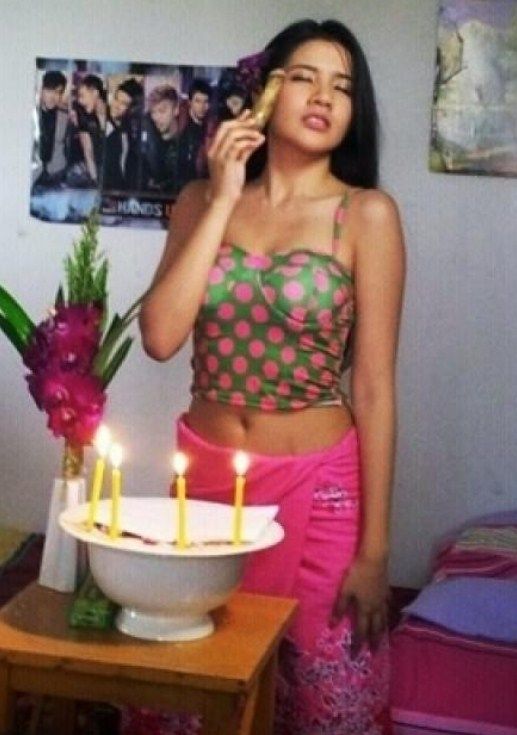 PALATKIK (Penis) will make you to be more charming, sex appeal, enchanting and can bring success in love, Easy to make friends, Make you to be most Charming people in your group, Overall Good Luck.... If want to own this love charm to enhance your life... It have great power to magnify the energy around us, and Object in particular enhances emotions that attract love and romance. Make People Fall in love single or married people wanting to improve their love lives will benefit from having it near them.
Amulets PALATKIK (Penis) carved from brass statue made by monks who specialize in their manufacture, and the efficacy of a given amulet is dependant on the charisma and reputation of its creator. The lettering of the inscriptions is a matter of serious ritual and can take several days to complete. Cast metal Amulets PALATKIK (Penis) do not always bear inscriptions.

This is a type of amulet from Thailand called a PALATKIK (Penis) . Such amulets are made by a handful of Buddhist monks with the ancient arcane knowledge and rituals necessary to make powerful magical amulets. They are usually cast in bronze at temple foundries, but some are hand-carved from wood, bone or horn. They are provided to parishioners who request them personally and make a donation.
One does not usually see them worn openly such as with other temple-consecrated amulets. They are kept inside the shirt on a necklace or often on a keychain inside the pant's pocket. This type of amulet predates the introduction of Buddhism in Thailand, but the beliefs in them did not get phased out with Buddhism, but incorporated as Buddhism is very tolerant of diverse beliefs. The amulets are believed to bring multiple positive benefits to the bearer. These include assistance in matters of performance, finding the right partner, maintaining faithfulness or fidelity of a partner and also protection from misfortune, such as danger, accident or illness.
Effect is for:.
1.)Make you to be more charming
2.)Sex appeal and enchanting
3.)Powerful make love
4.)Can bring success in love
5.)Easy to make friends charms
6.)Make people fall in love
7.)Make you to be most Charming people


AMULET Great Power Victory Protections, Prevent Harm.
Great charm.Bring Bring Lucky and Fortune , Property Very rich wealthy,
Bring Prosper to Business ability, Very profitable trade.
Pray for blessings to be a good thing. You must have faith And inspiration.
MAKE A WISH. Only success will come to you


This amulet is for love, luck attraction and protect you from evil. Paladkik is a symbol of fertility and potency. Thai people believe this Paladkik Fully Sex Love Luck Charm Thai Amulet Pendant will make all your love and luck wishes come true. When you bring this Paladkik Fully Sex Love Luck Charm Thai Amulet Pendant with you, other people will love you and be kind to you. Very attractive to opposite sex. Successful in love and game. Anything you hope for will be achieved much easier and more conveniently than before. This Paladkik Fully Sex Love Luck Charm Thai Amulet Pendant also prevents you from evil and any curse or spell. Power up you and your lover erotic emotion. Make you confident and powerful.

This Amulet , Fetish, Talisman will bring you Luck, Good things will unexpectedly happen to you. It also make you success in anything you hope for. This Amulet will bring Prosperity and ensure success in life. Believed to protect against evil. Invulnerable, Repel evil. Rich windfall wealth benevolent wealthy. Trade flourished, Subtle charm, Attractive for the opposite sex.
*****************************
**********
Performance Abillity of Amulet

: Life protection,Good trade,Good metta ,Wealth, Prevent Dark Magic and Evil Spirits,
Danger Obstacle cease,Charms / Attraction in LOVE& SEX ,Give merciful,without poor, Triumphantly,
Loving Kindness, Harm proof, Avoid from danger,Change Bad Luck to Good Luck, Win Gambling , Wishes be Fulfilled,
Get Healthy Live Better And Be Happy.
and also for your valuable collectible thing .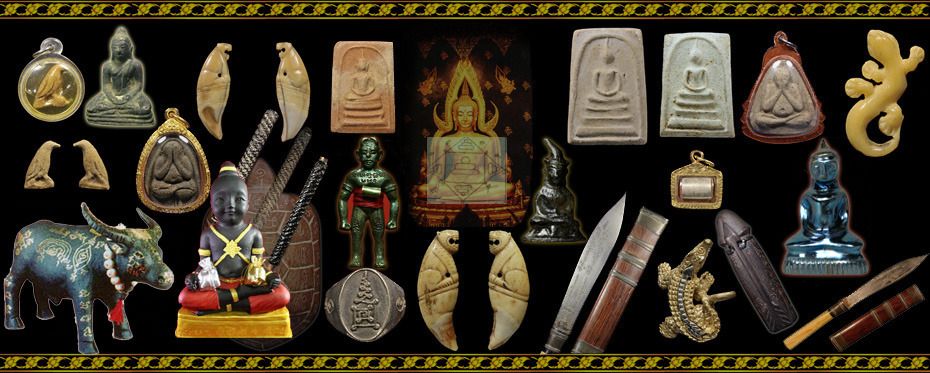 We are expert collector and trader buddha amulets , antiques , Talismans items from Thailand & Southeast Asia.
We open amulet store in Thailand too.
All of our Amulets are 100 % Satisfaction guarantee and either straight from the temple or from very reliable sources including dealers and collectors
around Thailand with whom we are afilliated.

You can trust that the items are Rare, Sacred, Genuine and beautiful Items.