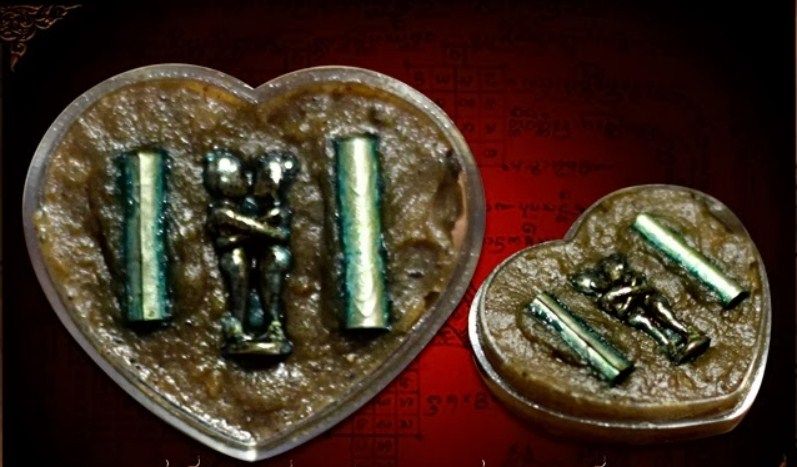 THAI AMULET BUDDHA BEE WAX SEEPHUENG MAHASANE
"See Puang" Maha Saney, super power wax/ balm occult sorcery
Bucha Method;
It is not permitted to smear the balm on your lips. You can smear it on your forehead, hands, under the chin, or onto objects or clothes.
For Gambling Purposes, simply tap the See Pheung with your finger and make a wish before leaving the house. You can rub the balm into your skin of your gambling hand then, if your finger has some balm on it after tapping. Use only a tiny amount of balm is enough.
For 'Jerajaa' (business discussions, job interview etc), smear the balm onto your forehead and make your wish.
For Metta Maha Sanaeh / LOVE / SEX attraction , smear the balm under your chin, and ear lobes, and make your wish.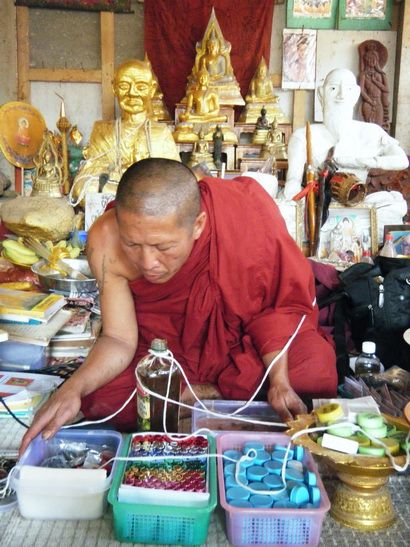 ********************
Product Description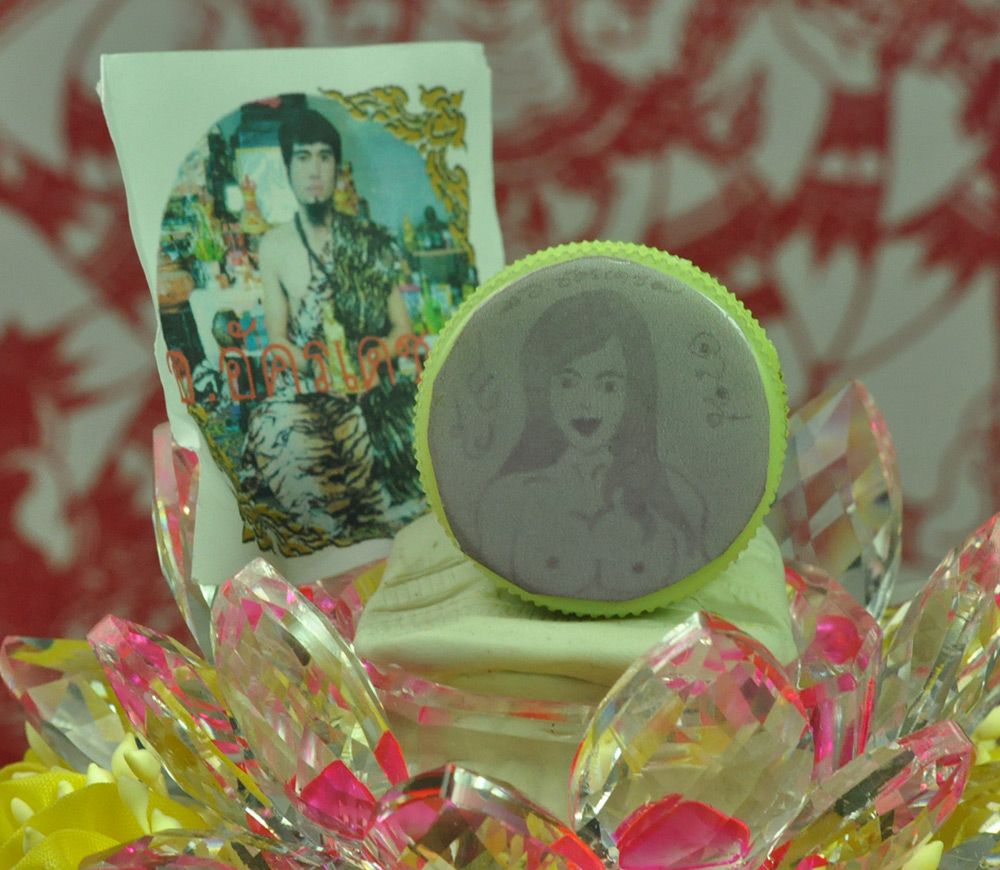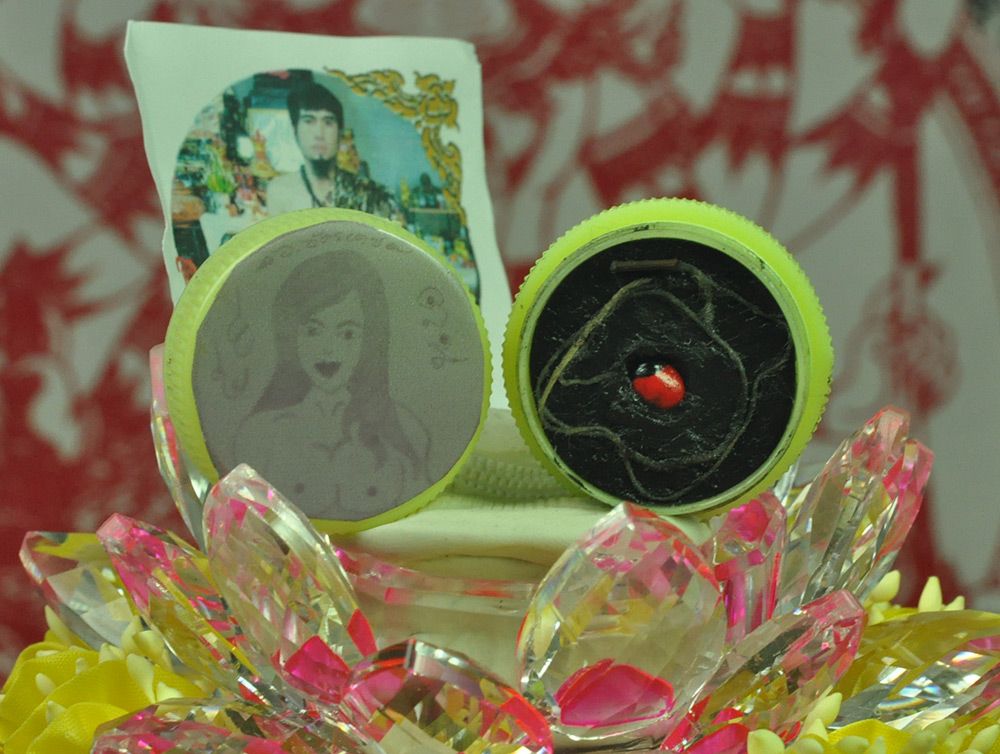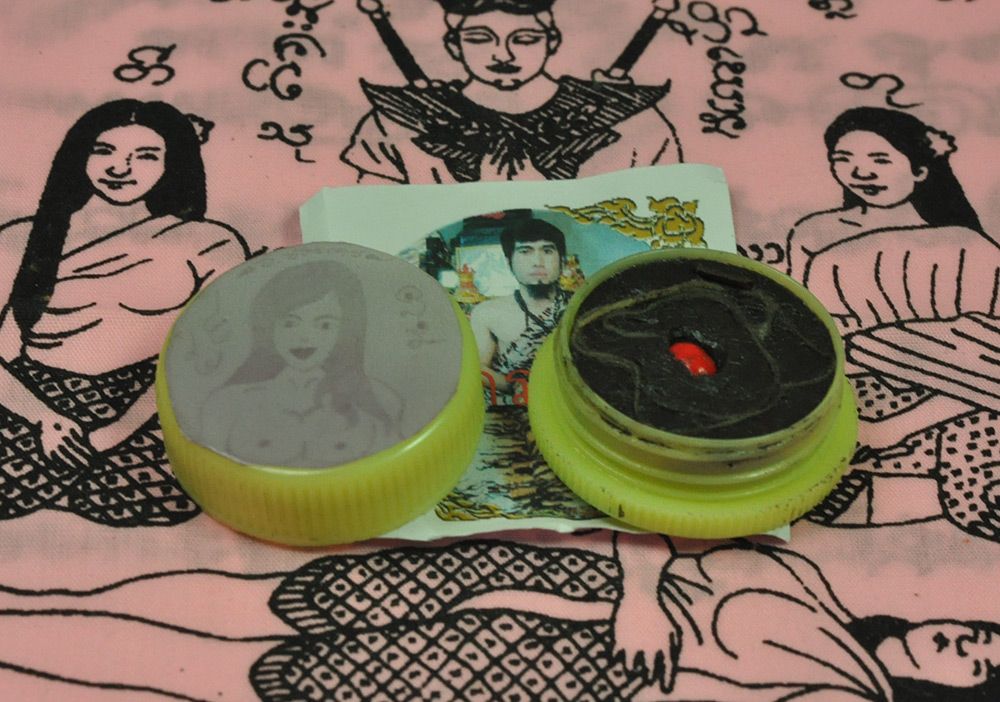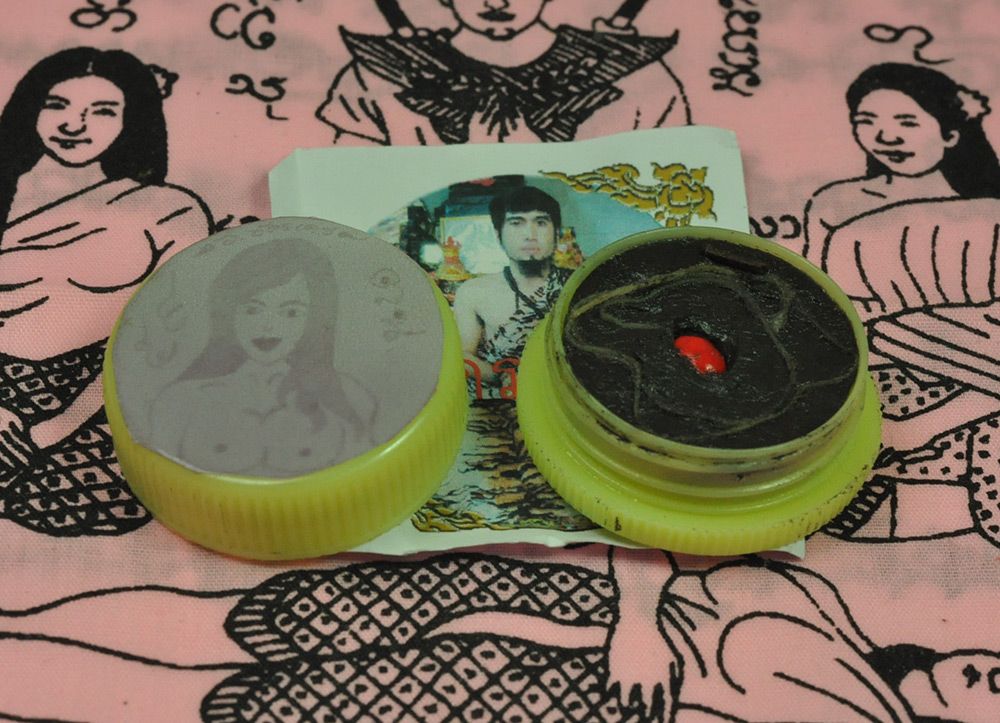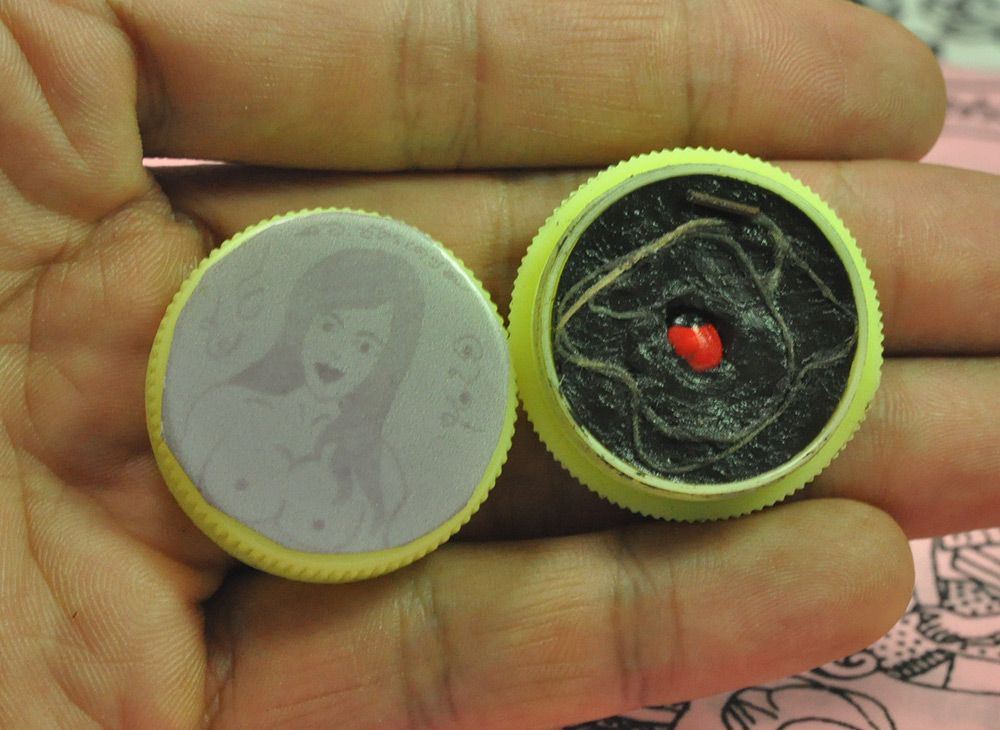 100% Original Magic Bee wax , Have Only in my store
Thai amulet "See Puang" Maha Saney,Bee wax super power wax/ balm occult sorcery by Powerful

Necromancer

.
Magic Ghost Beeswax
Magic Ghost Beeswax is made by a powerful hermit named "Ajarn Ruesi Akharadet" who specializes in making amulets of charm.
Holy ingredients for making Magic Ghost Beeswax consist of Mahaaphutpanton Potion, ghost beeswax taken from fifty – nine powerful ghosts, Hongpraai Naangfaa potion, beeswax made in the month of fifth, Mahaaphutphanton beeswax, Saliga Khaapyua beeswax, Naoktaek beeswax, Mahaaphutsane beeswax, Gaahawmhew beeswax, Dawkthawng potion, Gaifaa potion and Praaithepranjuan potion. In the incantation ritual, "Ajarn Ruesi Akharadet", the magician, had invited two magicians named "Ajarn Ruesi Maachia" and "Arjarn Daeng Praailong" to be the hosts of the ritual. Performance of incantation took place in the graveyard named "Soonlaokhaam."
The three magiciansaltogether use powerful magic to recite incantations over the Magic Ghost Beeswax
How to use Magic Ghost Beeswax
Magic Ghost Beeswax can be used like other general beeswaxes and love potions. You can anoint beeswax on your eyebrow, hair or just carry it with you wherever you go. The power of the Magic Ghost Beeswax will support your business, job and horoscope. Moreover, power of the Magic Ghost Beeswax makes you become a very charming person that attracts a lot of people to like, love, or even be infatuated with you.
Make offerings to the Magic Ghost Beeswax with Thai whisky, sour pork and cast this spell "So sa a nini / sa sa so / lo mo / a ma waa / for three times before using it.
สีผึ้งพราย ๕๙ ตน ผสมน้ำมันมหาภูติ ๑ , ๐๐๐ ตน อาจารย์ฤาษีอัครเดช อาศรมครูเสน่ห์มัดจิต กาฬสินธุ์ แค่พกติดตัวก็แรง สุดยอดมวลสาร มวลสาร สีผึ้งพราย ๕๙ ตน ผสมน้ำมันมหาภูติ ๑ , ๐๐๐ ตน ผสมกับมวลสารเก่ามากมายทั้งสีผึ้งและน้ำมันพรายมี สีผึ้งมหาภูตพราย 108 ตน สีผึ้งเดือนเพ็ญกินใจมนุษย์ น้ำมันโหงพรายนางฟ้า น้ำมันสาลิกาคาบเหยื่อ สีผึ้งนะอกแตก สีผึ้งมหาภูติเสน่ห์มัดจิต สีผึ้งกาหอมเฮ่ว น้ำมันพรายหัวเชื้อ น้ำมันพรายดอกทอง น้ำมันเสน่ห์สาวรักสาวหลง น้ำมันไก้ฟ้า น้ำมันพรายเทพรัญจวน วิธีใช้ ใช้เหมือนสีผึ้งหรือน้ำมันพรายทั่วไป หรือจะเจิมคิ้ว เจิมผมเป็นเสน่ห์ รุ่นนี้แค่พกก็แรงสุดๆ พิธีปลุกเสก ณ ป่าช้าศูนย์เหล่าขามโดยมี อาจารย์ฤาษีมาเชียเจ้าสำนักเป็นเจ้าพิธี อาจารย์แดง พรายหลง บางแวก ร่วมพิธีเสกอัดมนต์เสน่ห์เต็มสูตร ไม่มีเข้าตัว ใช้แล้วดวงดี หนุนดวง ค้ขายดีมีกำไร เสน่ห์เมตตา มหานิยม ทุกรูปแบบ เสน่ห์ชู้สาว คนรักเมตตา เซ่นด้วยเหล้าขาว และแหนม เฉพาก่อนใช้งานเขา คาถาเสก โส สะ อะ นินิ สะสะโส โลโม อะมะวา เสก 3 จบ จุดธูป 5 ดอก เลี้ยงกลางแจ้ง หากแค่พกให้เป็นเสน่ห์ไม่ต้องเลี้ยงแล
Casing SIZE w*h : 3.2 *1.2 cm
This Metta Balm is called 'See Pherng' (beeswax lipgloss)
*********
The magic bee wax is believe to be good for :
- improve your business by attracts opportunities and more sales
- increase your popularity, Metta as well as accumulate great fortune, wealth
- Maha Saney, bring you sex appeal and mesmerising attraction
- attract the same or opposite gender
-Good luck for the new owner
Magical Effects Maha Sanaeh,Metta Mahaniyom, Kaa Khaay, Jerajaa, Siang Choke.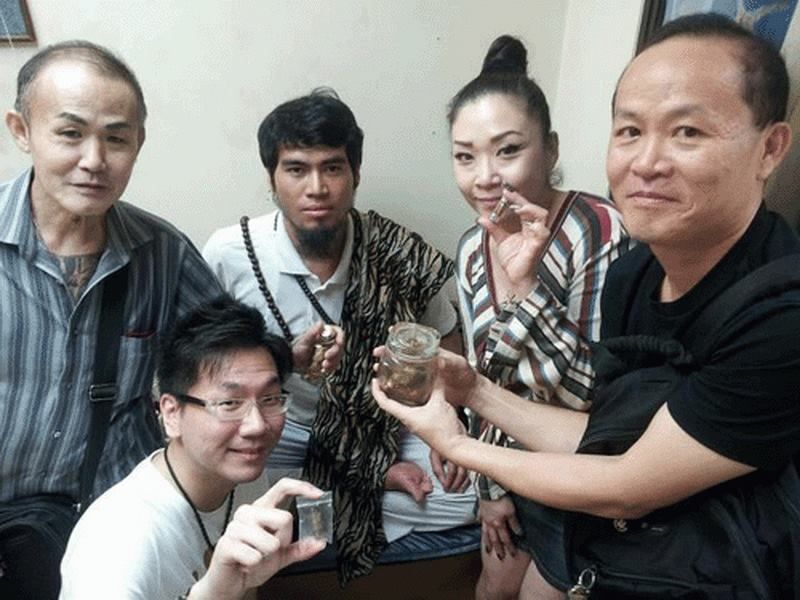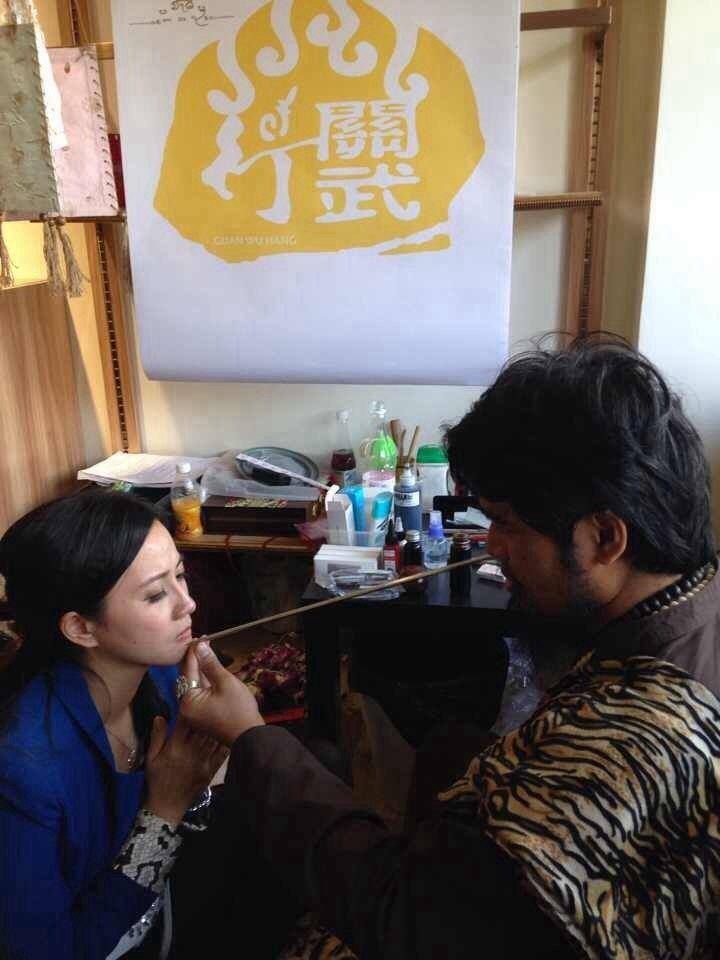 Ajarn Ruesi Akharadet



(Powerful Magic

Necromancer.
He is Very Famous and recognized magic Shaman / Necromancer.

His Amulets / Talisman has been told that the Holy powerful.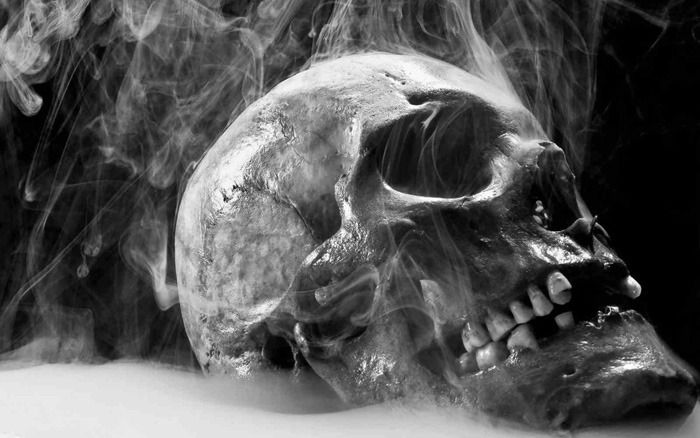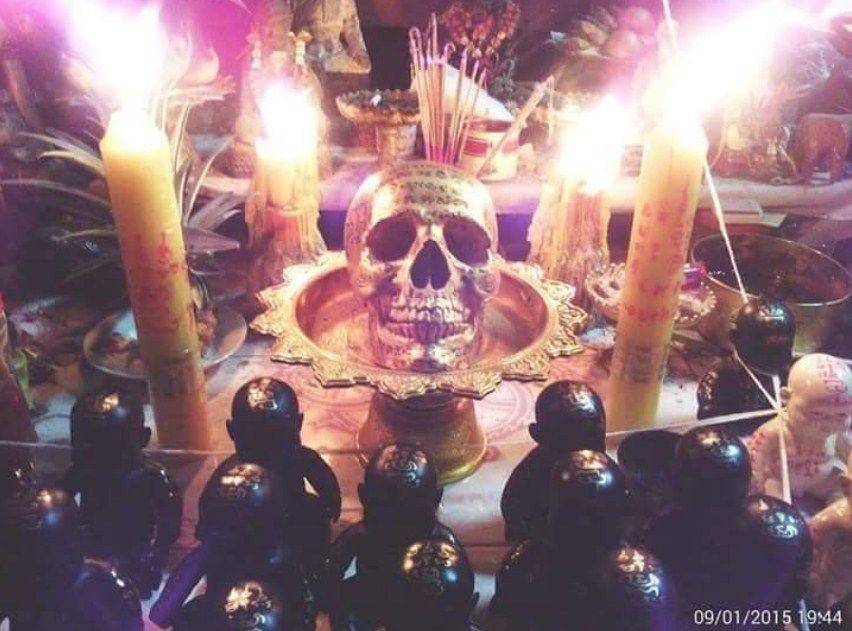 ***********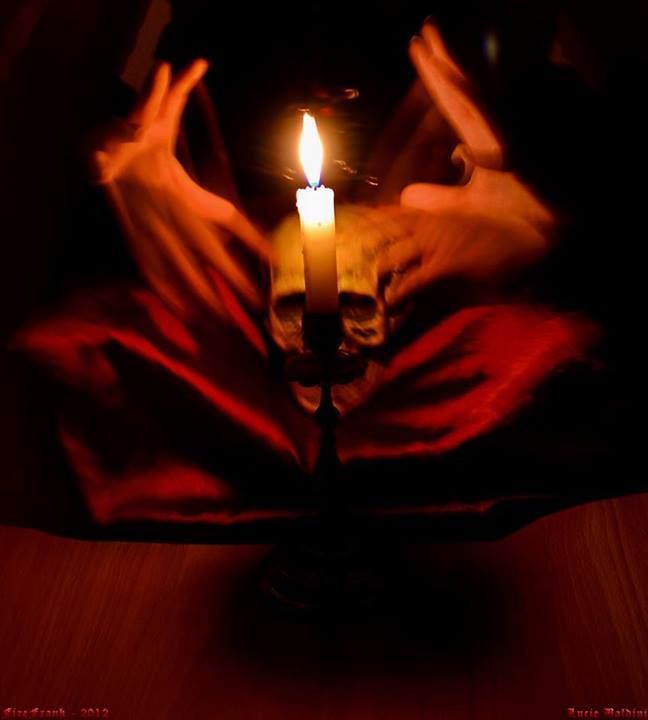 and also for your valuable collectible thing .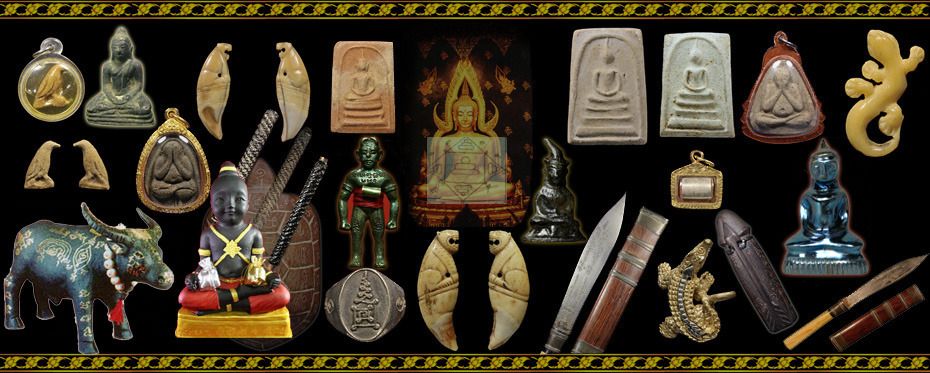 We are expert collector and trader buddha amulets , antiques , Talismans items from Thailand & Southeast Asia.
We open amulet store in Thailand too.
All of our Amulets are 100 % Satisfaction guarantee and either straight from the temple or from very reliable sources including dealers and collectors
around Thailand with whom we are afilliated.

You can trust that the items are Rare, Sacred, Genuine and beautiful Items.