This style amulet is extremely rare and very difficult to come by.
** Worthy Spiritual **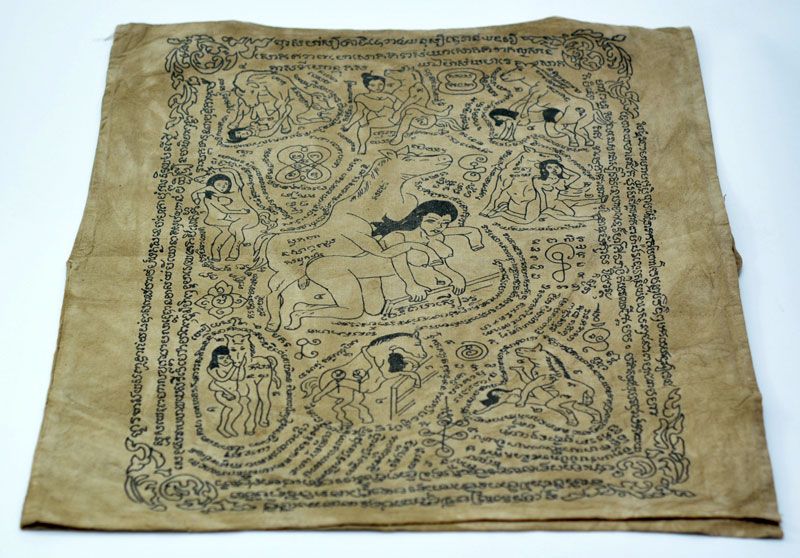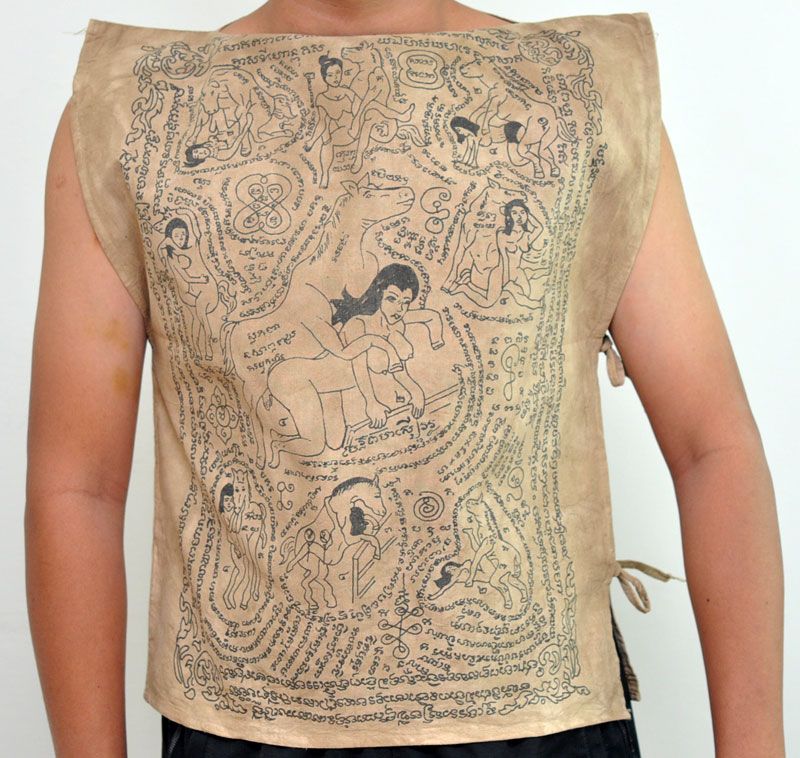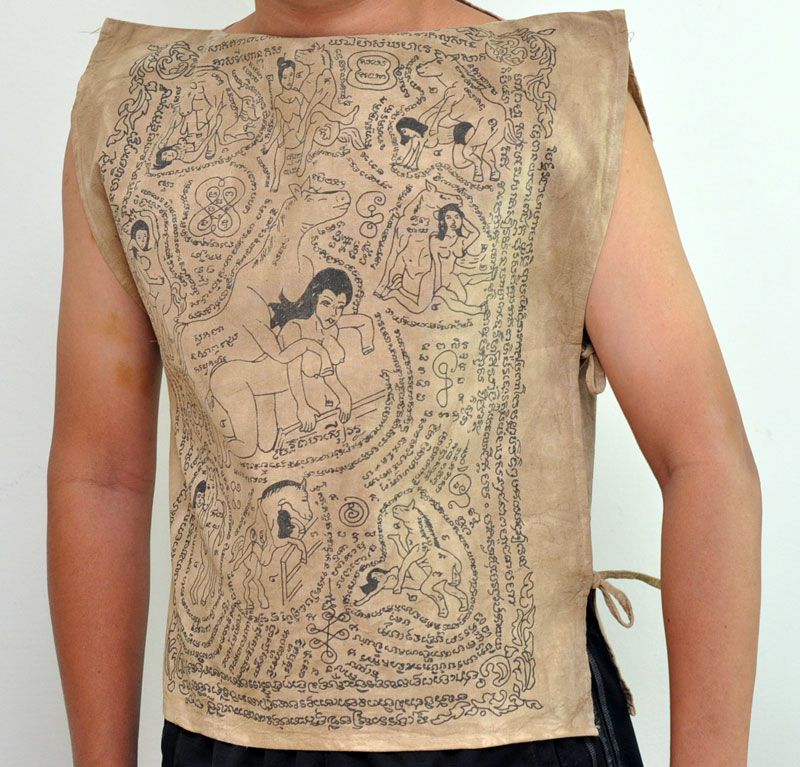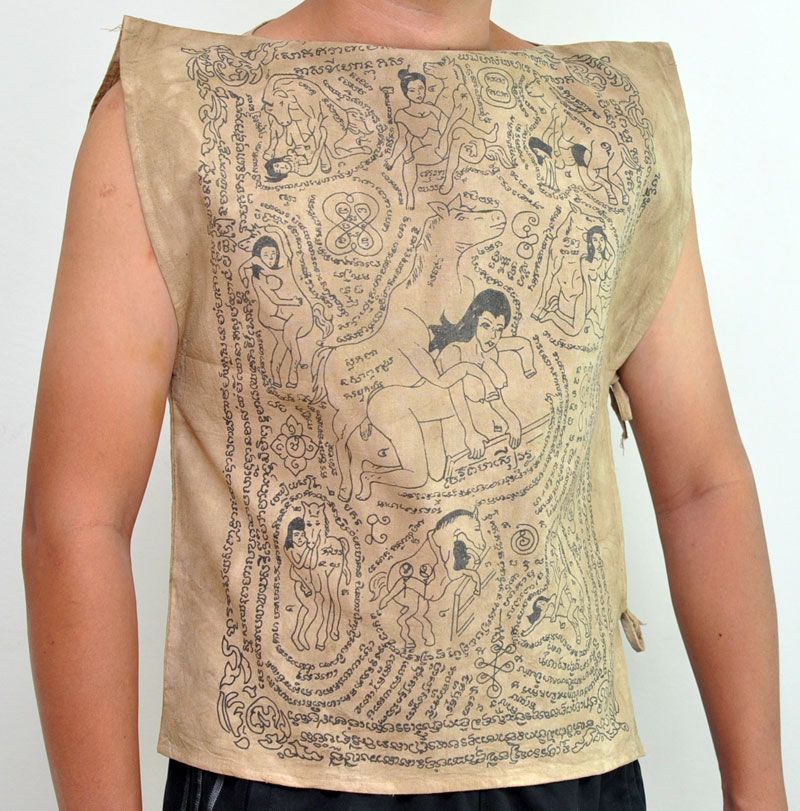 **********
Charms Love Sex HOLY Talisman VEST Yantra Tank tops attraction thai khmer amulet fetish .
This Talisman Thai Khmer magical Holy Vest .
AMULET FOR SEX LOVE CHARMS Attraction .
Blessed by :
Khmer

sorcerer

.
SIZE: 46 x 55 cm.
Color: Brown
Material: HOLY Magic Cloth
ยันต์ม้าเสพนาง
เป็นยันต์ที่มีในแวดวงยันต์ด้านเสน่ห์ของล้านนามานาน เชื่อกันว่าเป็นยันต์ที่มาจากทางพม่า เงี้ยว มีมาในล้านนาเมื่อไหร่ไม่มีไครทราบ แต่โบราณล้านนานิยมใช้ยันต์นี้กันมาก เนื่องจากไห้ผลทางด้านเสน่ห์รุนแรง ผู้ชายจะไปเที่ยวหาสาวหากได้ติดตัวไปด้วยต้องได้สาว ม้าเสพนางเป็นหนึ่งใน 4 สุดยอดเสน่ห์ โดยมี 1 ม้าเสพนาง 2 วัวเสพนาง 3 หนูกินน้ำนมแมว 4 วัวกินน้ำนมเสือ ตามตำนานเล่าไว้ว่า มีครอบครัวหนึ่งมีลูกสาวสวยมาก ครอบครัวนี้เลี้ยงม้าตัวผู้อยู่หนึ่งตัวมีลักษณะงามยิ่งนัก หญิงสาวดูแลม้าทุกวันจนเกิดความไกล้ชิดกับอาชาหนุ่ม จึงบังเกิดความรักไคร่ต่อม้าหนุ่ม ต่อมาจึงได้เสพกามกับม้าหนุ่ม ผู้เป็นพ่อได้ทราบเรื่องนี้เข้าจึงโกธรและอับอายมาก ถึงกับฆ่าม้าตัวนั้นตาย หญิงสาวเสียใจมากจึงกลั้นใจตายตามม้าตัวนั้นไป ดังนั้นยันต์ม้าเสพนางจึงเป็นยันต์ที่ให้ผลทางด้าน ราคะ ตัณหากามารมณ์รุนแรง ผู้ที่จะใช้หากมีศีลธรรม นำไปใช้ในทางที่ดี กับผู้ที่ยังไม่มีเจ้าของ หรือ แฟนของเรา และยังเลี้ยงดู ดูแลเขาด้วยจะนับเป็นการดี แต่ถ้าหาก นำไปใช้ในทางที่ผิดศีลธรรม ผิดลูกผิดเมียเขา ยันต์นี้แม้จะได้ผล แต่ก็จะได้ผลไม่มาก และอาจเสื่อมในที่สุด
POWERFUL YANTRA THAILAND

Very hard to find this amulet of top thailand Buddhist saint.
**************
A GREAT ITEM!!
BEAUTIFUL COLLECTION
All of our Buddha's are from our own Family's collection or found with a trained eye and knowledge at Thai House sales or secondhand markets ,we also do trade with other town Amulets members .
We are expert Buddha&Amulet collector and trader antique, amulets, talisman and artifacts
from Thailand and Southeast Asia.