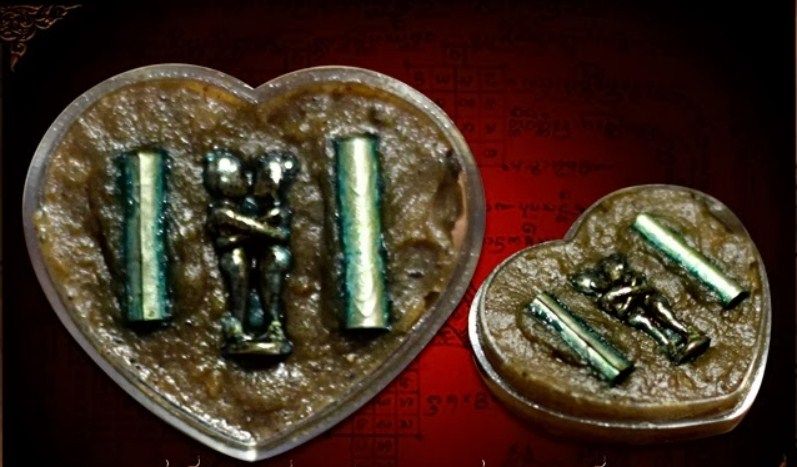 THAI AMULET BUDDHA BEE WAX SEEPHUENG MAHASANE
"See Puang" Maha Saney, super power wax/ balm occult sorcery
Bucha Method;
It is not permitted to smear the balm on your lips. You can smear it on your forehead, hands, under the chin, or onto objects or clothes.
For Gambling Purposes, simply tap the See Pheung with your finger and make a wish before leaving the house. You can rub the balm into your skin of your gambling hand then, if your finger has some balm on it after tapping. Use only a tiny amount of balm is enough.
For 'Jerajaa' (business discussions, job interview etc), smear the balm onto your forehead and make your wish.
For Metta Maha Sanaeh / LOVE / SEX attraction , smear the balm under your chin, and ear lobes, and make your wish.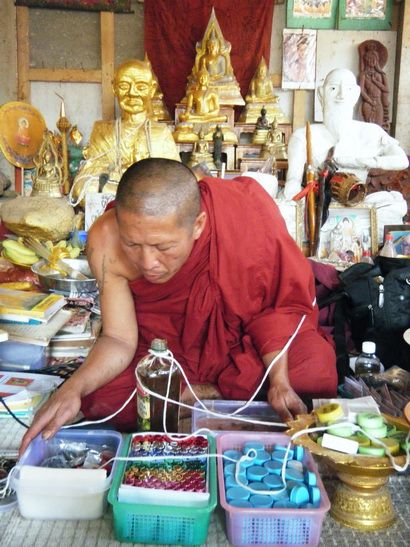 ********************
Product Description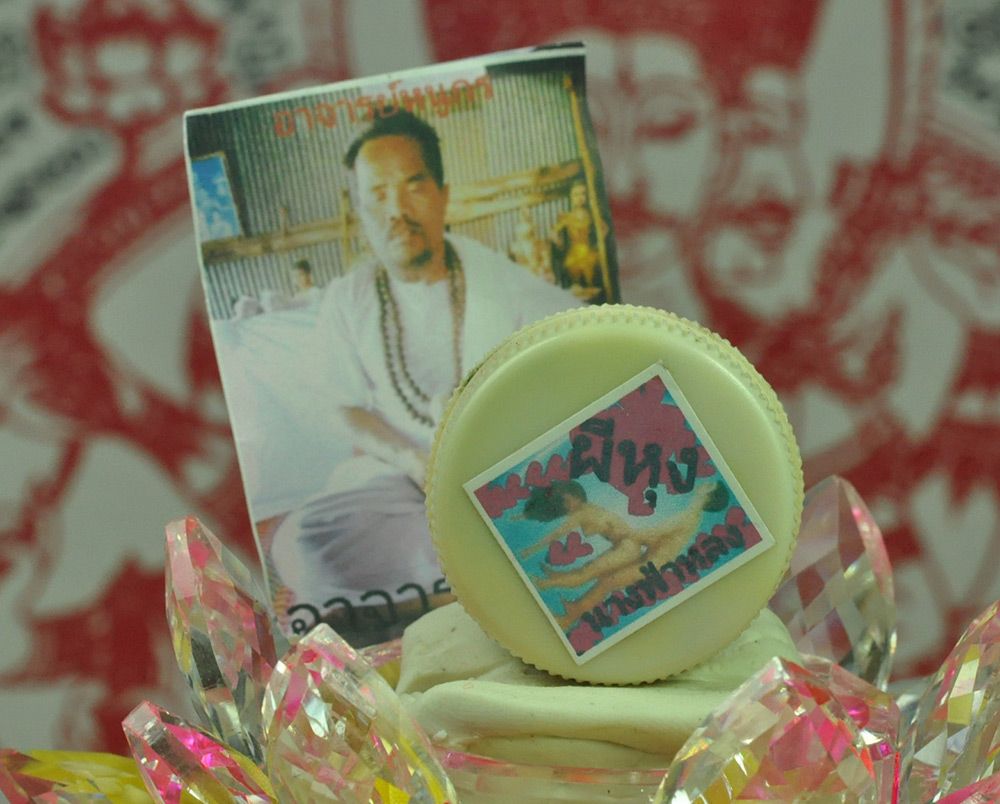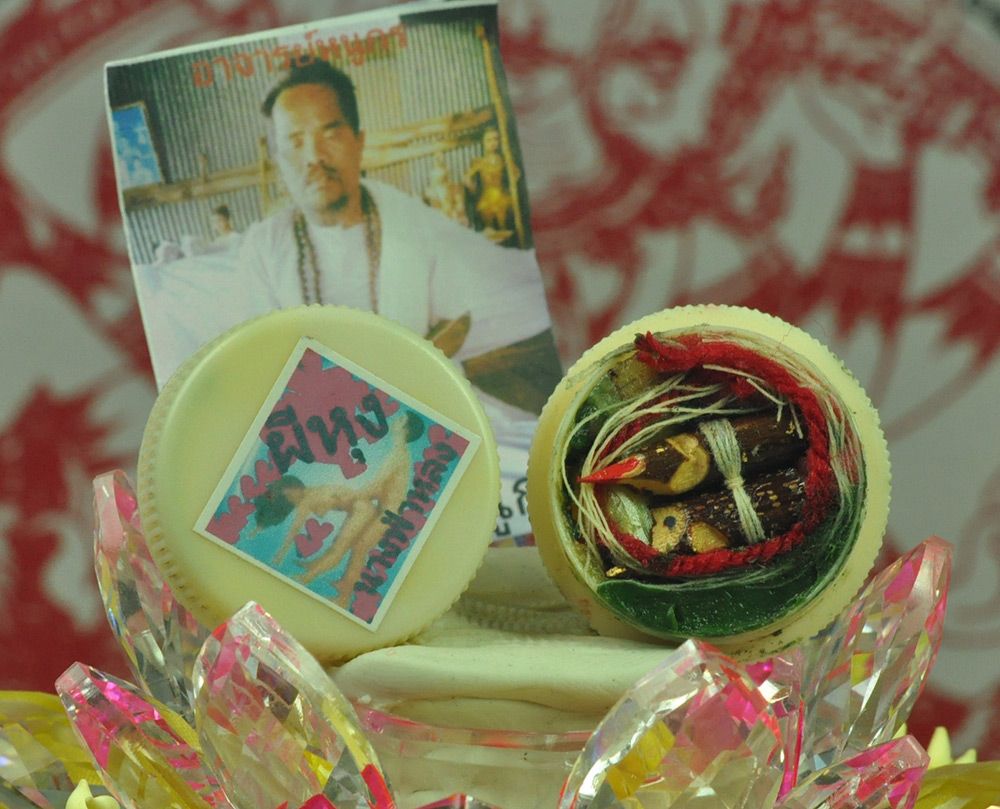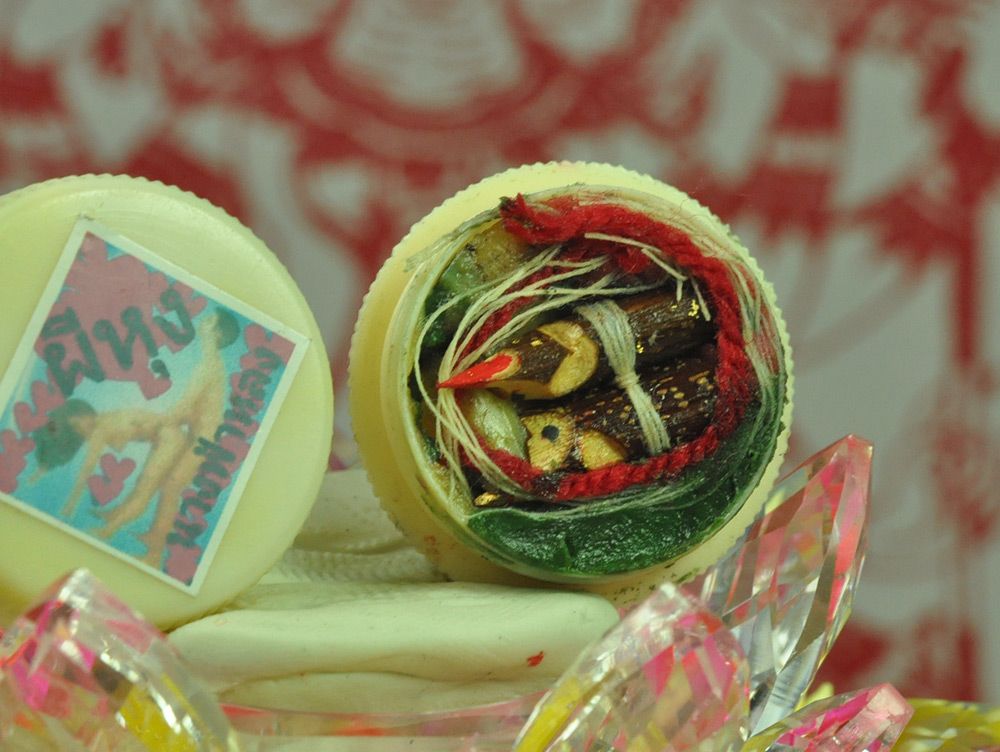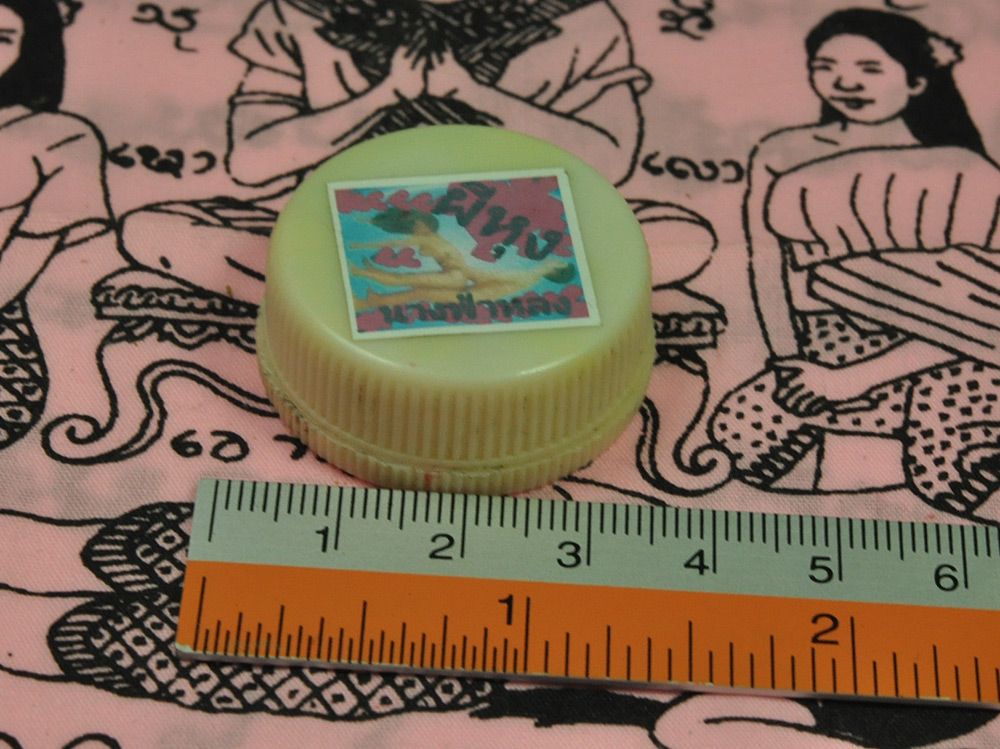 100% Original Magic Bee wax , Have Only in my store
Thai amulet "See Puang" Maha Saney,Bee wax super power wax/ balm occult sorcery by Powerful

Necromancer

.
Phipraaihung Naangfaalong Beeswax
Phipraaihung Naangfaalong Beeswax is made by a magician named " Ajarn Nuugawn".
Name of beeswax "Phipraaihung Naangfaalong" means great sexual affection. Haunted ingredients for making Phipraaihung Naangfaalong Beeswax consist of yellow beeswax used to paint a corpse's face, red beeswax of charm called "Naanglom", green beeswax given by another magician named "Luangpu Thaapkhaan", thread of a virgin, thread used to drag ghosts, Gaalong wood, Khwaangtawan beeswax made in the month of fifth, beeswax made by a widow whose husband died and had only one son, Khmer love charm, Dawkthawng herbal oil, Gaelae herbal oil and Sanejan herbal oil.
"Ajarn Nuugawn", the magician, used corpse charcoal, bone of dead bodies taken from crematoriums, Yaw wood, Crown wood, Yom wood, Khun wood and Gaalong wood as fuels for cooking Phipraaihung Naangfaalong Beeswax. In the holy ritual, many powerful ghosts were invited to participate in reciting incantations over Phipraaihung Naangfaalong Beeswax to make it powerful.
Due to composition of many kinds of holy ingredients and sacred incantation ritual, this makes Phipraaihung Naangfaalong Beeswax becomes supernaturally powerful.
You can anoint this beeswax on your eyebrow to create the power of charm and sexual attraction. The magical power of beeswax will dominate other people's mind to like, love or be infatuated with you. If you have a grocery, you can also anoint it on products in the grocery as the power of it can help attract customers to your place.
If you want to flirt or court someone, you can anoint this beeswax on that person's clothes.
Before using the beeswax, cast this spell for three times "Gaa ya pi si / mettaa ma ma" and pray to Phipraaihung Naangfaalong Beeswax about your wish.
สีผึ้งผีพรายหุงนางฟ้าหลง อาจารย์หนูกร สีผึ้งผีพรายหุง นางฟ้ายังหลง มีงบน้อยอยากสอยนางฟ้า เอาสีผึ้งผีพรายหุง นางฟ้ายังหลงไปใช้ เสริมเสน่ห์ เสริมเมตตา สุดๆเรื่องความเจ้าชู้ประตูดิน ท่านว่าเรื่องเสน่ห์เมตตาต้องยกให้สีผึ้งชุดนี้เท่านั้น เมตตาสุดๆ เสน่ห์ขั้นเทพ
Casing SIZE w*h : 3.2 *1.2 cm
This Metta Balm is called 'See Pherng' (beeswax lipgloss)
*********
The magic bee wax is believe to be good for :
- improve your business by attracts opportunities and more sales
- increase your popularity, Metta as well as accumulate great fortune, wealth
- Maha Saney, bring you sex appeal and mesmerising attraction
- attract the same or opposite gender
-Good luck for the new owner
Magical Effects Maha Sanaeh,Metta Mahaniyom, Kaa Khaay, Jerajaa, Siang Choke.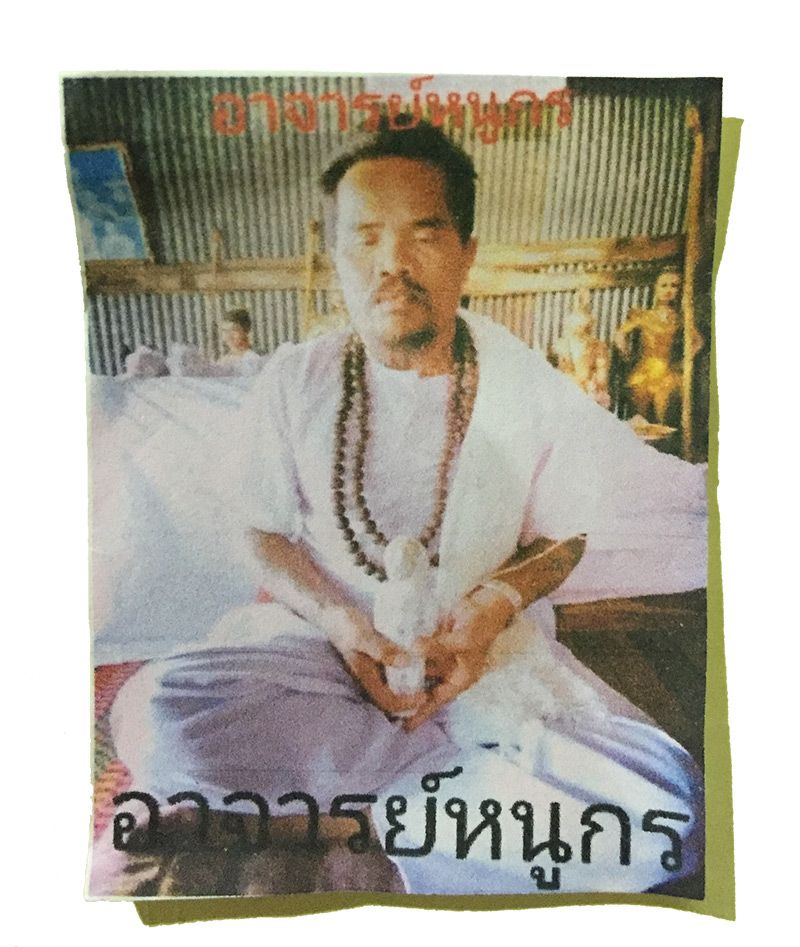 Ajarn Nuugawn



(Powerful Magic

Necromancer.
He is Very Famous and recognized magic Shaman / Necromancer.

His Amulets / Talisman has been told that the Holy powerful.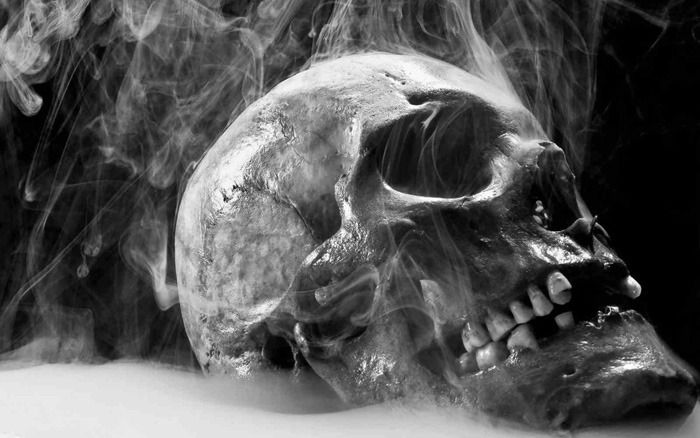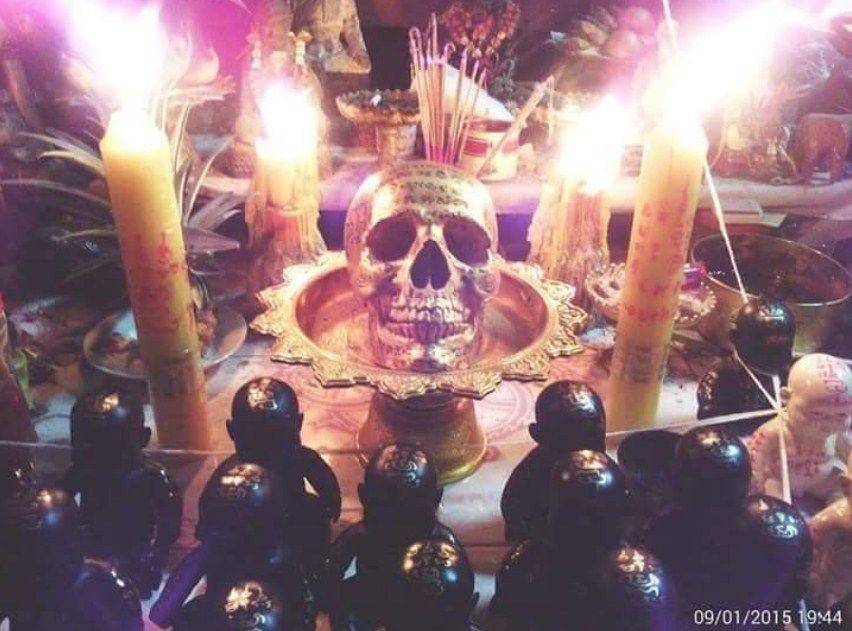 ***********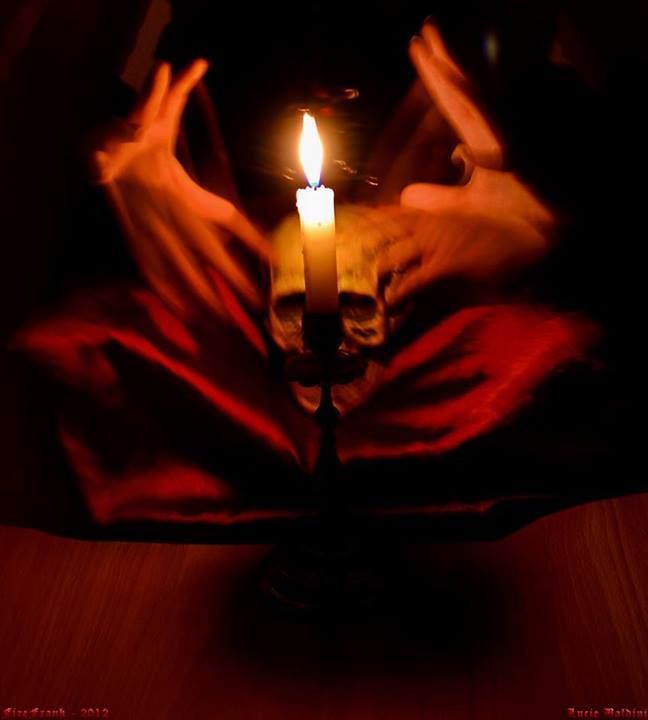 and also for your valuable collectible thing .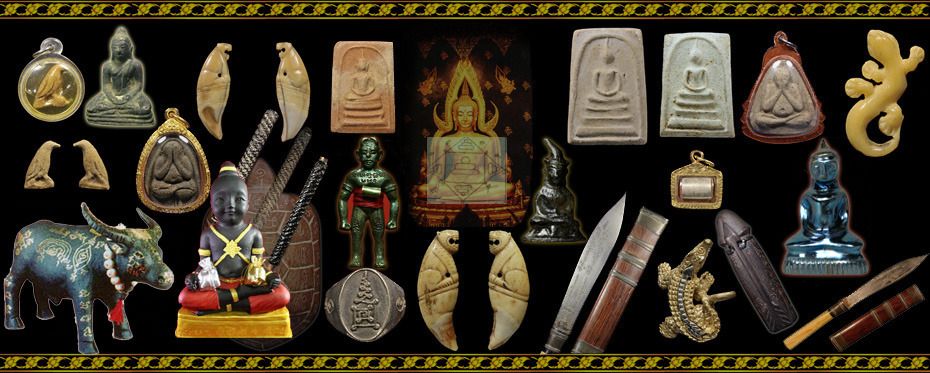 We are expert collector and trader buddha amulets , antiques , Talismans items from Thailand & Southeast Asia.
We open amulet store in Thailand too.
All of our Amulets are 100 % Satisfaction guarantee and either straight from the temple or from very reliable sources including dealers and collectors
around Thailand with whom we are afilliated.

You can trust that the items are Rare, Sacred, Genuine and beautiful Items.